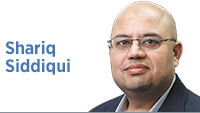 There are an estimated 3.45 million Muslims in the United States. While only 1% of the population, they are highly diverse (Black, Arabs, Asian, Latinos and whites), with no one ethnic group representing a majority.
To sustain and further its religious and cultural identity, this small community gives $4.3 billion—of which 85% remains in the United States—to philanthropy, and poverty remains its first priority, according to a report by the Muslim Philanthropy Initiative at the Indiana University Lilly Family School of Philanthropy.
These funds are nearly equally divided among Muslim-led not-for-profits and not-for-profits from other faiths, according to another study by MPI. MPI estimates that there are nearly 9,000 U.S.-based Muslim-led or Muslim-founded not-for-profits. They are largely under-resourced, with an average budget of $250,000 and one staff member.
Despite these meager resources, Muslim-led U.S.-based not-for-profits are called upon by their constituencies and supporters, as well as broader society, to do more with less because, since Sept. 11, 2001, these not-for-profits have been under greater scrutiny and have been forced to take on the additional task of fighting Islamophobia as well as delivering on their core missions.
Reasons for their under-investment include that the U.S. Muslim community is small and relatively poor, there is a lack of resources from the public sector, and a lack of investment by philanthropic foundations. This is despite the fact that Muslim-led social services and community organizations provide services beyond the Muslim population.
To help these not-for-profits deal with compliance and best-practices requirements, MPI has launched an initiative called The Ihsan Standard. Muslims are called to excellence—or Ihsan—in all things, including how they manage and run their not-for-profits.
The Ihsan Standard is a community-engaged clinical and research project in which theory and practice reinforce each other. The clinic provides governance-risk-compliance screenings for U.S. Muslim and minority-led not-for-profits. Close community engagement provides insights into organizational practices and challenges. It helps inform research questions that are important and relevant to communities.
A new report on The Ihsan Standard released by MPI illustrates how many U.S.-based Muslim-led not-for-profits are embracing best practices to further their mission and protect their institutions from external scrutiny.
The report found: A vast majority of these not-for-profits have a CPA-certified or uncertified audit on a regular basis; a majority of Muslim-led not-for-profits carry various insurances, such as directors and officers insurance, property insurance and Worker's Compensation insurance; and a majority of management and board members hold strong and positive views of organizational leadership that encourages diversity, treats employees fairly and implements effective DEI policies.
This study provides important empirical findings that can allow U.S.-based Muslim-led not-for-profits to help the broader not-for-profit sector in several ways, including:
◗ Educating us about how small not-for-profits with few resources can further their missions and also embrace not-for-profit best practices.
◗ Helping us learn how to better embrace and navigate diversity while furthering their organizational mission.
◗ Helping us learn how to navigate crises that are external while furthering the mission.
◗ Providing us an important lesson about how racialized communities find ways to make our country better despite the hatred they face.
It is critical that we take the opportunity to learn from minority communities in the United States. They provide us hope and inspiration of the very best we can achieve.•
__________
Siddiqui is assistant professor and director of the Muslim Philanthropy Initiative at the Lilly Family School of Philanthropy at Indiana University. Send comments to ibjedit@ibj.com.

Click here for more Forefront columns.
Please enable JavaScript to view this content.