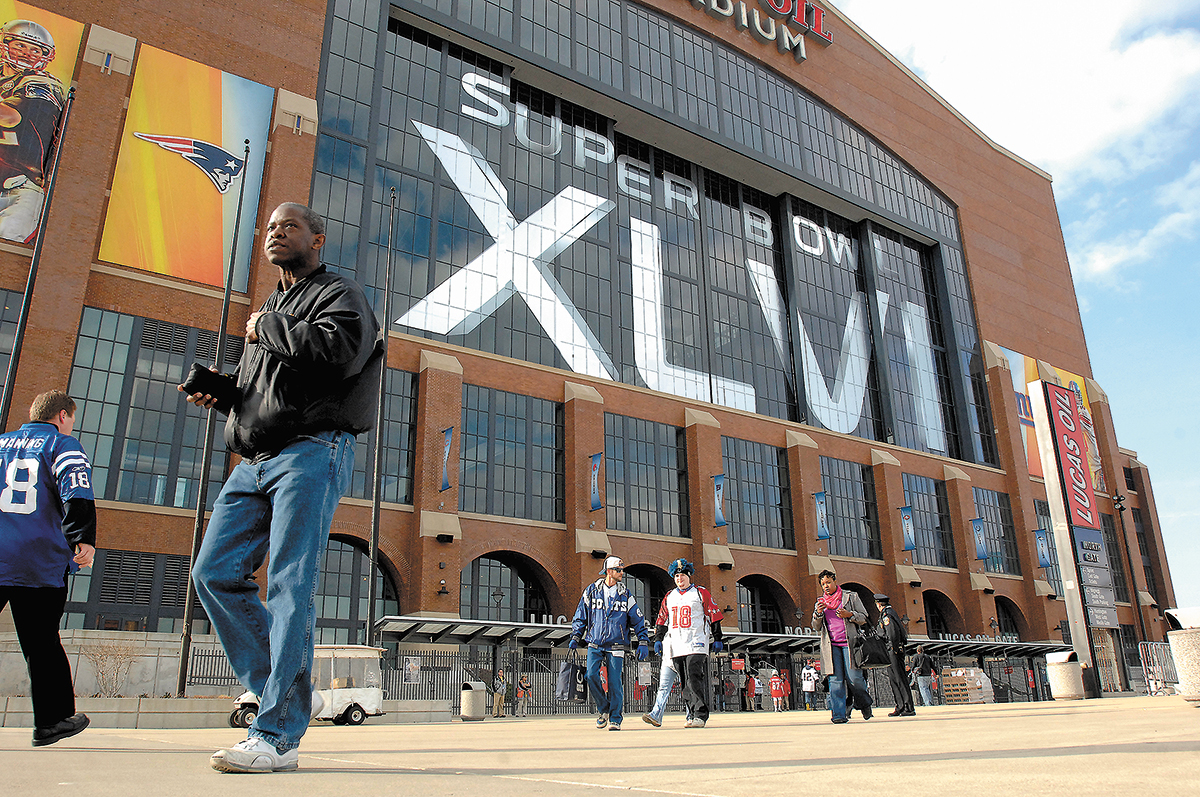 A decade after the Super Bowl came to Indianapolis, local sports and tourism officials aren't in a rush to bring back the event—though they haven't ruled out another bid sometime down the road.
The city hosted the National Football League's flagship event in 2012, garnering enormous fanfare and media attention as it became the first cold-weather location to host the game in six years—in unseasonably warm conditions for February.
Super Bowl direct spending, $325 million across a full week, was among the biggest windfalls the city has ever received as an event host. Super Bowl XLVI also put Indianapolis on the radar for other big events and conventions that had previously overlooked the city, and it set the stage for the College Football Playoff to bring its national championship game here last month.
But Indiana Sports Corp. President Ryan Vaughn said, despite fond Super Bowl memories, city officials' focus for now lies elsewhere.
"We're constantly trying to keep our eyes open for the largest events, and the Super Bowl is definitely in that conversation," he said. "Even so, do we have a specific detailed strategy for the next five or 10 years to get one? No. But have we written it off? Absolutely not."
Besides, the NFL usually awards Super Bowls to cities that have recently built a new stadium or invested significantly in stadium upgrades—something not planned for Lucas Oil Stadium, which fans still rank among the best in the league.
So, for now, the Sports Corp. and the remainder of the group that would bid for NFL events—including the Indianapolis Colts, the Capital Improvement Board and Visit Indy—have their sights set on two other NFL attention-grabbers, the scouting combine and the draft.
Combine and draft
That shift in attention is in large part because the city is in a dogfight to hold onto the combine—which it's hosted every year since 1987—after the league opened the event to a bid process last year.
The combine draws the nation's top college prospects for an intense four-day session of job interviews, workouts and physical exams.
Indianapolis is a finalist to retain the combine for two-year stints from 2023 to 2026, along with Los Angeles (which hosted this year's Super Bowl at its brand-new, $5.5 billion SoFi Stadium) and Dallas. The league's 32 owners are set to vote on the host cities for those years during their spring meetings in late May.
City officials are confident Indianapolis has the right mix of amenities, hotel rooms and infrastructure to properly host the combine, but the league has faced continued pressure from owners around the league to give them a cut of the pie.
Chris Gahl, vice president of Visit Indy, said keeping the combine in Indianapolis in some form is "a top priority" for local leaders, in large part because of the media exposure it offers and the opportunity it brings to welcome business leaders and executives from a variety of fields who participate in the event's activities.
"With the combine due date looming, there's not a day that goes by where we are not talking with the Colts, or the Sports Corp. or the CIB about how we are positioning Indianapolis to retain the event," he said. "There's constant discussion, constant brainstorming and strategizing, and we believe that it gives us a competitive leg up that we work so well together."
Separately, the draft is an event Indianapolis has never directly bid on. But it has expressed interest in hosting since the three-day event began moving around the country in 2015. It's been hosted in Chicago (twice), Philadelphia, Dallas, Nashville and Cleveland, with a stop in Las Vegas planned for this year.
Past draft events have had an economic impact of anywhere from $43 million in Cleveland to $224 million in Nashville. The average has been $120 million the past five years.
A smart approach?
Experts say the city's approach of deemphasizing a Super Bowl bid—and channeling that energy into bids for the league's other events—could pay off, particularly because the league has such a strong track record with Indianapolis already.
"If you have limited resources," sports business expert Kenneth Shropshire said, "No. 1 should be keeping the combine and No. 1A should be the draft. Make sure there's an awareness that the Super Bowl is something that you've done well and could do again, but to spend a lot of resources on it … you're starting with a weight on your back in that race."
Shropshire, CEO of the Global Sport Institute and a professor at Arizona State University, said Indianapolis would make a lot of sense for a draft event because of its convenient downtown amenities and the ease for people from across the country to get there, particularly by vehicle.
But he noted that, while the Super Bowl was "fantastic" for anyone who had a hotel room downtown (there were about 5,600 rooms at the time), the story was different for those who had to make their way in from other parts of the city.
"It was kind of mixed reviews—it all depends on what part of the elephant you were touching," he said.
Indianapolis has continued to see its hotel-room inventory swell since 2012, including downtown. Currently, downtown has about 7,200 rooms, with another 4,000 in the pipeline—including an 800-room hotel planned for Pan Am Plaza as part of an expansion of the Indiana Convention Center, with groundbreaking set for later this year.
Marc Ganis, president of Chicago-based SportsCorp Ltd., said the combine and draft are more in the wheelhouse of what Indianapolis should pursue if the city has no plans for significant stadium updates.
"Those are exactly the kinds of events that Indianapolis should be going after, because it does that on a regular basis," he said. "They can highlight the strengths Indy brings to the table."
Ganis said the NFL is far more focused on awarding the Super Bowl to cities that have built a new stadium or made extensive renovations to an existing one.
He said it's widely known that the 2012 Super Bowl was awarded to Indianapolis largely because of the stadium that opened in 2008.
So, without something shiny and new to get the attention of NFL owners, Ganis said, the league is unlikely to give the city another go.
"It's pretty far out as to when it will fit organically for the NFL" to return to Indianapolis, he said. "There are a lot of very attractive Super Bowl locations that were not available a few years ago that are now."
That's not to say Ganis believes the game will never return to Indianapolis. He does expect it will, he said, "but I don't see it for a while."
Making improvements
The league is now far more inclined to take the game out West or South, where winter weather is milder. With the construction of venues like SoFi Stadium and Allegiant Stadium in Las Vegas, the league has access to state-of-the-art venues without taking on weather risks.
That's less of an issue with the draft, because the NFL doesn't rely on stadiums for the event—instead using large public gathering spaces and entertainment venues. For example, Indianapolis could consider using Georgia Street or Monument Circle to stage NFL draft activities.
Additionally, the idea of bidding for the Super Bowl became antiquated in 2018, when the league's owners moved to a model in which they approach a specific city about hosting a specific year, with parameters required for the city to submit a "bid".
That's how locales like Glendale, Arizona, and New Orleans landed Super Bowls for 2023 and 2025, respectively—albeit with a caveat that they make major commitments to improve their venues.
The Arizona Cardinals are spending $100 million to improve State Farm Stadium, which opened in 2006. And New Orleans is spending $450 million on the Caesars Superdome, which has hosted the game 10 times already since opening in 1975; it also underwent a $100 million renovation after Hurricane Katrina in 2005.
Indianapolis is taking on some smaller renovations this off-season at Lucas Oil Stadium, but those are part of contractually obligated updates, such as new videoboards, some improvements to suites and a new locker room for female staffers. The Capital Improvement Board, which owns the building, is expected to spend $22 million on the upgrades, but no sweeping renovations are on the horizon.
Andy Mallon, CIB executive director, said he likes the venue's condition and believes it is in strong enough shape to host the game again, but he noted that assessment would be revisited as part of any bid process.
"We've already hosted one of the best Super Bowls they've had—certainly in a northern city, for sure. We would be capable of repeating that and doing even better, depending on where the community is and what the state of our facilities are at the time," he said. "Certainly, the building was big enough the first time; it'd be big enough again. We like where we are facilities-wise."
Pete Ward, chief operating officer for the Colts, said he doesn't know when the city might go after a Super Bowl again, but the franchise is ready to support the effort when and if it ever does. He added that, from the team's perspective, Lucas Oil Stadium lacks nothing to hold it back from another bid.
"It's still very capable of hosting an event like the Super Bowl," he said. "I know that Miami has made huge, huge improvements, as have other cities, but Lucas is only 14 [years old]. I don't know that any major improvements are needed right now to compete for a Super Bowl."
What comes next?
The NFL didn't return a message requesting comment for this story, so it's not clear how much Indianapolis is on the league's radar for a Super Bowl. But city officials submitted bids late last year to hold onto the combine and attract the draft.
Allison Melangton, who led the host committee for Super Bowl XLVI, said Indianapolis' best bet is to keep focusing on building up its downtown hotel inventory and improving the city's core, while also going after other major events, so it's prepared if the league ever calls.
"I believe we're doing all the right things: We're hosting the right events, and we're continuing to prioritize as a community that these are events that are beneficial to the city," she said. "I would continue on the trajectory we're on."
Mallon said he and the rest of the bid team are in constant contact about NFL events and other major sporting competitions that might have their eye on Indianapolis and are always looking for ways to woo those events.
He acknowledged that, in some cases, like that of the Super Bowl, it is more of a waiting game and being ready to answer the call. But if that call came tomorrow?
"If the NFL came to us and offered the Super Bowl, we'd take it," he said. "We'd give them a big hug and embrace the opportunity to do the Super Bowl again—absolutely, 100%."•
Please enable JavaScript to view this content.