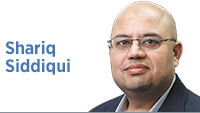 A recent report by the Council of American Islamic Relations—called "Hijacked by Hate: American Philanthropy and the Islamophobia Network"—documents that more than $125 million was funneled through mainstream philanthropy to anti-Muslim hate groups from 2014 to 2016, a period during which reports of hate crimes and discrimination against Muslim Americans also increased.
This report builds on previous reports that showed similar funding to anti-immigrant and anti-LGBTQ groups earlier this year during that same period. Much of the funding in question was donated to these hate groups through donor-advised funds.
Donor-advised funds are instruments held by community foundations, financial institutions and other approved entities. DAFs allow donors to contribute money and receive tax deductions. The donor can then advise the charity to pay out the funds according to the donors' discretion.
As I have shared in a previous column, the debate about DAFs has focused on whether the funds should be allowed to accumulate, whether there should be greater transparency in disclosing the identities of donors, and the ability of private financial institutions to manage DAFs. The disclosure that DAFs are being used by donors to fund hate groups has fueled more debate.
To their credit, some community foundations have gone so far as to discuss the need for the adoption of "values" statements by DAF donors. In essence, a donor understands the values of the community foundation and acknowledges that the community foundation will not pay out funds to a charitable institution that doesn't fall within those values.
But this move won't solve the larger problem. Donors who fund hate groups through DAFs will simply find financial institutions willing to serve as pass-throughs. In fact, the largest holders of DAFs are commercial institutions like Fidelity, Charles Schwab and Vanguard. These institutions assert that they follow a policy of being "cause-neutral," which allows their donors to fund any charitable organization in good standing with the IRS.
But they aren't always cause-neutral. Muslim donors have reported that they have been prevented from using DAFs to fund Muslim charities that have been engulfed in slander campaigns from the hate groups. Despite being in good standing with the Internal Revenue Service, these Muslim American charities are not given the same "cause-neutral" benefit of the doubt.
The real challenge we face is not about the instrumentality of a DAF. The real challenge is that there is hate, bigotry and prejudice in our country. We must find different ways to come together and educate society.
Mainstream philanthropy has not played a strong enough role in combating islamophobia. While in other civil rights battles, mainstream philanthropy has hired key staff, educated itself about the challenges and built capacity to combat hate, we have not seen a similar response when it comes to islamophobia.
In fact, the amount of money being granted to build capacity of Muslim American civil rights groups (or the Muslim American not-for-profit sector) pales in comparison to the amount of funding being used to further islamophobia in America.
It is important that mainstream philanthropy take a more active role in combating hate and, in particular, islamophobia. It is also important that institutions that sponsor donor-advised funds—both commercial and philanthropic—have a sector-wide discussion about reforms to these instruments.
History will not look kindly on these leaders of philanthropy if they fail to be proactive and prevent their work from making the world worse when it comes to hatred, bigotry and prejudice of Muslims, immigrants, LGBTQ and other marginalized groups.•
__________
Siddiqui is an attorney, has a doctorate from the Lilly Family School of Philanthropy at IU and leads the Association for Research on Nonprofit Organizations and Voluntary Action. Send comments to ibjedit@ibj.com.

Click here for more Forefront columns.
Please enable JavaScript to view this content.