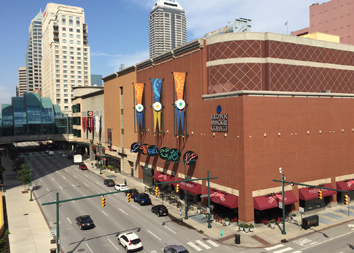 Simon Property Group has sold its share of Circle Centre mall, nearly three decades after playing a catalytic role in developing the shopping center that served as a focal point of downtown Indianapolis' renaissance in the 1990s.
Indianapolis-based Simon divested its 15% ownership of the 600,000-square-foot mall at the end of 2021, selling its shares back to Circle Centre Development Co.—a limited partnership of 17 business and corporate investors—for an undisclosed price.
Adam Collins, a partner at Indianapolis firm Wallack, Somers & Haas and legal counsel to Circle Centre's ownership group, told IBJ that having Simon relinquish its ownership stake "was in the best interest" of all involved—including Simon, which last April handed over day-to-day management of the property to JLL.
Simon officials didn't immediately respond to IBJ's request for comment on Friday afternoon. Founded in Indianapolis, the publicly held retail real estate developer is America's largest mall owner. The firm's privately held predecessor, Melvin Simon and Associates, was Circle Centre's developer.
Debuting to loud fanfare in 1995, Circle Centre has seen an exodus of major retailers in recent years. Original anchor tenant Nordstrom departed in 2011, and Carson Pirie Scott closed its three-story anchor store in 2018.
However, the mall also has managed to woo restaurants and food-related businesses—such as Nada, Punch Bowl Social and Yard House—to take over portions of the old anchor spots at street level.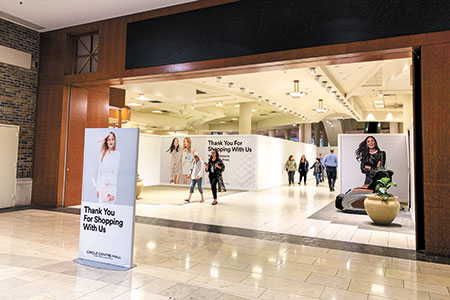 The interior concourses have lost scads of nationally known tenants in the last decade, including Gap, Gap Kids, Eddie Bauer, GameStop, FAO Schwartz, The Loft, The Limited, Abercrombie & Fitch, Johnston & Murphy, Victoria's Secret, New York & Co. and Express.
Circle Centre Development Co. is the partnership of companies that provided $75 million toward the mall's $320 million original development cost.
The mall was developed by combining a number of existing buildings and historic facades with new structures. Circle Centre Development owns many of the buildings, including all the sections built specifically for the mall.
But the land is owned by the city and leased to the ownership group through an agreement with the Department of Metropolitan Development. In addition, the city owns the northeastern-most building in the complex, where former anchor Carson Pirie Scott & Co. was located before it closed in 2018, and has leased it to Circle Centre Development through a separate agreement. The building originally housed the L.S Ayres flagship store that operated from 1905 to 1992.
The ownership group announced Friday that it's soliciting ideas for ways to redevelop the property. CCDC is accepting proposals from five groups about what could be done with the property: RATIO Design/Meticulous Design + Architecture, CSO, Woolpert/Arquitectonica, Dorsky + Yue International Architecture, and the Ball State University College of Architecture and Planning.
"The construction of Circle Centre mall was the direct product of city and civic leaders working collaboratively to revitalize our downtown and, for nearly three decades, the property has served as a critical attraction and amenity for residents and visitors, alike," said Indianapolis Mayor Joe Hogsett in a media release on Friday.
"Now, in that same spirit of collaboration, we are embarking on a journey to reimagine the property and drive the continued evolution of the economic and civic hub that is our Mile Square," Hogsett said.
"Circle Centre Mall has a great story to tell," Portia Bailey-Bernard, Indy Chamber Vice President for Indianapolis Economic Development, said in written remarks. "This is no longer being looked at as just a mall but a mixed-use property, and opportunities like this highlight how relationships between our public and private sectors allow for optimal development in Indianapolis."
The pre-development stage, including preliminary design work, is expected to be completed by the end of 2022.
Collins, in written remarks, said the ownership believes it's time to pivot the mall to turn it into a more modernized mixed-use development.
"Since opening in 1995, Circle Centre has continuously evolved to meet the changing demands of consumers," he said. "By envisioning the best development options for the future, both residents and visitors will benefit from a creative and vibrant environment for years to come."
Please enable JavaScript to view this content.