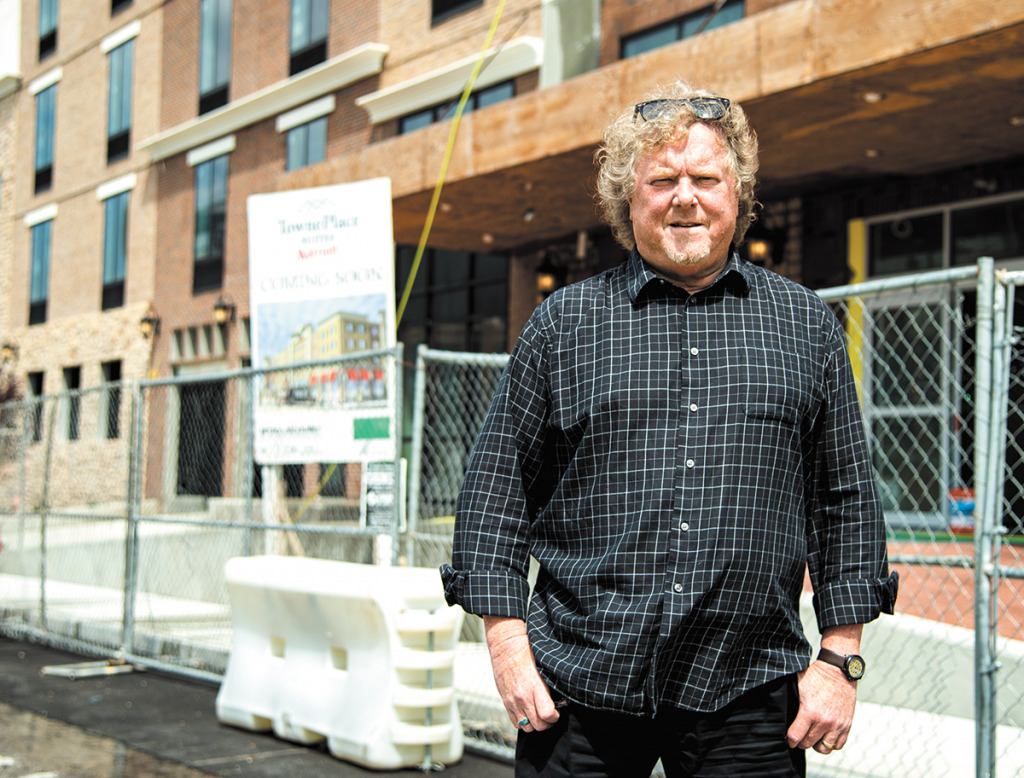 Indianapolis architect Stephen Alexander has a big plan for the south side of downtown—but it's a plan that is ever evolving and will take decades to accomplish, if it happens at all.
The vision, he said, will require hundreds of millions of dollars in investment and large-scale rethinking of development along the Interstate 70 corridor, with an approach focused on repurposing land that has sat vacant or underused for years.
"I have an image in my mind of what [the south side of downtown] can be," said Alexander, 63, who owns Prince Alexander Architecture on South Meridian Street.
"But every day, it changes to something different. Each [new] piece is completely organic, because it's not always what I originally expected it to be. But the plan has to keep rolling and evolving every day, because we don't have a real master plan."
Alexander's ideas include apartment complexes, hotels, condominiums and single-family homes within blocks of Lucas Oil Stadium.
The goal, he said, is to bring young professionals and newer companies into the neighborhood, while also adding commercial development and amenities that could go a long way in bolstering foot and vehicular traffic.
Alexander has been in the architecture industry for four decades. He got his start in 1980 as an associate for Browning Day Architecture. His first project was to lay out the tile design for pools at the Indiana University Natatorium at IUPUI. He also participated in early work on the RCA Dome.
Later, Alexander joined storied local firm Blackburn Architects, where he helped design low-income housing projects and revitalize historic churches, while also working on the growth of the IUPUI campus.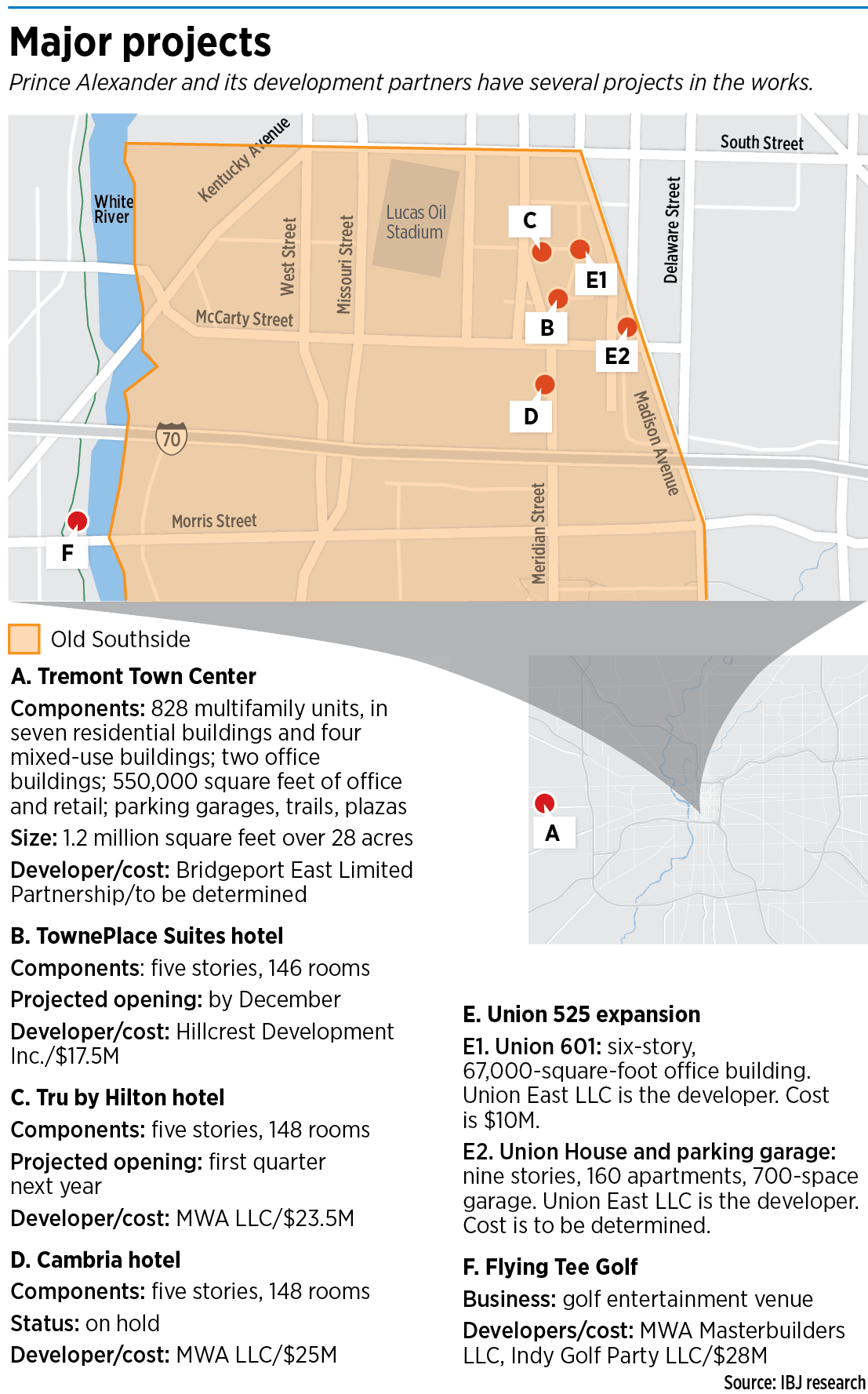 And since 1984, Alexander has operated Prince Alexander Architecture, a firm that has designed courthouses, medical buildings, schools, hotels, apartment complexes and a variety of other projects in Indianapolis and beyond. The firm offers economic development, urban design, land planning and engineering services, in addition to its architectural work.
But in recent years, Alexander has become extensively involved in a variety of projects south of the city's central business district—both as an architect and as a developer—including two new hotels (and a third on the way), the expansion of the Union 525 tech campus at the former Wood High School building on South Meridian Street, and just-released plans for a golf entertainment venue on the western bank of the White River.
Spurring change
While his focus is mostly close to Lucas Oil Stadium, Alexander said the larger goal is to catalyze growth throughout the entire Old Southside neighborhood. The Old Southside is bounded by South Street on the north, the CSX Railroad tracks and Adler Street on the south, the White River on the west and Madison Avenue on the east.
Alexander's vision comes from a dissatisfaction with the city's comprehensive plan—which generally focuses on zoning and best uses for sections of neighborhoods. He said it falls well short of being a road map for the corridor's success, and often thwarts potential developer creativity. While the city consults with neighborhoods on the plan for their area, it generally leaves master-planning efforts to the neighborhoods themselves, with the comprehensive plan acting as guardrails.
To be sure, the desire to redevelop the Old Southside is not Alexander's alone, and some, in fact, argue he's not the one actually spearheading the effort.
He has, however, worked closely with neighborhood leaders over the past several years. And his name is on a number of the projects.
"Steve has got a lot of creative ideas and he's very much a cheerleader for the area," said Brian Shapiro, owner of Shapiro's Delicatessen, who largely credits former Stadium Village Business Association President Tom Dale with putting the area on the map.
Dale, owner of Midwest Computer Accessories Inc., said Alexander is one of several people who have helped carry the neighborhood's redevelopment efforts.
"Steve is a great entrepreneur and as he's become more involved in Stadium Village and, as we've installed what our goals are as an organization, he's been right there with us," Dale said. "He's been a great asset."
Much of Alexander's work over the past several years has been in bringing new projects to life, both as a designer and as a member of various development teams. His current slate in the area accounts for nearly $50 million in investment, with tens of millions of dollars more waiting in the pipeline.
He is extensively involved in the Union 525 expansion, which he consulted on as a designer in 2017. The campus—which focuses heavily on tech firms—is adding $10 million in office space and a 160-unit apartment tower. A 700-space parking garage is also in the works.
Among Alexander's biggest swings is a golf facility along the White River, just west of downtown on West Morris Street. He is lead designer and a partner in the development, announced Aug. 26.
The $28 million project would be the largest entertainment-focused development in the area since Lucas Oil Stadium was completed in 2008.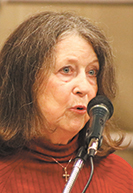 Connections, creativity
Judith Essex is president of the Old Southside Neighborhood Association. She has been involved with the group since 2012 and credits Alexander and Dale with taking the lead on efforts to push the area forward.
"If weren't for Steve and all of his connections in the development world, I really don't think things would have moved forward as quickly as they have," she said. "But of course, a lot of people think it's 20 years overdue—which it really is, considering how close we are to downtown."
She said Alexander's understanding of neighborhood land availability made him an asset. Alexander owns various properties throughout downtown, although he was unable to provide a listing of his holdings and said he's "not sure" how much property he owns. IBJ could not find city records listing his property holdings.
Alexander said he buys properties he believes have the opportunity for growth down the line, such as his current office at 850 S. Meridian St., which previously belonged to Dale. Alexander plans to raze the building in the coming years for a 148-room Cambria hotel. For several years, he owned the site of the Tru by Hilton hotel, now under construction at 601 Russell Ave., before landing a development deal for the property.
Essex said Alexander also brings a creative mind to the table.
"I think, in some respects, Steve is ahead of his time for Indianapolis," she said. "Some of these ideas are things that are being done around the world, but maybe central Indiana just isn't ready for that type of vision."
She pointed to a now-abandoned concept Alexander pitched that would have resulted in new parking garages near the ramps for Interstate 70, as well as his ideas for how to spur housing and commercial development along the highway.
She said she appreciates that Alexander "thinks outside the box. … I think we have the same vision for South Meridian Street, in that we're wanting to recapture the vitality that was once there."
'Steve's not afraid'
Alexander is part of the development team for the $23.5 million Tru by Hilton project, a block north of McCarty Street. And he's the designer for the $17.5 million TownePlace Suites by Marriott adjacent to the Tru.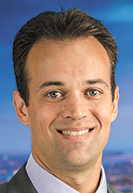 "I would choose Steve as a partner any day of the week, over a lot of the other guys I've worked with, who may be smarter or have deeper pockets or have a better vision of the future," said Vince Dora, owner of Dora Hospitality, the hotel management partner in the Tru project.
"Working with him and Neal [Burnett], it's really more like friends getting together. Because of his personality and his ability to just get along with folks … it's an easy partnership."
The Tru project is currently the subject of a court battle. Former project consultants Bo Hagood and Harry Kennerk have sued Burnett and Alexander, alleging they were not paid their portion of a franchise fee after a deal for the hotel was tendered in 2017.
The case, filed in July 2019, is pending in Marion Superior Court.
Dale said Alexander will rattle cages to do what he thinks is best for the neighborhood—including in his interactions with city officials.
"Steve's not afraid," he said. "You kind of have to be [fearless] down here, since we've been neglected for so long. That's just how south-siders are—we're fighters, you know? We have to fight for everything."
Shapiro agreed.
"I always call our area a bunch of stepchildren to the city," he said. "They really don't want to hear from us."
Insiders said Alexander has had an at-times contentious relationship with city leaders, including the Department of Metropolitan Development, largely driven by his efforts to ensure the Old Southside is on equal footing with other downtown neighborhoods and to ensure his projects are given an opportunity.
Officials with DMD and former Director Emily Mack, whose last day with the city was Aug. 28, declined to comment for this story.
Alexander said the observations are fair.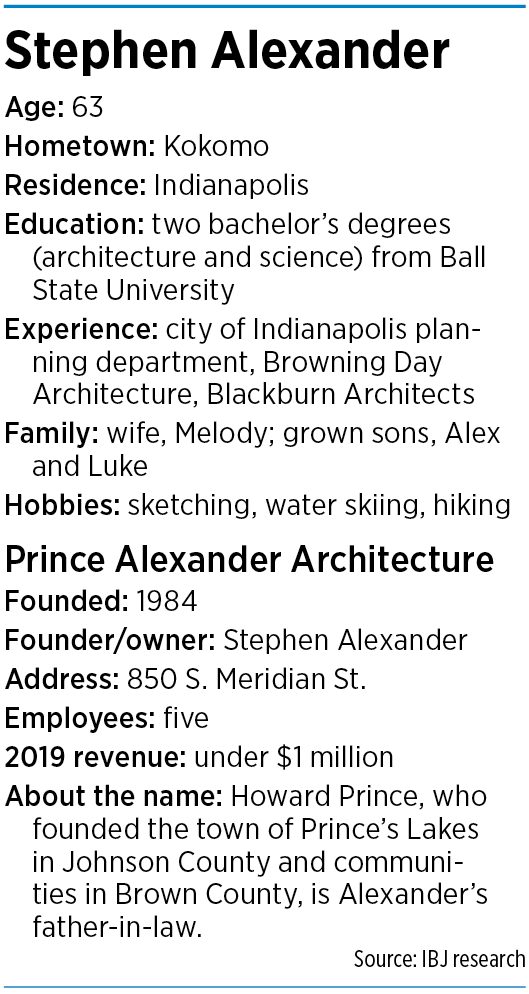 "At this moment in American history, I think it's ever more important to think of the words 'to form a more perfect union,'" he said. "We're always trying to make things better and that means questioning things that aren't working well."
Burnett, also a partner in Alexander's Cambria project on South Meridian Street, said he believes the architect's passion for his work can at times be conflated with combativeness.
"His love of Indianapolis—especially the near south-side—runs so deep that, at times, it seems emotional as he's talking about it, but I wouldn't confuse it with him getting 'at odds' with people," he said "I don't think that's the case. I think it's just his passion coming through."
Burnett said he enjoys working with Alexander because he thinks outside the box, and takes an active role in developing his projects. "He's really a decision maker in the process, not just a designer," he said.
On better terms
The relationship between the city and downtown south-siders has seemed to improve in recent years. In June 2016, the Old Southside Neighborhood Association hosted a discussion with developers and city officials about potential investments.
Essex said she thinks the overture went a long way in mending a relationship that had frayed through several mayoral administrations.
In 2018, the city selectied the Old Southside for its Lift Indy grant program. The funds helped the neighborhood upgrade a park and improve infrastructure along South Meridian Street, and paid for construction of several homes.
In 2019, city officials approved a tax-increment-financing district that will allow the city to address drainage, sidewalks, lighting and beautification projects in the neighborhood. The city plans to spend $3 million from the TIF for the projects, while also encouraging mixed-use developments.
And locally based TWG plans to develop a $58 million apartment building along South Meridian Street, just north of I-70—similar to what Alexander has long pushed for.
TWG President Tony Knoble said that, while he's engaged with Alexander at times, TWG has long had an interest in the site.
The firm hopes to capture some TIF dollars for the project. About one-fifth of the apartments will be reserved for individuals making 60% of the area's median income.
Alexander said he's hopeful the current investments in the neighborhood are signs of better things to come.
"We've kind of adopted this neighborhood, and I think the neighborhood has adopted us," he said. "We're the most active developer down here right now, but I think in the next year or two, you're going to see others become quite active. … I like to hope we've been a catalyst, inspiring others and proving this neighborhood is worthy of investment."•
Please enable JavaScript to view this content.