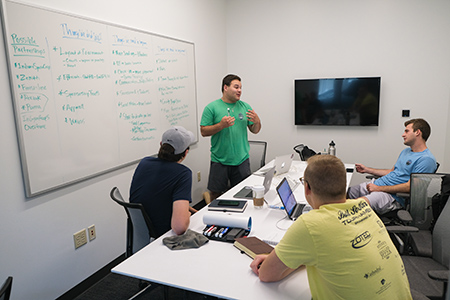 Universities and colleges are constructing new buildings and renovating old ones with collaboration in mind.
Take IUPUI's Innovation Hall, which is under construction and scheduled for completion next summer. It will provide the campus a classroom building for three STEM powerhouses, with lab space that brings together science, engineering and tech students currently spread across campus.
Butler University has modeled the first floor of its new business school building after The Speak Easy co-working spaces. And the school's new science building will include at least three spaces that give students places to gather among themselves.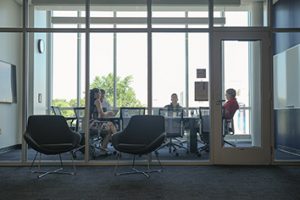 Think couches and chairs surrounding coffee tables and pub tables and chairs in open spaces, anchored by a coffee shop. In classrooms, large tables will give students a place to work but their chairs will be on wheels to move from table to table.
The collaborative spaces are meant to further innovation and inspire teamwork among students from differing disciplines. And in some cases—like at the Butler Lacy School of Business—they aim to bring students together with the people who can offer them internships and jobs.
Higher education project designers with Indianapolis-based Ratio Architects Inc.—whose portfolio includes higher education builds across the country—say creating open spaces in academic buildings is pervasive in new builds and renovations. But it hasn't always been that way.
Ratio principal Chris Boardman said that, into the early 2000s, most academic buildings were designed for learning to happen within the walls of a classroom. Standard design was an 8-foot-wide hallway with classrooms on both sides.
It was common for 60% to 70% of a facility to be classrooms and lab space. Now, those spaces often represent 50% or less of a building, Boardman said.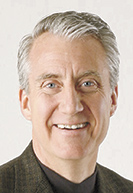 The change started with science-related buildings, as schools moved to team-based learning. But today, the need for collaboration space is common across disciplines, he said.
"Now, it's totally down to some of the most conservative departments on campus, like math or law," Boardman said. "It's been a trend line over the last 20 years. It's come to a point where everyone has adapted it on campus."
Bill Browne, principal and president at Ratio, said the trend in higher education design matches that of office builds across industries: Workers want adaptable and collaborative spaces.
"We're really enjoying the change that is occurring in academic environments because it really is starting to represent more of what society is looking for and [we can] be responsive in that way," he added.
Rubbing elbows with pros
At Butler, the number of available collaborative spaces actually shrank as the learning style grew in popularity, because school leaders needed to add faculty offices and classrooms to accommodate the school's prolific growth, said Provost Kate Morris.
The new business and science buildings, which are expected to cost a combined $150 million, are intended to alleviate that crunch. They provide students with room to work or study alone or just decompress with a cup of coffee, while also offering space for group projects.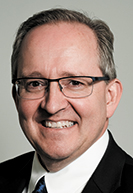 In the former 17,000-square-foot business building, that wasn't possible, Morris said.
"To really foster collaborative learning takes a lot of different spaces," she said.
The business school's plan to use some of those spaces for students and business-leader mentors to rub elbows was "the key design principle of the entire building," said Steve Standifird, Lacy business school dean.
"What this building is really designed to do is to create a space that brings the business community and the school of business together," Standifird said.
"If we've done it right … it gets to the point where you can't tell where the business community stops, and the school of business begins."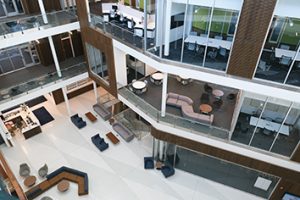 Bryan Brenner, founder and CEO of FirstPerson and a Butler trustee, said he really didn't have a reason to hang out on campus before the new business school opened. But the Lacy building will give him—and other businesspeople—a place to meet and connect with future talent, he said.
The goal is for students to be able to strike up casual conversations with business leaders, Standifird said.
"The more we can create an environment that facilitates that as a regular operating function, that every day you're likely to run into a senior executive from company ABC in the lobby—fantastic. That's exactly what we want," he said.
Interdisciplinary inspiration
Butler's new science building will feature interdisciplinary lab spaces that school leaders hope leads to new research. Chemistry, astronomy, physics, engineering and psychology students will use spaces in the building.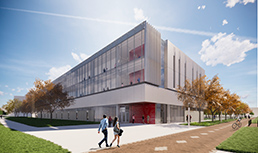 The atrium will connect the Holcomb Building and Gallahue Hall and create a central gathering space.
The design of the Innovation Center—part of the Butler science building—will allow students, faculty, alumni and partners to "invent, create and improve new ways of thinking, experimenting, working and producing what society needs in the decades ahead," a fundraising campaign for the project states.
And at IUPUI, the estimated $44 million Innovation Hall brings into one building the Purdue School of Science, Purdue School of Engineering and Technology, and the Indiana University School of Informatics and Computing.
The research and instruction space is being constructed in a way that promotes interdisciplinary interaction and active learning.
Innovation Hall's first floor will house three classrooms and an informal student lounge and seating area. The classrooms include movable chairs and tables and a football-shaped classroom where the faculty teach from the middle.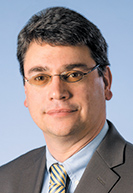 David Russomanno, dean of the School of Engineering and Technology, said the classroom designs will allow for much more interaction inside the room than is typical. Other building features include space for the school's Integrated Nanosystems Development Institute, which houses engineering and nanoscale science, and for a pilot program with the law school regarding patent and intellectual property law.
"You're always looking for those serendipitous moments that come through discussions with multiple points of view. Many would argue that really is the environment you need to inspire true innovation," he said. "The traditional classroom environment doesn't necessarily promote collaboration that results in innovation."
David Skalnik, associate dean of research at the Purdue School of Science, said more interaction among students and researchers could put them "over the hump" in terms of research breakthrough and funding.•
Please enable JavaScript to view this content.