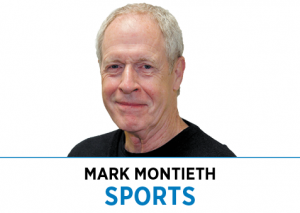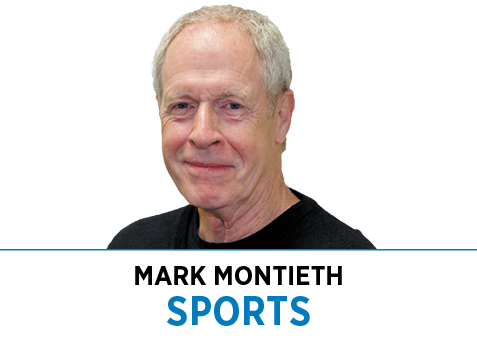 John Ritter was the rarest of basketball breeds, a great but reluctant shooter. So reluctant, in fact, his coach at Indiana University, guy named Bob Knight, occasionally felt the need to remind him in not-so-soothing tones to do it more often.
Fifty years ago, on Dec. 18, 1971, a chastened Ritter shot more often and made lingering history. He got up 17 field-goal attempts. He made 13 of them. He scored a career-high 31 points. And he outscored the opposing team all by himself.
Good luck finding another example of a major college basketball player accomplishing such a feat, at least in the last 80 years or so. Ritter did just that when IU defeated Notre Dame 94-29. It takes a perfect storm of circumstances for something as outlandish as that to occur, and Ritter rode the wave.
Hey, a guy's gotta do what he's gotta do to avoid being benched for the rest of his career.
Indiana and Notre Dame will be playing in the final Crossroads Classic Saturday at Gainbridge Fieldhouse on the 50th anniversary of that game. No matter what happens, it surely won't be as memorable as Ritter's stand, which theoretically could have been his last.
"It was a fluke," Ritter said recently. "It wasn't because I was a great player; it was just something that happened."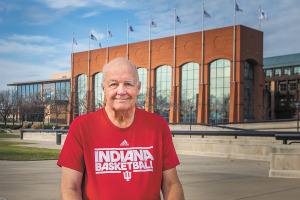 Here's how.
Ritter had been highly recruited out of Goshen High School in 1969, so valued that Johnny Wooden made a rare home visit to try to lure him to UCLA. He also visited Indiana, Louisville, Kansas and, most memorably, Notre Dame, a mere 38 miles to the northwest. There, he was treated to dinner at a high-class restaurant and received a low-class recruiting pitch from coach Johnny Dee.
"John, we'd like to have you come to Notre Dame," Dee said. "I think, with you being from the area, it would be good for you to come here. But I'm not sure you're good enough to play for us."
Ritter wasn't sure how to take that. Was he supposed to stand up and shout, "No, sir! I'm good enough and I'm going to prove it to you!" He just shook his head and said, "Well, UCLA and Indiana think I can play for them, so maybe you're wrong."
Ritter had grown up a Notre Dame fan and was a particular admirer of Jay Miller, a 1965 grad who later played in the NBA and for the ABA Pacers. Had Dee and his staff done their homework and asked Miller to call Ritter, he likely would have gone there. He chose IU because the coaches had reached out to him early and often, and it was close enough for his parents to watch him play.
He started as a sophomore for coach Lou Watson in a season that imploded near the end and led to Watson's resignation with one game left. He then started two seasons for Knight, averaging 14 points as a junior and 14.7 as a senior.
Humble nature
IU started 4-0 in Knight's first season, including victories over 14th-ranked Kansas and seventh-ranked Kentucky in Louisville. Future NBA and ABA forward Joby Wright was the leading scorer of that 1971-1972 team and future All-American center and first-round NBA draft pick Steve Downing followed closely behind. Ritter was third in line and had no problem deferring to them. Or anyone else, for that matter.
Chalk up that selfless approach to his humble nature and a keen intellect. Ritter was an academic All-Big Ten selection all three of his varsity seasons at IU and an academic All-American as a senior. His teammate and senior-year roommate Jerry Memering remembers him as "a guy who didn't have to study and still made great grades."
He played with an analytical mind, too, but sometimes took his self-denial to extremes. IU's first loss that season came in its fifth game, by nine points at Ohio University. Ritter took just one shot and hit it. Sometimes when good shooters don't shoot, they're protesting something, or pouting. Not so with Ritter. He considered himself a team player first and foremost.
With IU trailing early in the game, he thought shot selection was more vital than ever and he was accustomed to Downing and Wright being the focus of the offense. Downing, in fact, had scored 47 points against Kentucky four days earlier and Wright was in the midst of a 35-point game against Ohio. Knight constantly preached getting the ball to big men near the basket and had not complained about Ritter's meager shot volume after victories. Nor had Ritter.
"I thought I could get an 18-foot shot anytime I wanted but I always thought, 'Let's pass it around and maybe we'll get a higher-percentage shot,'" he said.
IU flew back from Athens, Ohio, that night on a university plane. After landing at the airport in Bloomington, the traveling party bused to Assembly Hall. As the players began unloading, Knight said, "I'll see you all at practice tomorrow. Ritter, I want to see you in my office."
Ritter dropped off his gear in the locker room and walked upstairs to Knight's office. It was past midnight, and Knight was sitting behind his desk. He asked Ritter to sit down.
"He takes out an envelope opener and starts going through his mail," Ritter recalled. "He doesn't say anything to me for a long time. At least it seemed like a long time; it probably wasn't.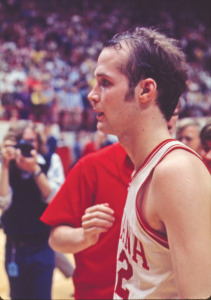 "Finally, he says, 'John, tell me, do you think they hired me here to win basketball games?'"
"Yes sir."
"'Well, tell me this, how am I going to win any @#*%$ basketball games if my @#*%$ best shooter won't shoot the @#*%$ ball?'"
"I don't know, Coach."
"I'll tell you this. We play Notre Dame on Saturday, and if you don't take at least 15 shots—and I don't care if they're 15 hook shots or 15 shots from half court—if you don't take at least 15 shots, you'll never play another minute here as long as I'm coaching. And I guarantee you I'll be coaching a lot longer here than you'll be playing.'"
Then came Notre Dame
Prodded by those words and practice time devoted to getting him more involved in the offense, Ritter looked for his shot against Notre Dame. He found 17 of them and hit all but four. Along with scoring 31 points, he grabbed a game-high 12 rebounds despite playing barely more than 28 minutes and being pulled from the game with nine minutes still to play. He walked to the end of IU's bench and asked one of the student managers in charge of stats how many shots he had taken. Told 17, he relaxed and took a seat.
"If he had told me 14, I was going to tell Knight I had to go back in the game," Ritter said. "I really believed him. I didn't want to test him."
Notre Dame coach Digger Phelps, who had recruited Ritter while an assistant coach at Penn, wasn't surprised by the cautious shooter's sudden outburst.
"John has the potential to play that way," Phelps said. "He's an unselfish player, and once he gets going, he's an excellent shooter."
Ritter had proven that many times in high school, such as when he scored 49 points in Goshen's 101-47 victory over South Bend Clay.
It took more than a coach's threat for Ritter to outscore the Irish, however. Nor was Dee's insulting recruiting pitch three years earlier a factor. Notre Dame's team effort of ineptitude told the other half of the story.
The 30-year-old Phelps was in his first season as Notre Dame's coach and was immersed in a major rebuild. His roster was so depleted by injuries and illness he had to scrounge just to put a team on the floor. He pulled two players off the football team, brothers Mike and Willie Townsend, and both started against IU. Notre Dame hit two of its first four shots but then just one of its next 30 in the first half. It wound up taking 61 shots and made just eight—five fewer than Ritter.
Phelps joked after the game that his team had nowhere to go but up, and he was right. Four days later, it lost at UCLA 114-56, after trailing 53-16 at halftime. The Irish finished that season 6-20.
Although IU's fourth home game of the season, this was the official Dedication Game for newly constructed Assembly Hall. Ordinarily, a victory over an in-state rival would have been the perfect capper to the festivities, but this one was so extreme as to seem cruel. Knight did what he could to lessen Notre Dame's humiliation, such as by removing Downing, who was playing with a sore knee, for good 12 minutes into the game when IU led 30-8. It was impossible for Knight to keep all his starters on the bench, however, because he only had nine available players.
"I really hate to beat a team like that," Knight said afterward. "I don't think you'll ever see a Notre Dame-Indiana game like that again."
This weekend included.
'Shoot a little bit more'
It would be nice to report that Ritter went on to become an offensive force the rest of his college career, but habits and game plans are hard to break. He took 10 shots in IU's next game, an 11-point victory at Butler, and averaged 10 attempts for the season. He hit 51% of his field-goal attempts as a junior, best among the starters, but was a distant third in shot attempts. His senior season was virtually an instant replay. He hit 50% of his shots and again was third in attempts.
"That was always something that was said: John should shoot a little bit more," Memering recalled.
Ritter has his side of the story, though.
Knight "always wanted me to shoot more, but he didn't want me to miss any," he said. "We were big on passing the ball and getting good shots. In high school, I didn't have any second thoughts about shooting because I knew if I didn't get 30 points, we'd lose. In college, there were a lot of good players."
The pattern continued to the very end of Ritter's college career. He scored 13 points in IU's semifinal loss to UCLA in the 1973 Final Four, hitting six of 10 shots and his only free throw. Aside from Downing, the other three starters hit just eight of 27 attempts. But Knight, as he often did, used Ritter as his whipping boy to inspire the team heading into the consolation game against Providence two nights later. Ritter responded by scoring 21 points, hitting eight of 15 shots in an 18-point victory. He had hit 59% of his field-goal attempts in IU's four tournament games but ranked fourth in volume.
Done with it all, physically and emotionally, he chose to ride back to Bloomington from St. Louis with his girlfriend rather than with the team, and he missed the pep rally at Assembly Hall later that night. Which isn't to say he bailed on the program. After surviving until the final cut in the Pacers' training camp in the fall of 1973, he occasionally accompanied Knight on recruiting trips–including one to see a kid in West Baden Springs, Larry Bird.
Knight suffers from dementia today but receives visits from some of his former players at his home in Bloomington and has met with them in group settings as well. The most dramatic of those was in February 2020, when he returned to Assembly Hall for the first time since being fired in 2000.
Ritter was among the attendees that day and had a chance to sit down with Knight before the halftime ceremony. He had been warned by other former players that Knight might not remember him, and at first wasn't sure himself while they talked. But then:
"Coach, I just wanted you to know I'm sorry I haven't been around much the last several years to help you more," Ritter told Knight.
"John, you've done everything you could possibly have done. But you could have shot the @#*%$ ball more," Knight replied.
Yes, Knight remembered.•
__________
Montieth, an Indianapolis native, is a longtime newspaper reporter and freelance writer. He is the author of three books: "Passion Play: Coach Gene Keady and the Purdue Boilermakers," "Reborn: The Pacers and the Return of Pro Basketball to Indianapolis," and "Extra Innings: My Life in Baseball," with former Indianapolis Indians President Max Schumacher.
Please enable JavaScript to view this content.