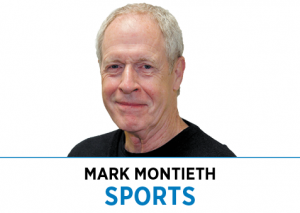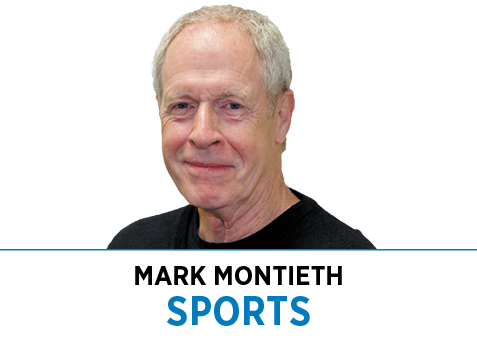 No informed follower of basketball would doubt that today's athletes are bigger, stronger and faster than those of 50 years ago. Most train year-round and follow a fairly strict diet. Treatment methods and surgical procedures are more advanced as well.
Likewise, no informed follower would argue the fact that today's players sit out more games with injuries than those of 50 years ago. Far more games.
So, what gives? How did this illogical conundrum come to pass, not to mention dribble and shoot?
The explanations, as you might expect, are complicated. But they are important, too, because championships are won and lost because of injuries. No company performs at anything approaching a peak level if several key workers aren't clocking in and getting their work done.
The Pacers provide as clear a view of the trend as any team. Take, for example, the five players who made up the core of their starting lineups that won three ABA championships: Roger Brown, Mel Daniels, Freddie Lewis, George McGinnis and Bob Netolicky. Through the franchise's first seven seasons, before that group was broken up, they missed a combined total of 70 games because of injuries. That's five players playing a combined 28 seasons and sitting out 70 games—a total that doesn't include absences for illness, personal situations such as a funeral or being given a game off ahead of the playoffs.
The current Pacers aren't faring so well.
Malcolm Brogdon has missed 50 games over the past 2-1/2 seasons with the Pacers after missing 49 games throughout his first three seasons in Milwaukee.
Jeremy Lamb has missed 72 games in 2-1/2 seasons with the Pacers.
Myles Turner has missed 83 games in 6-1/2 seasons with the franchise.
All three, then, have each missed more games than five of the core Pacers missed as a group, and in fewer seasons. It's not a question of whether players are injured—if you tear an ACL or fracture a bone, you can't play—as much as why they are injured so frequently.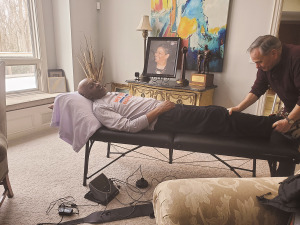 George McGinnis, co-Most Valuable Player in the ABA in 1975 with Julius Erving and a Naismith Hall of Fame inductee, wonders himself.
"They're trained better, they work out year-round. It seems they should be in much better shape than we were," he said. "They're better athletes, they do everything a little better than we did. They take care of their bodies. That's a hard one to figure out."
David Craig and Ralph Reiff have some theories.
Craig was the Pacers' head trainer for 35 seasons and is still hyper-active in the art of treating current and former athletes. Reiff, a Craig protégé, was Butler's head trainer from 1981-1999, left to become director of St. Vincent Sports Performance for 20 years and is now back at Butler. His current job title—senior associate athletic director for student-athlete health, performance and well-being—reflects the expanded boundaries of the profession.
Between the two, they've seen it all, and still do. They understand the many factors of the complicated dilemma, including:
Overuse
Time was, the better high school athletes participated in two or three sports. Today, a standout high school athlete is far more likely to specialize in one sport in order to enhance the possibility of earning a college scholarship and having a shot at a professional career, and that athlete plays that sport year-round. Participation on an AAU travel team that plays multiple games a day is viewed as mandatory. He or she therefore uses the same muscles and engages in the same movements year-round.
"It takes a pretty stout resolution as parents to say, 'No, we're not going to follow that stream,'" said Reiff, who participated in four sports at Wawasee High School and went on to play football at the University of Indianapolis.
"It's not hard to find parents who say, 'Yeah, I wish they would have played [more than one sport], but they really liked what they were doing, and you have to stay with it or you're not going to be picked the next time.'"
Reiff said most of Butler's athletes enroll with a significant injury history that often has a lingering effect throughout their college careers. That particularly applies to baseball pitchers.
Overuse might have been a factor in two of the Pacers' more mysterious injuries of the past 20 years. Al Harrington blew out a knee during a game in Boston in the 2001-2002 season simply by cutting across the baseline and up to the wing to catch a pass. Victor Oladipo tore a quadriceps tendon in a 2019 game at what is now Gainbridge Fieldhouse simply by jumping to catch a pass. He reinjured it last season when he landed awkwardly after an uncontested dunk while with Miami.
Both were extremely dedicated to their off-season training regimens, far more than Pacers of the ABA era. Perhaps they did too much?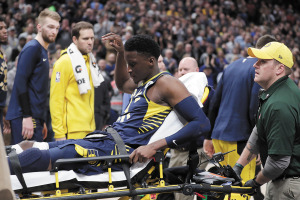 Limited practice demands
While today's athletes generally put in endless hours of work on their own, team practices—at least at the professional level—are less demanding than in previous decades.
Bob "Slick" Leonard was notorious for conducting exhausting workouts while coaching the Pacers in the ABA. The run-till-someone-pukes sprint sessions are legendary among the former players.
Larry Bird, likewise, promised the Pacers would be the NBA's best-conditioned team when he took over in 1997 and it paid off. Six of his top nine players didn't miss a single game because of injury in 1997-1998. Of the others, Dale Davis missed only four games and Rik Smits and Derrick McKey had chronic injuries heading into the season but were available for the run to the conference finals.
That turned out to be typical of Bird's three seasons as coach. All hands were on deck for the run to the NBA Finals in 2000 as well. His players have openly acknowledged the benefit of their conditioning.
"He ran the team during practice," said Craig, the Pacers' head trainer during Bird's reign. "Every skills drill included running. You worked on your cardio, but that pushed the rest of the body, too. The idea is, you get to the fourth quarter, you've got to have the ability to outrun and outperform your opponent."
Today, with many teams, conditioning is an afterthought to skill development and strategy during practice. And if a star player or his agent complains of the demands, management might listen.
Coaches "are more concerned about X's and O's and what their opponents are going to do," Craig said. "Athletes in general don't work on their specific conditioning [during the season] unless forced to do so by the coaching staff, but the coaching staff has different priorities."
Contracts
This season, four Pacers are being paid between $17.5 million and $21.7 million. The total team payroll on any of the three ABA championship teams wouldn't have exceeded $500,000. Naturally, there's a great desire to preserve a career that earns many millions of dollars. Contracts also have stronger guarantees, thanks to efforts by the players' union.
"We were fighting harder for our jobs, because our contracts weren't structured the way they are now," Lewis said. "You either played or you lost your job."
Lewis, the captain and starting point guard throughout virtually all of the Pacers' first seven seasons, missed 24 games because of injury during that period and didn't miss any his first three seasons. Two of his missed games were because of injuries suffered in an auto accident. His worst injury was a dislocated finger, which kept him out of seven games.
Fatigue
Today's athletes are like all kids. When they're not engaged in their sport, they're probably tapping a phone, playing a video game or staring at a computer screen. Fifty years ago, they were more likely to be playing a different sport, riding a bicycle, playing a pickup game at the park, or just hanging out with friends.
Technology not only distracts from healthier activities, it often affects the length and quality of sleep and free time.
"We're talking a lot more about sleep," Reiff said. "The NBA has been a leader in that. We're still [fighting] the feeling that sleep is overrated, 'I'll sleep when I die,' that sort of thing.
"The devices [such as phones and computers] are so attractive to us as humans, but they bring stimulation, frustration and stress. So, when does the body truly rest and repair itself? You talk with anybody in the field, when do injuries occur? Fatigue."
Some NBA teams have addressed fatigue-related injuries in recent seasons by allowing players to sit out when they are healthy–commonly termed "load management." Coaches including Leonard and Bird have done it over the years, but not early in the season as it's occasionally done now. Pacers fans have been frustrated by LeBron James skipping games for this reason when his teams play here, but it seems to have helped him. He's 37 years old and in his 19th season but is as dominant as ever, averaging 28.9 points, 7.4 rebounds and 6.6 assists through Monday's games.
Perhaps more rest should have been given years ago. ABA teams flew on commercial flights and played games on as many as four consecutive nights. Lewis and Netolicky had to retire at 33, Brown and Daniels at 32, and McGinnis at 31.
"I'm a big fan of managing minutes," Reiff said. "It's a bit of common sense that's dripped into the process."
Society
Societal factors have perhaps produced a "softer" athlete. Fewer of today's athletes grew up in poverty, a good thing, or even in a blue-collar household. They are more familiar with comfort. Daniels, one of the toughest players ever to wear the Pacers uniform, had a father who worked in an auto parts factory. McGinnis' father was a construction worker.
Reggie Miller's father was a career military officer. He had to make his bed every day and be at the dinner table on time. He carried that discipline over to his basketball career. He was the first to arrive for every game and followed a strict pre-game routine. He made bicycling and running in the hills near Malibu a major part of his off-season conditioning, and his work ethic in practice was exceptional.
He was skinny and not particularly athletic by NBA standards—although Craig says he was much stronger than he appeared—but he missed only 44 games because of injury in an 18-season career. His three major injuries were the result of violent contact and did not reflect problems with durability, conditioning or toughness—a fractured eye socket when he collided with Otis Thorpe in 1996, a sprained ankle when a German player landed on his foot in an exhibition before the World Games in 2002, and a broken hand suffered in a preseason game in 2004.
Those three bad-luck injuries accounted for 33 of the regular-season games he missed, leaving just 11 to the typical sprains, strains and bruises. More often than not, he played through such injuries.
It's also worth noting that Miller grew up before the landslide of distracting technology. And while he was raised in a comfortable suburban setting in Riverside, California, he had a major obstacle to overcome. He wore leg braces as a child to correct a birth deformity and still tried to keep up with his older siblings.
"He had a heart so big he could play through anything," Craig said. "When he said he was hurt and couldn't play, he was hurt. And he just loved the game."•
__________
Montieth, an Indianapolis native, is a longtime reporter and freelance writer. He is the author of three books: "Passion Play: Coach Gene Keady and the Purdue Boilermakers," "Reborn: The Pacers and the Return of Pro Basketball to Indianapolis," and "Extra Innings: My Life in Baseball," with Max Schumacher.
Please enable JavaScript to view this content.