As Indianapolis Mayor Joe Hogsett seeks a third term, he is facing opposition from a faction of his own party for the Democratic nomination.
The candidacy of his top opponent in the May 2 primary is at least in part an outgrowth of some Black Democrats' dissatisfaction last year with the running of the Marion County Democratic Party during Hogsett's tenure.
That candidate, State Rep. Robin Shackleford, was among the Black leaders last spring calling for more racial equity in the party's pre-primary candidate endorsement practices.
Shackleford led a group of Black candidates who refused to participate in last spring's Democratic slating. This year, the party did away with slating after Hogsett called for an end to the process in which candidates agree not to run in a primary if they are not the party's endorsed candidate.
Now that the slating controversy has settled, Shackleford faces the task of distinguishing herself from Hogsett on key community issues without having the benefit of incumbency or the kind of campaign funding he has to spread his message.
According to recent campaign finance reports, Hogsett has amassed a $4.1 million campaign war chest, though he has spent little in his race against Shackleford, who has just over $53,000 in campaign funds.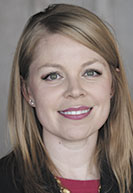 "It seems very clear that Robin Shackleford is the highest-quality challenger and has been running a strong campaign," Laura Wilson, associate political science professor at the University of Indianapolis, told IBJ. "But does she have enough [support] to unseat an incumbent in a primary? That's pretty unusual."
Community activist Clif Marsiglio will be on the ballot, but he ended his campaign last week and threw his support to Shackleford. Perennial candidates Larry Vaughn and Bob Kern also are seeking the Democratic nomination.
Shackleford has the opportunity to become both the first Black and first female mayor of Indianapolis. She's been trying to get there by holding frequent press conferences to lay out her priorities, saying Hogsett has failed to deliver on his public-safety promises and hasn't done enough to fix city streets and improve pedestrian safety.
Hogsett is trying to become the first Indianapolis mayor since Republican Bill Hudnut, who left office in 1992, to win more than two terms. He counters Shackleford's criticisms by pointing to historic funding amounts for IMPD; a recent decrease in homicides; a five-year, $1.1 billion infrastructure plan with provisions to improve street safety; and a new City-County Council proposal to ban right turns at red lights through downtown.
Public safety
Hogsett's tenure as mayor has been tested by an increase in gun violence, a nationwide problem exacerbated in urban areas by the pandemic. But the mayor notes that criminal homicides actually decreased more than 15% in Indianapolis last year, from 249 in 2021 to 210.
In March, Shackleford criticized the mayor for the Indianapolis Metropolitan Police Department's longtime staffing struggles. IMPD has the money to pay just over 1,840 officers but had 250 fewer than that at the beginning of this year.
"In 2015, Mayor Hogsett promised to put 150 more police officers on the street to protect our families and our neighborhoods like this one," Shackleford said. "Eight years later, we actually have fewer officers on the street than we did when he took office. In other words, he not only failed to deliver on his promise, he's actually leading us backwards."
In 2015, IMPD had 1,593 officers. At the start of this year, there were 1,590.
In response, Hogsett's campaign pointed to new incentives to hire more officers; the millions spent on new policing technologies; and the administration's three-year, $150 million anti-violence plan that focuses on crime prevention.
Last year, Hogsett upped IMPD's budget to provide $10,000 sign-on bonuses for new police officers and increased starting salaries to nearly $62,000 a year. A $965,000 recruitment marketing campaign is also underway with billboards in Indianapolis' Midwestern peer cities.
IMPD received a historic $313 million in the 2023 budget, making up about 22% of the city's overall budget.
Shackleford has laid out ways in which she would combat the shortfall in police staffing. She said her administration would increase starting pay to $65,000 and market the jobs to local communities of color, whom she said might have been missed by the initial ad campaign.
She has proposed loosening some requirements, like removing credit checks as a condition of employment; creating a review committee to oversee applicants with mitigating circumstances and ensure qualified applicants aren't inappropriately removed from the hiring process; instituting a home-buying assistance program; and working with health care providers to give free physical and psychological evaluations to first responders.
Shackleford also is advocating for more transparency and accountability within the police department.
Her public safety plan includes mandating officer-involved shootings be investigated by an outside authority, releasing body camera footage within 48 hours for alleged police brutality incidents, and developing an app for individuals to report positive and negative interactions with officers.
"There's definitely a trust issue when it comes to IMPD," Shackleford told IBJ. "And there's also an accountability issue."
When officers don't release footage of these incidents, Shackleford said, it causes residents to feel as if the department is trying to hide something.
Under her proposal, the department would also fire officers who turn off body cameras or misuse equipment to conceal a criminal act and would issue annual internal affairs reports with complaints, updated dispositions and use-of-force data.
Last year, IMPD officers shot Herman Whitfield III with a stun gun. Whitfield, a piano prodigy, was having a mental health crisis in his family home. He died at the scene. Earlier this month, two officers were indicted by a grand jury for their alleged role in his death.
About a month before Whitfield's death, Hogsett pledged to create a clinician-led mobile crisis team in response to calls for action from groups like Faith in Indiana. This team was allocated $2 million in the 2023 budget, and members of the mayor's cabinet are planning an upcoming announcement about the program.
Hogsett told IBJ his administration has instituted many other police reforms in the wake of a national furor over the 2020 killing of 46-year-old George Floyd by police in Minneapolis.
The department has instituted a new use-of-force policy and deployed body cameras departmentwide. Changes have been made to training, with the addition of implicit-bias and de-escalation training. IMPD's General Orders and Use of Force boards also now have civilian majorities.
"I think our record in areas of increased transparency and increased accountability are historic," Hogsett told IBJ.
Shackleford, who helped pull together a multifaceted statewide police reform law as head of the Indiana Black Legislative Caucus following Floyd's death, has said more can be done in those areas. She's even joined calls for a federal investigation of the police department, echoing the request of advocates and U.S. Rep. Andre Carson.
"The Department of Justice needs to investigate IMPD's policies, practices and training programs to ensure that no one else suffering from mental illness dies at the hands of police," Shackleford said in a statement. "The fact that it has been nearly a year since Herman's death, two officers have been indicted and there has still not been a federal investigation is alarming."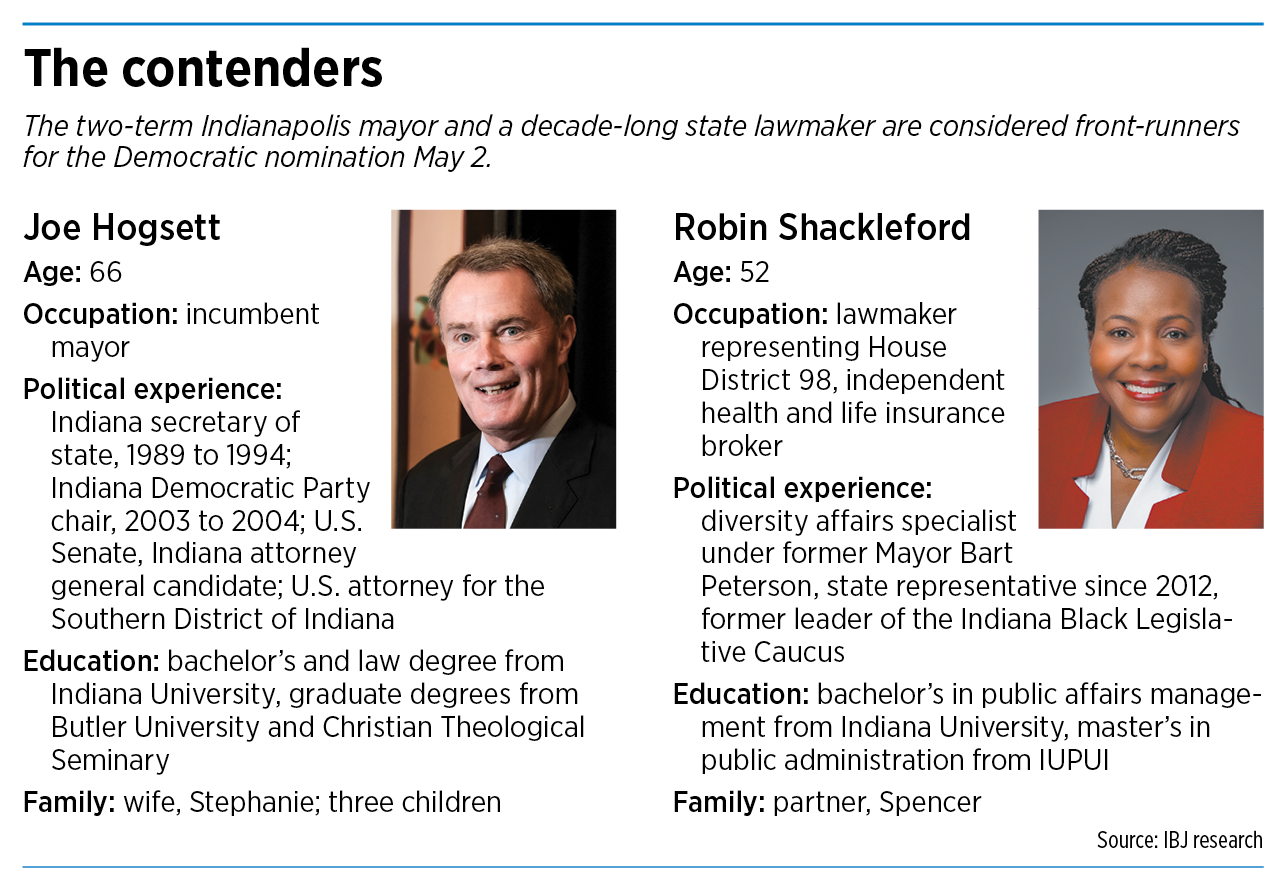 An infrastructure fix
A state road-funding formula that favors rural areas over urban and suburban communities has created a $1 billion road-funding gap for the city, a recent study showed.
Shackleford won't rule out a local tax hike to help address the problem, saying in March that all options should be on the table when trying to find a solution to fix the potholes plaguing city streets.
But Hogsett, who has built a reputation of fiscal responsibility, has expressed absolute opposition to a tax increase. Last fall's budget proposal was his sixth balanced budget, one in which revenue meets or exceeds expenses.
"I stand against one penny of any new tax until the inequitable road-funding formula is subject to readjustment," Hogsett said.
A coalition of suburban mayors from adjoining counties has joined Hogsett in fighting for better road funding this legislative session.
While the Legislature has shown little interest in overall changes to the funding formula, a small adjustment could give the city $8 million more in road funding per year.
But Hogsett said that, if the coalition continues to push, lawmakers eventually will have to give central Indiana communities a more favorable road-funding formula.
"It may not get us over the finish line this time around," Hogsett said. "But I think it's only a matter of time before the Indiana General Assembly is going to be forced to face the music in terms of changing the road funding formula to make it more equitable for all communities in Indiana, not just those that are less dense in population."
He noted that the current city budget includes a historic $1.1 billion, five-year infrastructure plan.
About $443 million will be spent this year, including $10 million budgeted for thoroughfare strip patching.
Also this year, the Department of Public Works will begin converting Michigan and New York streets from one-way to two-way. Michigan Street will become two-way between College Avenue and Ellenberger Parkway. New York Street will be converted between College Avenue and East Pleasant Run Parkway.
Those conversions will cost an estimated $13 million and are set for completion in 2024. The five-year plan also includes nearly $42 million toward trails.
Shackleford said Indianapolis residents already are paying the equivalent of higher taxes for car repairs that are needed anytime they hit a particularly bad pothole.
"If you get an axle that breaks, if your tire breaks on a pothole, you're paying anywhere from $200 to $600, and you're having to take off a couple of days of work to get it fixed. And some people may have to take off longer if they don't have the money to get it fixed."
Pedestrian safety
Indianapolis saw a record number of pedestrian deaths by drivers last year, at 40.
On April 6, Shackleford said in a press release that the "silence" from the mayor on the record number of pedestrian and cyclist deaths is "deafening."
But earlier that week, Hogsett endorsed a plan to ban cars from turning right on red, a measure meant to decrease the number of pedestrian deaths.
Shackleford's street-safety plan calls for establishing "trail speed zones" at 20 miles an hour around trail crossings, adopting a citywide sidewalk safety plan, and expanding the city's fatal-crash review team to also review crashes that cause serious injury.
The Hogsett-endorsed no-turn-on-red proposal is pending before the City-County Council.
In a five-year study conducted by Department of Public Works engineers, 56.7% of vehicle-pedestrian collisions downtown were at stoplights where drivers failed to yield. Outside of downtown, that percentage is 25%.
"Studies find that no-turn-on-red is an effective way to reduce fatalities and injuries," Hogsett said. "This is not the first, nor will it be the last, effort to make it safer for everyone, with or without a car."
The proposal cleared the council's Public Works Committee along party lines and is scheduled to be considered by the full council on May 8. However, a Statehouse proposal by Sen. Aaron Freeman, R-Indianapolis, threatened to block the city's proposed ordinance.
Hogsett's five-year capital infrastructure plan includes funding for remedying areas with high numbers of pedestrian crashes and the narrowing of West Washington Street to add a bike lane and pedestrian path.
Downtown development
One of the main reasons Hogsett has said he is seeking a third term is to complete unfinished business disrupted by the pandemic.
In addition to seeing through his violence-reduction plan, he also wants to continue his work on downtown development. As the pandemic has lifted, an estimated $9 billion in investment is planned for downtown.
"These next four or five years may very well be the most transformative four or five years in our city's history, just as the last three years have been among the most difficult in our city's history," Hogsett said.
In an interview with IBJ, Hogsett cited 11 major projects, including the $4.52 billion Indiana University Health Methodist campus, the $1 billion Eleven Park and $600 million on the 16 Tech campus.
Also, Circle Centre Mall might be reconfigured, and Jail I might be razed for a future project, Hogsett said.
"That is in no small measure why I have decided to seek a third and final term," Hogsett told IBJ. "… The global pandemic did not deny anything, but it certainly delayed a lot of these projects."
Hogsett has previously said downtown's future is focused on residential. He said the city already is making tremendous progress toward this transition, with 1,700 apartments slated to come online this year and next.
More than 3,000 apartments have been added downtown in the past five years.
Shackleford sees entertainment as the future of downtown.
She proposes an "entertainment trail" that would include color-coded signage for venues, restaurants and retail spaces. New signage and marketing would be added to the tunnels that connect the mall with places like Lucas Oil Stadium and the Convention Center.
She would also like to see a portion of Monument Circle closed to traffic.
Now, Democratic voters have the chance to decide whether they want Shackleford's vision or they want to give Hogsett a chance to complete unfinished business.
That choice will determine who will run in the fall against the Republican nominee. The GOP frontrunners are businessman Jefferson Shreve and attorney and political commentator Abdul-Hakim Shabazz.•
Please enable JavaScript to view this content.