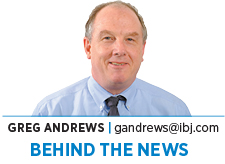 Steak n Shake nearly broke even in the latest quarter it reported, no small feat after losing a combined $29 million in 2018 and 2019.
But is the improvement enough to earn some breathing room from lenders as a potentially calamitous deadline looms? On March 19, barely two months from now, Steak n Shake is required to pay off a $153 million loan, something it lacks the financial wherewithal to do.
If lenders are willing to refinance the debt, Indianapolis-based Steak n Shake will have more time to achieve the turnaround that is showing early signs of taking hold.
But lenders will do so only if they conclude that path is likely to leave them with the largest return, attorneys and investors following the company say.
Lenders' holding firm on the March deadline potentially could propel the chain into bankruptcy, where it could be sold, reorganized or even liquidated.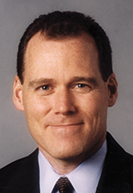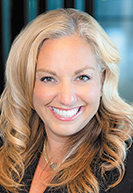 If lenders refinance, "they are certainly not doing it out of generosity," said Hannah Joseph, an attorney at JBL Legal who has many restaurant clients but not Steak n Shake. "They are making a calculated decision."
Companies on strong financial footing typically refinance debt more than a year before maturity, thereby avoiding having to classify it as a current balance-sheet liability, said William Fahy, a senior credit officer tracking Steak n Shake at Moody's Investors Service.
"Unless a company is challenged, you don't see companies waiting this long," he said.
The situation puts Steak n Shake in per- haps its greatest peril since its founding in 1934. The amount the company owes is daunting given its shrinking scale. Steak n Shake had 489 restaurants in operation as of Sept. 30, down 20% from the number in operation when it took out the loan in 2014, and foot traffic at those remaining restaurants has plummeted.
Back then, Steak n Shake was riding high, with its deep discounting strategy fueling $154 million in operating profits over the prior four years.
But the magic soon vanished, as a host of stumbles—including service problems caused by high employee turnover—led to plunging customer counts. In response, hedge fund investor Sardar Biglari, who gained control of the chain in 2008, began shuttering money-losing restaurants and slashing costs.
Sardar Biglari, who as a policy doesn't speak to the press, did not return calls. A representative of Wilmington Trust, which represents the lenders, also did not respond to requests for comment.
Buying, selling debt
It's not clear who holds the debt. The loan—originally for $220 million—was issued by a syndicate of banks. But so-called distressed debt often changes hands, as banks seek to cut losses and other investors specializing in that market step in.
Based on publicly available data on debt trades, the $153 million outstanding as of the end of the third quarter was trading at a 48% discount, leaving it with a fair market value of just $80 million, according to a Securities and Exchange Commission filing.
"It tells me there are serious concerns over collection," Joseph said of the discount. "I don't think it can mean anything else."
According to SEC filings, just $51 million of the original $220 million loan flowed into Steak n Shake for use as working capital and other corporate purposes. Another $119 million went to retire a prior loan, and Steak n Shake used the remaining $50 million to pay a dividend to its publicly traded parent, San Antonio-based conglomerate Biglari Holdings Inc.
Steak n Shake chopped the loan down to its current $153 million in part by buying back debt at a discount, SEC filings show. As a result of those transactions, the loan balance has fallen 16% just since the start of 2020.
Reasons for optimism
Despite Steak n Shake's weakened state, lenders don't hold all the cards, said Aurelien Windenberger, an investor in Fairfield, Iowa, who has followed Steak n Shake for more than a decade.
He noted that, when Steak n Shake borrowed the money, it did so with the stipulation that the loan was backed only by that business and not by Biglari Holdings' other assets. Those include insurance companies, an operator of oil fields and a big stake in Cracker Barrel Old Country Store.
That means lenders' sole collateral is the assets of Steak n Shake, which, because of the pandemic and other performance problems, are worth less than when they extended the loan.
Given the pressures facing the restaurant industry during the pandemic, "I don't think the debt holders would be very interested in taking over the assets if there is a default," Windenberger said. "My guess is, there will be some sort of agreement that will come out to extend the debt."
Windenberger's optimism stems partly from favorable developments at Steak n Shake. He noted that the company mustered a $4.2 million operating profit in the fourth quarter of 2019, the last quarter before the onset of the pandemic. And despite the pandemic, the company lost just $63,000 in the third quarter of 2020.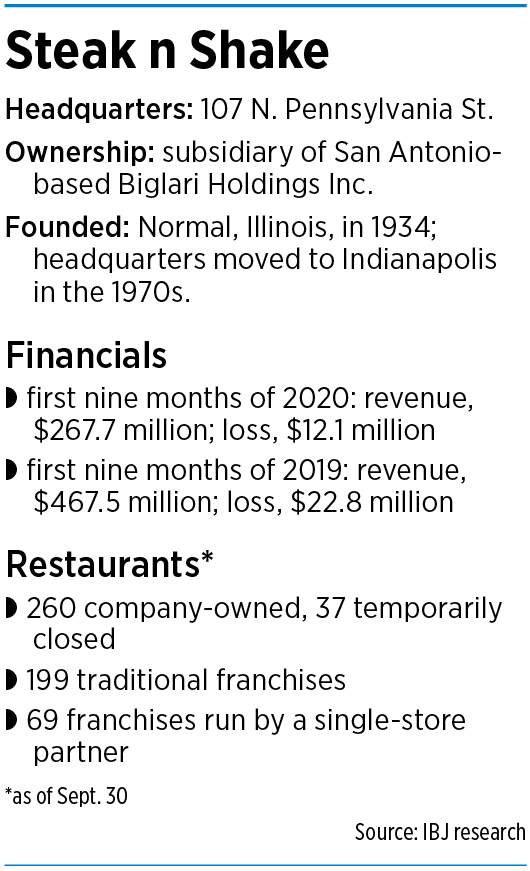 'Gold standard in service'
Longer-term strategies also are encouraging, he said. For example, the company is transitioning company-owned locations to single-store franchise partners.
Such operators don't have to come up with the half-million dollars or more in upfront investment that owners of the chain's traditional franchises do, but they must turn over 15% of sales and 50% of profit.
It's a page from the playbook of the widely envied fast-food chain Chick-fil-A. Analysts say the approach plays a big role in cultivating the chain's culture of exemplary customer service.
In a letter to Biglari Holdings shareholders last February, Sardar Biglari said Steak n Shake was being exceedingly selective in choosing participants in the single-store franchisee program.
He said their rewards can be great, with potential earnings topping $200,000 in the first year. He said the key to success is treating customers in a "warm, caring, and hospitable manner."
Biglari added: "The franchise partnership is a federation of individualist entrepreneurs. Our job is to provide central direction to maintain uniformity in product quality, but we rely on our remarkable partners to provide the gold standard in service."
Windenberger said he is impressed that the number of single-store-franchisee locations has grown from 29 at the start of 2020 to 69 at the end of the third quarter, despite the pandemic.
He also favors a strategy the company unveiled early last year—the conversion of restaurants that formerly offered table service to a counter-service model.
It's all about keeping costs in check, Biglari wrote in his February letter.
"The combination of labor-intensive, slow production with high-cost table service has led our overall labor costs to be 6 to 8 percentage points above those incurred by our competitors," he said.
Steak n Shake is pursuing that strategy with great urgency, according to a lawsuit the chain filed in August against Wilmington Trust, which represents the company's lenders. In the suit, which remains pending, the chain is seeking a court declaration that it has the right to sell more than a dozen shuttered locations to raise money to fund counter-service conversions.
"In light of the unprecedented challenges confronting the industry, time is of the essence for restaurants to generate capital and adapt to consumer demands—especially those like Steak n Shake, which has traditionally operated a dine-in model that no longer appeals to many customers," Steak n Shake said in a court filing.
Joseph, an Indianapolis native who has observed Steak n Shake's operations for decades, said shifting to counter service "could be a shrewd move."
But she said there is no guarantee of success—a reality that lenders will need to factor into their analysis.
"It is another risk," she said. "It adds another variable to the equation."•
Please enable JavaScript to view this content.