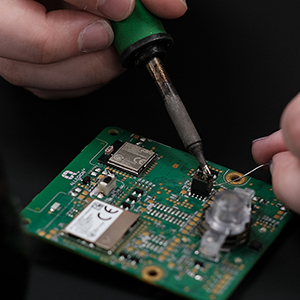 Ball State University's Center for Business and Economic Research has released the results of a nationwide study examining which areas of the country are most likely to land a semiconductor plant, and three Indiana locations are mentioned.
The Ball State study identifies 83 U.S. counties, sorted into three tiers, in which new plant locations could be considered. The researchers said tech companies base their plant placement decisions on numerous factors, such as workforce availability and educational attainment.
In an interview with Inside INdiana Business, study co-author and CBER researcher Dagney Faulk explained what prompted the study.
"When it became apparent that the lack of semiconductors or access to semiconductors was one of the reasons why we were having such supply chain disruptions, and then with the passage of the CHIPS Act, to incentivize more domestic production, we were just simply interested in looking doing some analysis to see where new manufacturing facilities are likely to open," said Faulk.
LISTEN: Faulk further explains how researchers developed its list and defines what tech companies are looking for in terms of site placement.
The CBER says passage of the Creating Helpful Incentives to Produce Semiconductors (CHIPS) Act has led to "widespread enthusiasm" regarding the possibility of increased manufacturing of semiconductors in the U.S.
"The CHIPS Act offers incentives to increase the potential for growth in domestic semiconductor manufacturing," said Michael Hicks, who co-authored the study and is CBER director. "Combined with the costly disruptions of chip production during COVID-19, it is especially likely the United States will see new semiconductor production. Where that production will occur is of substantial policy interest across much of the nation."
The study shows no Indiana counties in Tier 1. Communities at this level are "most likely" to attract a semiconductor plant and are in larger metropolitan areas.
"These locations all possess sufficiently large numbers of available workers and are large metropolitan areas with multiple suitable counties or at least one very suitable county for expansion," said Faulk.
The CBER analysis puts Hamilton County in Tier 2, which represents communities gauged as "likely" to land a plant. Monroe County was identified as a Tier 3 location, which indicates it is "somewhat likely" to have plant.
"Hamilton County is part of a larger metro area and Monroe County is also close to Indy and within commuting distance of that labor market," Faulk explained.
Despite the growing semiconductor program at Purdue University, including the announced plans for Minnesota-based SkyWater Technologies to invest $1.8 billion to build a facility in West Lafayette, Tippecanoe County does not appear at any tier, based on the CBER criteria.
"West Lafayette (Tippecanoe Counties) was outside the top 50.  It ranked 130-something out of the 3000+ U.S. counties which is what put it in the 97th percentile – close to being in the tiers we defined but not quite," said Faulk.
Faulk explained West Lafayette/Lafayette is relatively small and not seeing much population growth, two factors that tech companies would examine. Still, she says the researchers were not surprised to see SkyWater place a plant there.
"Given the share of the population with a bachelor's degree, graduate student share of the population and also the proximity to Indianapolis and Chicago."
The "Tier 1" metropolitan areas considered most likely to be considered for a new semiconductor plant, according to the CBER study, are: Boulder, Colo., Chicago, Ill.; Columbus, Ohio; Dallas-Fort Worth-Arlington, Texas; Denver-Aurora-Lakewood, Colo.; Houston-The Woodlands-Sugarland, Texas; Madison, Wisc.; Miami-Dade County, Fla.; New York-Northern New Jersey-Long Island; San Diego-Carlsbad, Calif.; Seattle-Tacoma-Olympia, Wash.; and St. Louis, Mo.
Click here to examine the results of the Ball State University CBER study.
Please enable JavaScript to view this content.