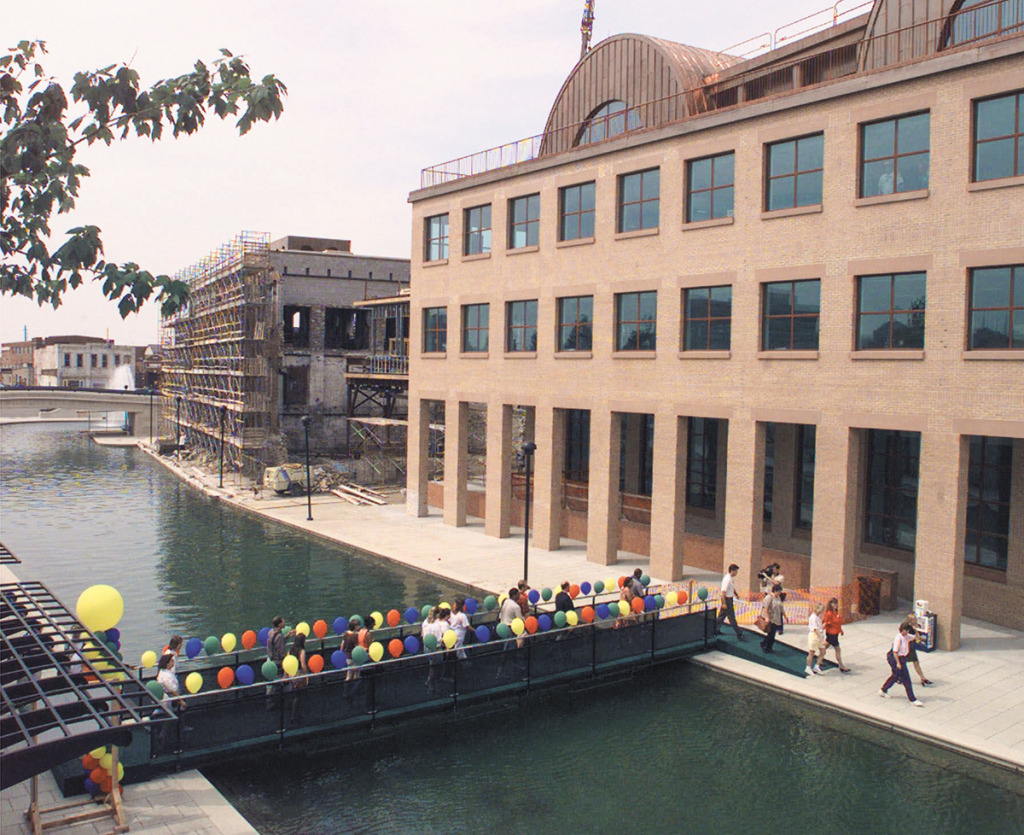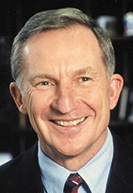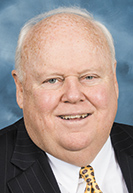 Indianapolis civic leader Jim Morris was playing golf with NCAA President Cedric Dempsey at the famed Burning Tree Club outside Washington, D.C., in 1995 when Dempsey dropped a bombshell.
"I was riding in the golf cart with him, and he said, 'Jim, do you think Indianapolis would have any interest in being the new headquarters of the NCAA?'" Morris recalled. "I damn near fell out of the golf cart and said, 'This would be wonderful.'"
So began a two-year courtship that pitted Indianapolis against some of the largest U.S. cities—and culminated in the May 1997 announcement that Indianapolis had snagged the headquarters.
It was a victory that further burnished Indianapolis' reputation as the country's amateur sports capital. And it laid the foundation for a relationship between the NCAA and the city that has become so rock-solid, the organization opted to stage the entire Division I Men's Basketball Tournament—its most important event—in central Indiana this year.
Here is the largely untold story of how Indianapolis landed the headquarters, a triumph that leaders in government and the sports movement say was among the region's biggest economic development wins of the past quarter-century.
At first glance, it might seem as though Indianapolis was almost preordained to prevail, given city leaders' decision in the late 1970s to make amateur sports Indianapolis' calling card. But local leaders and the NCAA say the city was far from a lock.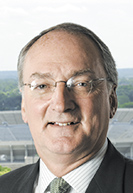 In fact, it initially was not going to make the cut as the NCAA narrowed the field of candidates in August 1996, said Jack Swarbrick, who at the time was an Indianapolis attorney and chairman of the Indiana Sports Corp.
The Indianapolis contingent learned later that two powerful figures in the room, longtime NCAA executive Tom Jernstedtand Assistant Big Ten Commissioner Phyllis Howlett, successfully pushed to add Indianapolis and Charlotte, North Carolina, arguing it didn't make sense to exclude the two cities that had been the NCAA's best event hosts in recent years. The additions expanded the list to 10 cities.
"Were it not for the intercession of these two people, we would not have made it," said Swarbrick, now the University of Notre Dame's athletic director.
Government and civic leaders faced numerous other hurdles, including a tight deadline, challenges lining up a site, overcoming the NCAA's concerns about convenient air service, and raising a monstrous amount of money at a time the community already was strained with planning what became a $183 million arena for the Indiana Pacers, a $45 million Indiana Convention Center expansion, and a $1.1 billion airport terminal.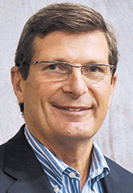 "I have to say this in big capital letters with an exclamation point: There was never a feeling that this was destined to be ours or that all the pieces that needed to fit together were going to do so," said Dale Neuburger, who was president of the Indiana Sports Corp. at the time.
Leaders of the Indianapolis bid put together a $50 million package that included $25 million from government, $10 million from the Lilly Endowment and $15 million from the business community.
At stake was landing a high-profile organization that then had about 300 employees and a $250 million budget. In addition to staging sports championships, the NCAA carried an economic punch by hosting events, meetings and conventions.
Local leaders wanted to make sure that, if the city's bid fell short, it wasn't because of financial shortcomings.
"Their requirement was, 'If we move, the No. 1 criteria is it can't cost us anything. We have to come out the other end and not tell our member institutions we spent money getting this done,'" said Randy Tobias, who was Eli Lilly and Co.'s CEO at the time and co-chaired Indianapolis' bid with Mays Chemical Corp. CEO Bill Mays and Morris. Morris at the time led the Indianapolis Water Co. and now is vice chairman of Pacers Sports & Entertainment.
Paving the way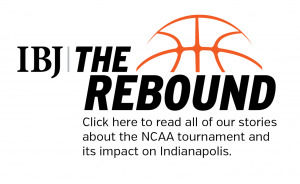 To be sure, Indianapolis' bid benefited from the city's world-class sports venues and a record of amateur-sports success. The city had hosted championships in many sports, including the men's Final Four in 1980 and 1991.
"The NCAA had a very good record of championship events in Indianapolis, so they knew us," Neuburger said. "They knew that we kept our promises. They knew we brought a special enthusiasm to these events."
Among the legions who helped foster that reputation, David Frick was especially crucial, Neuburger said.
Frick, a deputy mayor under Bill Hudnut who led the negotiations that brought the Colts to Indianapolis in 1983, was instrumental in securing Indianapolis' first Final Four, in 1980, and made a lasting impression as chairman of the organizing committee for the 1991 Final Four.
"When you see this important individual with the Final Four organizing committee who is up at 5 a.m. to say goodbye on Tuesday morning [after the final game], that's something people remember," Neuburger said.
Dempsey, the NCAA's president from 1994 to 2003, agreed Indianapolis came to the table with a positive reputation.
"Certainly, at that point, Indianapolis was a major player," he said. "We were very impressed with the quality of the people."
Fighting to win
Even so, local officials knew Indianapolis couldn't rest on its past success.
The nine rivals were impressive. In addition to Charlotte, they were Atlanta, Dallas/Fort Worth, Denver, Houston, Kansas City, Orlando, Phoenix and San Antonio.
"The pundits, the sports journalists, once the NCAA announced they were doing this, the focus was largely on Dallas and Atlanta," Swarbrick said.
Atlanta had just come off hosting the 1996 Summer Olympics. That city and Dallas both boasted huge hub airports that would meet the NCAA's requirement of strong transportation access.
Another potentially strong rival was Orlando, which had built its own reputation as an amateur-sports hotbed, in part as a result of the development of the Disney's Wide World of Sports Complex.
And there was the option of remaining in the Kansas City area, which Dempsey said started out as the front-runner.
He said many employees had deep roots in Kansas City and did not want to move.
The NCAA wasn't going to stay in its nondescript Overland Park office building, because that lease was expiring in 2000 and it needed more space. So the organization began exploring other options in the Kansas City area.
But he said the region failed to pull together a cohesive pitch like the one from Indianapolis.
"Lenexa [a suburb west of Overland Park] was one of the small communities that had some interest," Dempsey said. "Working independently with all of them was very difficult. They did not feel we probably would leave."
Story continues below graphic.
Standing out
Swarbrick said a pivotal moment occurred in the fall of 1996, when the NCAA invited four representatives from each of the 10 cities to a bid seminar.
There, Dempsey said the possible relocation was part of a larger effort to shift the perception of the NCAA from an enforcement agency to being an educational association.
"We structured everything to be consistent with that and, frankly, no one else did," Swarbrick said. "You had to read halfway through our bid until you read anything about sports."
The bid played up, for instance, that more than 70% of the NCAA's member institutions were within a day's drive of Indianapolis.
And when NCAA representatives came to tour the proposed site at White River State Park in January 1997, the visit featured a lunch at the Indianapolis Museum of Art attended by nearly all the university and college presidents in the state.
Swarbrick used the event to drive home Indianapolis' education sales pitch.
"I looked around the room, and, once everybody got settled, I said I'd made a mistake here, that this needed to be a discussion among leaders of colleges and universities and everyone else should leave the room."
After Swarbrick and others left, Geoffrey Bannister, Butler University's president, led what turned into a robust discussion on why Indianapolis would be a good home for the NCAA and serve its needs.
"One of the members of the search committee told me that was the moment we won," Swarbrick said.
Other cities took a more conventional approach.
"Most of the other bids were about sports dynamics—'We give you X if you promise four Final Fours,'" Swarbrick said.
He said Indianapolis surprised the NCAA by not asking for any event commitments in return for its incentives.
The thinking was, "It is about you; it is not about us," Swarbrick said. "Indianapolis made its mark as a great event host by being focused on the other party.
"We are just going to be a great partner, and we will both benefit from it."
That open-ended approach ultimately yielded a big payoff.
In 2004, five years after the new headquarters opened, the NCAA signed a deal to host the men's and women's Final Four in Indianapolis an average of once every five years through 2039. Under the agreement, the city will, in intervening years, host earlier rounds of those tournaments or host the NCAA convention.
Raising millions
Raising the $15 million from the business community—an effort Tobias led—was no small feat, especially since donors were promised nothing in return.
"You looked at the amount of money involved and thought, 'Wow, can we really get this done?'" Tobias said.
But business leaders rallied around the effort.
Tobias recalled going to Indiana Pacers owner Herb Simon's office. "I remember him saying, 'How much do you need from me?' I said I'd like to have a million dollars. His answer was, 'OK.' That was the kind of support that was there from the people in the community who wanted to make this happen."
Neuburger said that, in early presentations, company leaders often asked whether they could receive Final Four tickets if they gave. "After a few of these, we began presentations by saying, 'You don't get Final Four tickets,'" he said.
"It was the most unique selling proposition I was ever involved in," he said. "We asked them to be very generous, 'and we can't give you anything in return, other than the belief that this will be a good thing for our city and state.' I don't think there is any other city in the country that could have raised $15 million similarly. Only here could that happen."
In all, more than 100 contributors stepped forward. Tobias put in $1 million, while Eli Lilly and Co. provided $2 million. Other donors ranged from American United Life Insurance Co. (now OneAmerica) to Zachary Confections Inc.
"It was a huge differentiator," Swarbrick said of the $15 million. "Other cities had private support, but it tended to come from third parties with a business interest."
A special site
When bid organizers began mulling possible sites, they zeroed in on the west side of downtown, which was in the process of being revitalized via development along the Central Canal and in White River State Park.
It's hard to imagine today, but back then, the park was a mishmash of new structures and industrial buildings, including a Beveridge Paper Co. factory.
Bid organizers realized their package needed a government-funding component, and using the NCAA headquarters to accomplish a larger goal—advancing development of the park—gave them an appropriate way to do so, Swarbrick said.
"It was great synergy," he said.
Working out the White River State Park site generated some of the biggest dramas of the bidding process, Swarbrick said.
The Indianapolis team initially zeroed in on the Beveridge Paper site, on the south side of the park. But the firm wouldn't sell at a reasonable price, he said.
Indianapolis had to change gears, even though it had identified the Beveridge site as the headquarters location in materials it submitted to the NCAA.
When the site-selection committee came for a tour, Swarbrick had to break the news that the location had changed to the site of Indianapolis Power & Light Co.'s old Perry W plant, which would be demolished.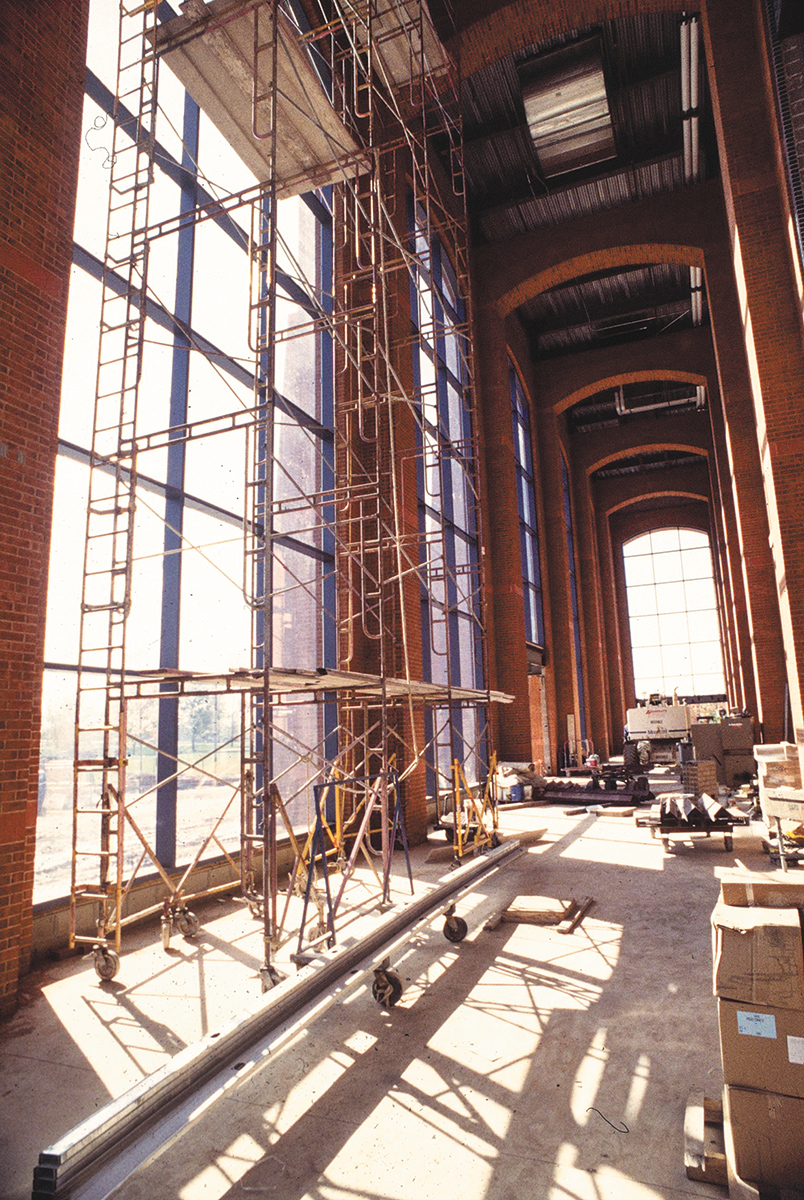 The head of the site selection committee, University of Tulsa President Robert Lawless, did not react well. "He turned to me and said, 'Well, this is the definition of bait-and-switch,'" Swarbrick recalled. "I said, 'But it is a better site.' He said, 'That's what they always say in a bait-and-switch.' We got through it."
Neuburger had his own anxieties about the site visit. Adjacent to the Perry W Plant was old School 5, which had been partly demolished before a judge halted the work, concluding the building was historically significant.
"School 5 had some damage to it because of the wrecking ball, but also the engineers told us they were really not sure how or why the building was still standing," Neuburger said.
When Dempsey got off the bus, he immediately asked about the building and said he'd like to go inside.
"We thought. 'This is the end. We've come this far,'" Neuburger said.
"First, we thought, 'This is going to be a disaster if the building falls on him when he [goes] inside.' But he came out and said, 'What a fantastic opportunity to have this building part of our site.'"
Dempsey told IBJ he loved the White River State Park location.
"From the standpoint of the White River and the park and what had been developed there and the museums around it, I could see it becoming a very popular site for visitors," he said.
Swarbrick had reason to worry again after he pointed out the property to Gov. Frank O'Bannon and his wife, Judy, a historic preservationist.
"Judy says, 'Does anyone know if this is a historic building?'" Swarbrick recalled. "'The governor says, 'Come on, now.'"
Officials then spent 60 days verifying it was not.
Under the city's bid, the state built the NCAA headquarters, using Hoosier native Michael Graves as architect, and leased the property to the NCAA for $1 a year.
It proved to be the richest aspect of the bid. NCAA financial statements show that the $1-a-year lease, which covers the original property as well as a three-acre expansion in 2013, represents a contribution that already has accrued to well more than $50 million and is growing every year.
School 5, meanwhile, became the headquarters for the National Federation of State High School Associations, a group that works closely with the NCAA. The federation announced in 1998 it was moving from the Kansas City area to the park.
Twists and turns
One of Indianapolis' perceived shortcomings—lacking the air service a hub would offer—proved not to be as big a weakness as feared, local bid officials said.
It helped that many colleges and universities are concentrated in the Mid-Atlantic and Northeast, within a day's drive of Indianapolis, and that the city's much-lauded midfield terminal was in the planning stages. That opened in 2008.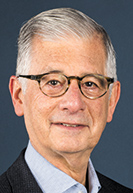 It also helped that Northwest Airlines operated a mini-hub in Indianapolis at that time that flew to 30 cities on a regular basis, said Larry Gigerich, who served as a senior adviser to Mayor Steve Goldsmith.
Perhaps most significant: After the NCAA in December 1996 narrowed the list of finalists to four—Indianapolis, Dallas, Denver and Kansas City—it analyzed what its actual flights over the last several years would have cost from the four cities and found Indianapolis was cheapest.
"It was one of those fortuitous moments where you said, 'Really?'" Neuburger recalled.
Yet as the NCAA neared a decision, bid leaders had plenty of reason to fret.
The anxiety was particularly high on the night of April 29, 1997, when the General Assembly had been expected to wrap up its session by approving a budget that included bipartisan fiscal support for the bid.
But Republicans, upset that the budget plan spent too little on tax relief, derailed the budget and forced a special session.
That same evening, Swarbrick was preparing to fax additional details on Indianapolis' bid to the NCAA in advance of a midnight deadline.
"We had agreement from both parties, but all of a sudden we couldn't prove it because the state had not adopted its budget," Swarbrick said.
He pondered what to do, finally deciding to promise that if state funding didn't come through, the business community would come up with the money.
"It was a little foolhardy, perhaps," Swarbrick said. "I made an executive decision that I hoped I didn't have to back up at the end of the day."
Team effort
Dempsey said Indianapolis' financial package "was tens of millions of dollars more than [those from] the other cities pursuing this."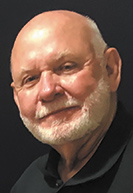 Wally Renfro, who spent 41 years with the NCAA and served as its spokesman, added: "Indianapolis stepped up in a way that was incredible.
"When I read through the proposal from Indianapolis, to be dead honest, my conclusion is, 'It's done. The search is over. There is no reason Indianapolis would not be chosen.'"
While the NCAA continued its methodical evaluation of all the bids, Renfro said, "it was clear that Indianapolis was coming to the table with an offer that would be practically impossible not to accept."
That was Renfro's assessment even though he had wanted the NCAA to stay in Kansas City and "had some resentment we were going to be making this move."
He and his wife ultimately decided to move here, even though they had family ties in Kansas City that made doing so difficult. About one-third of NCAA staff joined him.
"I remember when I made my first visit to Indianapolis, the people were so doggone nice it made me mad," Renfro said. "I finally got to the place of figuring out, this is how Indianapolis is. It is a friendly place."
But more significant for the NCAA, he said, it is a place with uncommonly strong community leadership.
Dempsey agreed, noting that the Democratic governor, O'Bannon, and Republican mayor, Goldsmith, worked seamlessly together, despite being from different parties.
That was even though the two had dueled for the governorship in 1996, with O'Bannon prevailing 52% to 47%.
Tobias said Dempsey and Lawless, the site-selection committee chairman, both told him they noted the community's leadership worked as a team.
"They were impressed this commitment was something that was not just cosmetic and brought together to make a presentation. They were dealing with people who were used to working together and getting things done."
Goldsmith said he and O'Bannon "never had a cross word. It was just not an issue, and credit never was an issue."
Back then, Goldsmith said, snagging the headquarters, while an achievement, might not have seemed as significant as it proved to be.
He said the number of employees at the time wasn't that great (though it is a much larger organization today, with a 600-person workforce and a budget topping $1 billion).
But the deal was about far more than jobs.
"This was such a success because it did so many things," Goldsmith said. "It elevated Indianapolis' profile around the country, it leveraged our sports facilities, it enhanced our reputation as a sports capital of the country, and it helped our convention business flourish."•
Please enable JavaScript to view this content.