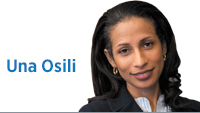 The first weeks of the opening of Phase I of the Red Line Bus Rapid Transit have been exciting to watch. Indianapolis has joined the ranks of world-class cities that are investing in public transit infrastructure for the future.
Expanding mass transit is likely to be a game-changer for economic development.
While it is early, Hoosiers who once questioned the cost of this phase of the Red Line (about $100 million) have begun to assess the social and economic benefits of mass transit.
During the opening weeks of the Red Line, most analysts have focused on the immediate advantages of transit. The first class of benefits focuses on reduced commuting time and congestion for residents. A related gain is the lower environmental emissions as fewer vehicles are used. Mass transit is also widely recognized as vital to advancing economic opportunity in urban centers around the world.
The Brookings Institution documented proximity to jobs as a critical issue facing 21st-century metro areas. Proximate employment opportunities within the Indianapolis urban core have fallen by 20% since 2000. Increased commuting distance, combined with limited transportation options, is cited as a critical obstacle to reducing poverty in Indianapolis.
The second class of benefits that have drawn attention includes the expansion in household wellbeing. Here, with access to transit, individuals enjoy enhanced access to health care, education, local attractions and social services.
Analysts have often focused on how "transit-dependent" residents can see gains in their quality of life. In other words, people in this category can overcome barriers to driving due to age, health and other impediments.
For isolated and low-income communities, mass transit connects people to vital social services.
There is, however, a third class of benefits that has received far less attention. These are the advantages that public transit provides for neighborhoods and communities.
Beyond closing gaps between people and employment, mass transit can help build social cohesion. This type of benefit may take more time to unfold—and may require more intentional efforts to measure.
It is true that the Red Line can have a positive effect on residential property and commercial values due to increased transit availability. However, these are not the only measurable benefits to our community—or even the most important.
I am interested in how mass transit can deliver a more connected and inclusive city through shared community space and local civic engagement.
We need more focus on how mass transit can provide the vital infrastructure that fosters inclusion, connectivity, equity and environmental concerns. It must serve more than just the most profitable and highest ridership routes as transit expands.
One way enhanced transit options can do this is by boosting social interactions, volunteering and advocacy as residents access activity centers, community meetings and events.
I look forward to a time when the residents of diverse backgrounds from the east side, Fountain Square, Broad Ripple and Haughville effortlessly intermingle. We will then belong to one city instead of isolated neighborhoods.
Mass transit can reduce barriers to active participation, transforming citizens from being demanding consumers of public services to taking the responsibility to be co-producers.
To build Indianapolis, we need to engage all our citizens. Mass transit—a system that serves the "public" in the real sense of the word—is a central place for building a shared future.•
__________
Osili is professor of economics and associate dean for research and international programs at Indiana University Lilly Family School of Philanthropy. Send comments to ibjedit@ibj.com.

Click here for more Forefront columns.
Please enable JavaScript to view this content.