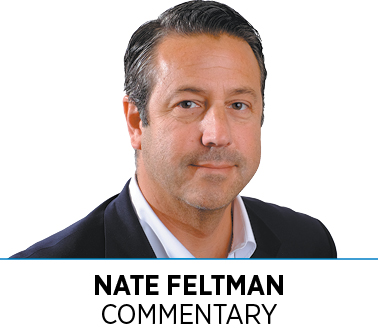 Two weeks ago, I wrote about the role the coronavirus might play in electing our next president given the potential human and economic toll. At that time, nobody could have predicted the magnitude of the disruption now occurring to our way of life. Politics is now the furthest thing from most Hoosiers' minds.
We've been jolted out of our comfortable existence and reminded of the fragility of life. The focus now, and rightly so, is on mitigating the spread of the virus and protecting our most vulnerable from the life-threatening illness.
Tough days are ahead on many fronts. In addition to the health concerns, the economic repercussions will be immense. A recession looms after the longest economic expansion in U.S. history. Small businesses that were barely hanging on during good times will fail as consumer spending slows. Unemployment will rise after hitting near-all-time lows. National, state and local government coffers will strain as a result of falling tax collections, straining services to those most in need.
The assessment of how we handled this health crisis, including our preparedness levels, will ensue once the spread of the virus is contained and eventually eliminated. Did we overact to the threat? Probably not. According to Dr. Anthony Fauci, an immunologist with the National Institutes of Health and White House coronavirus task force member, we must overreact in order to effectively manage the spread of the virus so we don't overwhelm our health care system.
But how is it that, 100 years after the Spanish Flu pandemic that infected 27% of the world's population and killed tens of millions, we are not better organized and prepared to deal with viruses that threaten to wipe out millions of Americans? In many ways, our current efforts to stop the spread of the coronavirus are similar to our reaction to the Spanish Flu: eliminating large gatherings, closing schools and social distancing.
Think about the incredible technological and medical breakthroughs that have occurred in the last century. Today, we have a growing biotech and life sciences sector that is combining our advancements in technology and medical research to formulate new diagnostic testing and advanced treatments.
Companies like Roche Diagnostics (whose North American headquarters is based here) have developed diagnostic tools that detect dangerous health threats. In fact, a new Roche test that detects the coronavirus was just approved by the FDA last week and is already shipping to health care facilities. Roche developed the test in a record six weeks.
Our scientific, medical and technology leaders, together with government leaders, are now working together to defeat the virus. The threat will eventually be eliminated. But our vulnerabilities have been exposed. We were caught flat-footed, not adequately prepared to deal with a novel virus that our medical community has been warning about for years.
Our government's number one priority is and should be to keep Americans safe so we can engage in our inalienable rights of life, liberty and the pursuit of happiness. Just as the 9/11 Commission developed recommendations following the 9/11 terrorist attacks, a commission will surely be appointed to develop recommendations for fighting future viruses.
The coronavirus is a wakeup call. We must prepare for an even more deadly contagion that could be released by an enemy. We clearly are not prepared for novel viruses, let alone biological terrorism and warfare. Our national, state and local leaders must immediately begin planning to more effectively battle the likely viruses of the future.•
__________
Feltman, is a former secretary of commerce and a shareholder in IBJ Corp. To comment on this column, send email to nfeltman@ibj.com
Please enable JavaScript to view this content.