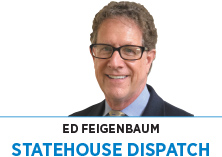 Two generic questions tend to dominate the first week or so of any legislative session. One often comes into focus—or not—almost immediately. The other is largely incapable of answering until typically the midpoint of a session, and sometimes not until conference committee deliberations open.
This year saw a quick answer to the initial question: "When do you think the session will end?"
Leaders pledged to strive to gavel out by March 11, opening day of the Big Ten men's basketball tournament in Indianapolis. Even with the increased metro-area hotel room inventory since the last tournament visit in 2016, leaders seized upon the tourney schedule to justify an early anticipated adjournment target.
That left the inevitable second question to grab the focus.
Each year, one item seems to arise unexpectedly—innocently or intentionally—that seems to consume, as Statehouse denizens observe, all the time and calories.
Sometimes a bill emerges when tempers are frayed toward the end of committee deliberations that otherwise would have been unremarkable, but is nonetheless destined as a vehicle for those spoiling for a fight. Other times, a procedural maneuver pops up to derail a popular measure or force support for a scorned concept. Amendments appear in conference committees that have not been fleshed out in the spotlight of committees or floor discussions, controversial items slipped in late to avoid vetting.
The consequence, however, is to effectively suck the energy out of the Statehouse on the remaining agenda, providing a hyper-focus on the new shiny object.
As we entered the final week for passage of measures in their respective chambers of origin, we identified two candidates for such potential "honors."
Senators converted a key element of the gubernatorial legislative agenda requiring employers to make "reasonable" accommodations for pregnant workers to a measure simply urging a summer study.
Republican Gov. Eric Holcomb must become more personally involved to advance his original mandate and persuade skeptical Republicans to join Democrats who chide their GOP colleagues for opposing what they suggest is a pro-life bill aimed at enhancing maternal and infant health.
A criminal justice bill that found social services providers, juvenile court judges and civil rights leaders lined up against it could also foster a bipartisan battle.
Senate Bill 449 would hike penalties for juvenile offenders and lower the age at which minors charged with attempted murder could be tried as an adult—a reaction, in part, to Indiana school shootings.
The measure, authored by Sen. Erin Houchin, R-Salem (whose husband is a county prosecutor), was subjected to a number of amendments in a crowded committee room at the end of a long day of multiple hearings. Emotions ran high as debate raged over whether 12 or even 13 was too young an age for waiving a child into adult court for murder.
The overarching concern, however, boiled down to punishment (and the appropriateness of subjecting a pre-teen or new teenager to adult criminal justice treatment) vs. rehabilitation and therapeutic options better suited for children, regardless of their offenses or perceived incorrigibility.
This issue has the potential to engage lots of lawmakers from different walks of life and perspectives in debate, and they will be subject to all kinds of assorted pressures from different constituencies back home—from parents and health professionals to clergy and the judiciary.
While this is not a partisan issue, Holcomb could be reluctant to address this in an election year—and the potential exists for targeting lawmakers who vote in favor as forcing young children into adult prisons (regardless of an amendment barring young offenders from being housed in the general population of a correctional facility) and those opposed as being soft on crime and insensitive to student school shootings.•
__________
Feigenbaum publishes Indiana Legislative Insight for Hannah News Service. He can be reached at EDF@hannah-in.com.
Please enable JavaScript to view this content.