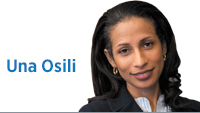 As the year ends, the promise of COVID-19 vaccines has brightened financial markets and economic outlooks.
As of Dec. 1, more than 136 vaccine trials are being tracked by the COVID-19 Vaccine Tracker. Scientists are working at a breathtaking pace, with human clinical trials on 57 vaccines in 37 countries. Global cooperation among scientists, governments and businesses has made the difference in a worldwide effort to stop this devastating pandemic.
Yet, as promising as the news is, the manufacture and delivery of vaccines must remain a priority. To reach target populations worldwide, sustained research, data collection and analysis are critical.
The monumental task of ensuring that no country is left behind will require international collaboration. The pandemic has also exposed political and legal barriers for cross-border action. A response of this magnitude must include philanthropic commitments and flexible funding.
A recent initiative at the Lilly Family School of Philanthropy—the Global Philanthropy Tracker—provides insights into cross-border philanthropic contributions worldwide. The 2020 GPT estimated that $68 billion in cross-border philanthropy occurred in 2018. Historically, vaccine research and delivery have garnered less funding. However, the surge of funding for vaccine research is encouraging.
One encouraging finding from the report is that education and health are the leading charitable causes supported by philanthropic outflows from 18 economies. Only a handful of nations are tracking commitments to vaccine research.
Here are some insights into the urgent tasks beyond the vaccine's initial development.
First, we can learn critical lessons about how vital partnerships were in vaccine breakthroughs of the past.
Nearly 70 years ago, a flood of voluntary donations halted the spread of the polio virus. Millions of families donated to the National Foundation for Infantile Paralysis (now the March of Dimes).
Together with several foundations, the March of Dimes funded polio vaccine research and supported vaccine delivery. In 1952, the March of Dimes annual budget was almost $500 million in today's dollars.
The next phase in fighting the COVID-19 pandemic will mean significant public-private collaboration and global collective action. The logistical challenges of studying efficacy while manufacturing and delivering millions of doses of a vaccine will require that funders expand their work across sectors. This collaboration stage will increase access to life-saving vaccines in developed and developing economies.
Second, innovation in manufacturing, delivery and access will remain an ongoing need. Countries will require comprehensive, timely and high-quality data to address the challenges of vaccine delivery effectively.
Following the polio vaccine's discovery, global funders and non-government organizations, including Rotary International, launched sustained investments in training and vaccine education over several decades. A key component of their efforts included building trust, understanding attitudes and engagement with community leaders.
Finally, research will be required to study long-term efficacy by age, gender, race and ethnicity, and region. To that end, the promise of a vaccine also necessitates that leaders recommit to transparent and equitable access in vaccine distribution and delivery. The COVID pandemic is challenging funders to rethink how they can best support diverse, vulnerable populations. In many communities, this might include allocating funds for addressing vaccine skepticism, education and outreach.
Despite the many challenges ahead, we might be able to point to 2020 as an inflection point in the arc of innovation. The dedicated scientists, generous donors, funders and volunteers who have supported the breakthrough discovery this year will receive well-deserved credit. And that is good news, indeed.•
__________
Osili is professor of economics and associate dean for research and international programs at Indiana University Lilly Family School of Philanthropy. Send comments to ibjedit@ibj.com.

Click here for more Forefront columns.
Please enable JavaScript to view this content.