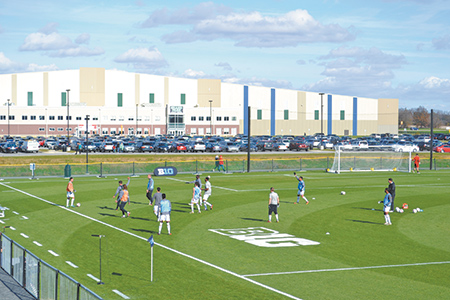 Westfield announced Friday that the city is not looking to sell Grand Park Sports Campus.
The city said the 400-acre sports campus could still get a new operator or manager once a review committee recommends a company to the Westfield Redevelopment Commission and the Westfield City Council.
The Westfield Redevelopment Commission released a request for proposals in March 2022 seeking a new owner or operator of the sports campus and events center.
Appraisals released in August set a minimum sale price for Grand Park at $85 million. Grand Park opened in 2014 and cost $49 million to construct, while the $26 million event center opened in 2016.
"Westfield is progressing with evaluating proposals only for the operation and/or management of Grand Park and the Grand Park Events Center," the city said Friday in a short statement. "More details will follow later as additional work remains to be done. The focus remains on doing what is in the best interests of the City of Westfield."
The city is considering seven proposals from companies interested in Grand Park.
A committee of six men was formed to review the proposals and make any recommendations to the Westfield Redevelopment Commission and the Westfield City Council.
The committee consists of Brian Tomamichel, Westfield Washington Schools chief financial officer; Jeremy Lollar, Westfield chief of staff; Troy Patton: Westfield City Council member; Larry Clarino, Westfield Public Works and Safety board member; Dan Moyer: Westfield business owner; and Chuck Lehman: former Westfield City Council member.
Grand Park has 31 soccer fields, 26 baseball diamonds, two administration buildings, seven concession stands and a 378,000-square-foot multi-use event center. The Indianapolis Colts moved their annual summer training camp to the park in 2018.
Please enable JavaScript to view this content.