It used to be that Broadway was the launching pad for dozens of new plays a year. Now, only a handful of premiere non-musicals find their way there, and it's a small miracle when one arrives as wonderfully loopy as Will Eno's "The Realistic Joneses."
Of course, small miracles are easier for producers to manifest with familiar faces in the cast. In this case, that means Toni Collette, Michael C. Hall and Marisa Tomei—all armed with high-profile movie and TV credentials but also, I'm thankful, with strong theater chops. The rueful, funny and oddly philosophical play would work without them, but it would be a lot tougher to sell tickets.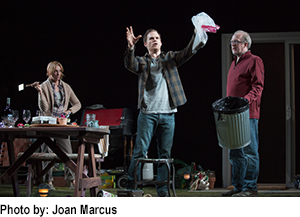 If you saw and appreciated NoExit Performance's "Middletown" in April, you'll be perfectly comfortable in the land of "Joneses." But this play feels more generous and less pitying than that earlier Eno work. And it certainly has bigger laughs.
"Joneses" opens on a couple (Collette and Tracy Letts) idling an evening away in their back yard. Their nothingness is interrupted by a visit from another pair of Joneses (Tomei and Hall) who recently moved into the neighborhood. Both men seem to have similar illnesses. Both couples have communication issues. And cross-couple interests develop that may stem genuine attraction or from a sense of obligation—it's tough for even the participants to tell.
Hall's Jones is heartbreaking as he increasingly realizes that his word-play responses keep him at a distance. Tomei's Jones is at a turning point where she knows what was once her cute ditziness is beginning to annoy others. Her attempt at prayer is one of the play's highlights. Letts' Jones is so in denial of his illness that he wants his wife to go to the doctor for him. His fear and helplessness comes through in surprising and moving ways, usually in his reaction to others. And Collette's Jones, taking on a caretaking role she didn't expect while putting her own needs aside, anchors the ensemble. Subtle changes in her hairstyle provide a key in gauging her self-image.
How the foursome gets to know one another (how any of us gets to know anyone) and how hard it is to see a breaking point before it breaks seem to be the subjects of the non sequitur-packed play. It's also got big laughs, and a deep, melancholy love for people who have only a few years to spend on this strange planet.
As in life, if you don't look for spectacle, "The Realistic Joneses" is subtly spectacular.
--------------
It's an odd year for new musicals on Broadway. After "Big Fish" was thrown back and "Bullets Over Broadway" failed to explode, the field is now open for an underdog to pick up a Tony Award for Best Musical. One contender is "A Gentleman's Guide to Love and Murder."
In it, a down-on-his-luck Edwardian gent, upon realizing that he is in line to be an earl, proceeds to kill off the eight family members in his way (Turner Classic Movies watchers might recall the plot from the Alec Guinness movie "Kind Hearts and Coronets"). The gimmick here is that all eight are played by the same actor, Jefferson Mays, which softens the blow of watching each of his iterations perish.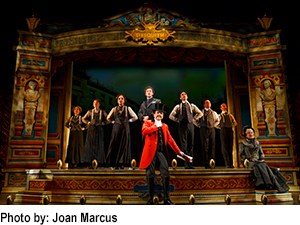 A diverting show with a pleasant score (hints of Lerner & Lowe and Gilbert & Sullivan can be heard), "Gentleman's Guide" never quite reaches its comic potential in spite of plenty of British music hall energy and game supporting performances.
Jefferson Mays is likable and in terrific voice in a deceptively challenging vocal role. But, while this may seem ungracious to say, he seems to be working entirely too hard. Never let them see you sweat clearly isn't his creed. And it diminishes the joy.
Bryce Pinkham as murderous Monty Navarro never loses his charm—at the top of the play, he gets laughs with nothing but small gestures. And the supporting cast it top-notch. But with most of the D'Ysquith clan knocked off in Act 1, I couldn't help but expect an explosion of funny in Act II that never arrived. Perhaps it's too much to ask for the kind of doubled-over-with-laughter scene that highlighted "One Man, Two Guvnors" but, given the set-up, one should at least expect a rapid-fire series of costume/character changes.
Instead, it was more of the same—fun, pleasant, but never worthy of a Best Musical title. Then again, "The Mystery of Edwin Drood" took the top prize in a slow year. It could happen again here.
------------
Even though this production marks its Broadway debut, "Violet" is likely to be considered a revival rather than a new musical by the Tony Awards committee. That makes sense, given that the piece opened off-Broadway in 1997. If only there were a truly new musical as strong as this one to root for this year.
The title character of "Violet" is a young woman in search of healing. It's 1964 and Violet believes a televangelist can repair the damage done to her face by a loose ax blade. So she's off by bus in search of a miracle.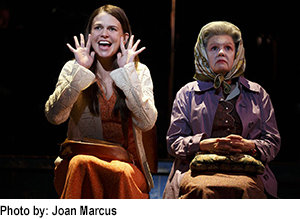 Journeys of self-discovery are often better served in books than in theater. The anecdotal nature and telegraphed conclusion of such stories are difficult to pull off on stage. "Violet" sometimes has the same problem that multi-stop journeys have—too much time spent in unimportant places (an overly long poker game, for instance) and too little in important ones. But in most places, Brian Crawley's script in sharp, efficient, and focused.
"Violet" also has the benefit of a varied, exciting score by Jeanine Tesori, in which Memphis blues, gospel and gentle folk music provide the fuel. It's also got Sutton Foster, the dynamo who made her name in such tap-tap-tappy musicals as "Thoroughly Modern Millie" and "The Drowsy Chaperone," but who here is revelatory (and relatively dance-free). Through Foster, shades of Violet are revealed scene by scene, always emotionally truthful and consistently surprising.
Her two leading men (Colin Donnell and Joshua Henry) are well cast and while Ben Davis could pass for a '60s television preacher, he doesn't have the gravitas to make us believe that Violet would but her faith in him. On the other hand, Annie Golden (who you may know from "Orange is the New Black"), is spot on both as an elderly bus rider and a hotel hooker. Now if someone would write a musical for her….
-----------
Click the titles for thoughts on Broadway's "The Cripple of Inishmaan" and "Les Miserables."