Lifelong Noblesville resident John Bundy is passionate about wooden duck decoys and sportsmanship.
His enthusiasm and expertise caught the attention of officials with Sidney, Nebraska-based Cabela's Inc. as the Noblesville store, located at 13725 Cabela Parkway, was constructed. And when the store opens Aug. 20, he'll have a presence in it.
Cabela's gave media a sneak peak into the new store—the second in Indiana—Thursday morning.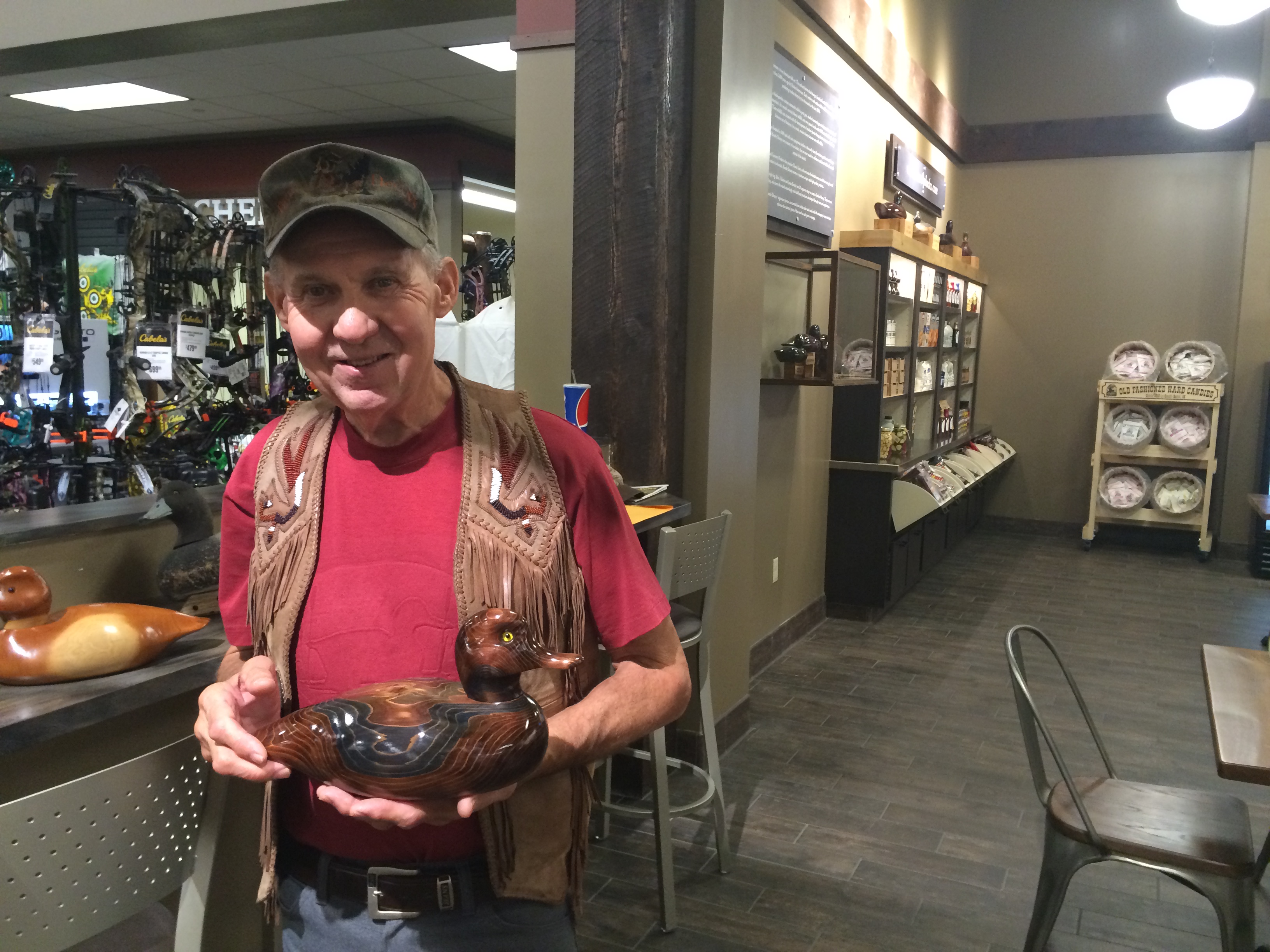 I met Bundy at the Bundy Grill, which is named after him. The cafe features food, including 23 flavors of fudge and deli sandwiches with wild game, along with wooden duck decoys crafted by Bundy and the history of the hunting tool anchored on the walls.
"Yes, they're all mine," Bundy said while looking at the ducks like the swan, merganser, winter goose and pintail mounted on the wall. "They're all different."
Bundy started producing decorative duck decoys in the late 1970s and started Bundy Decoys in 1980.
"I do it the same way they did it 100 years ago," Bundy said.
He said decoys were originally made by Native Americans and were adapted by early American settlers. With the help of decoys and black powder cannons known as punt guns, hunters easily captured waterfowl.
To protect the duck population, several federal wildlife acts were passed in the 1900s, which Bundy admits was good for wildlife but bad for decoy manufacturers. As demand for decoys decreased, so did production.
Bundy said his decoys are for decoration rather than sport, and the ones on display at the store are not for sale. (But he did mentioned he has about 10 times as many for sale nearby at 16506 Strawtown Ave.)
The 82,000-square-foot Noblesville Cabela's also has an archery range for customers to try new bows or have their bows fitted, a gun gallery with a variety of used guns ranging in price from $200 to $40,000, a full-service boat shop with pontoons, fishing and speed boats for sale and the signature mountain replica and aquarium with taxidermied wildlife scattered along the walls.
Customer experience manager Charles Michael said even though it's smaller than typical stores, he still thinks it has the "wow" factor and outdoor experience feeling of Cabela's.
"We just maximized the space," Michael said.
It's considered one of the company's "next generation" models and is about half the size of its "legacy" stores, like the 185,000-square-foot store in Hammond that opened in 2007.
Cabela's invested $12.5 million in the new location and hired 175 full-time, part-time and seasonal employees.
The official store opening will be at 10 a.m., preceded by a ribbon cutting done by an employee shooting a bow and arrow at 9:45 a.m.