As Ikea progresses with its planned $40 million store in Fishers, the company is evaluating what kind of energy efficient features the building will contain.
The Swedish home furnishings company is known for its commitment to preserving energy and power—it's invested $1.9 billion in renewable energy and has installed more than 700,000 solar panels on its buildings across the world. Ikea also owns about 300 wind turbines, including more than 100 in the U.S.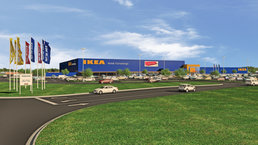 The 300,000-square-foot store to be located within the Exit Five Corporate Park could use geothermal energy or line the roof with solar panels, but nothing has been finalized yet as a variety of factors play into whether it's feasible to do so.
"That analysis is currently taking place," Ikea spokesman Joseph Roth said.
About 90 percent of Ikea stores in the U.S. have solar panels on the roof. Two locations use geothermal energy.
Ikea is regularly touted as having the largest rooftop solar array in communities and states, but Roth said it's usually because the building is so large to begin with.
The St. Louis store, for example, has the largest solar rooftop in Missouri at 259,000 square feet and is the state's largest non-utility solar owner. It has 4,085 panels, which generate 1.28 megawatts of power and results in the reduction of carbon dioxide equivalent to the emissions of 258 cars or the electricity in 169 homes per year.
The Fishers store—at 296,000 square feet—could easily end up with an even bigger solar array because, unlike most Ikeas, this one will be one level, making the size of the roof larger.
"We basically just spread it out because we could buy a bigger piece of land," Roth said. "Potentially, that means that the solar installation would be larger than many of our other ones because the store footprint itself is larger."
Indiana already has a couple huge, roof-top solar arrays, though, to give it some competition.
The Major General Emmett J. Bean Federal Center in Lawrence has more than 6,000 solar panels on more than 261,000 square feet of rooftop. The array generates more than 2 megawatts of power.
The largest commercial rooftop solar installation is installed on a 600,000-square-feet manufacturing facility on the west side of Indianapolis. It generates 3.2 megawatts of power.
Ikea plans to invest $40 million overall to open the Fishers location — the first in Indiana.
"We don't think it is significantly more expensive to build a sustainable building," Roth said. "We think long term we are achieving significant cost savings."
He acknowledged that companies with shareholders may not have the freedom that Ikea does to make a big upfront investments in energy efficiency with the expectation that they will pay off in the long run because investors and analysts can put pressure on quarterly reports.
"Our business model is just different," Roth said. "We have a strong respect for the environment. There's no reason not to do so."
The company has a variety of small initiatives to promote sustainability, like making the legs for coffee or dining tables out of recycled waste, using electric forklifts in the warehouse, installing special reflective glass in the lobby to help with heating and cooling, and phasing plastic bags out of its stores.
All of the interior and exterior lighting is LED, and the company recently started exclusively selling LED products.
"We're now practicing what we preach," Roth said.
Ikea's initiative to include electric vehicle charging stations at stores is temporarily on hold, though, because the company it was working with—ECOtality—went bankrupt.
Roth said Ikea expects to finalize the property sale in Fishers this summer and begin construction in the fall. The store is expected to open by fall 2017.