It was a puzzle to me.

As Indianapolis major hospital systems reported their 2014 financial results—which saw profits double, triple and even quintuple over the previous year—I was amazed at how directly the staff cuts they made in 2013 flowed to their bottom lines in 2014.

Remember how bad hospitals said things were in 2013?
It was the year that the volume of patient visits took a surprising turn south. St. Vincent Health, Indiana University Health and Franciscan Alliance each laid off about 900 workers.

But now all Indianapolis-area hospitals have filed their 2013 financial reports for each of their individual campuses (there is usually a hospital or two that waits nearly two years to send their campus-specific results to the Indiana State Department of Health). And I can see why Indianapolis' hospitals have bounced back so quickly: 2013 wasn't really that bad after all.

Of course, it looked bad in comparison to 2012, which was an unusually stellar year for hospitals. So stellar, in fact, that when I used 2012 data last year to describe the most profitable hospitals in Indianapolis, hospital leaders said it was unfair to look at their numbers from that year.

That year, Indiana's hospitals received extra payments from the state Medicaid program and from the federal Medicare program, which did not occur in either 2011 or 2013.

But when I compared 2013 results to 2011 results, it became clear that 2012 was, indeed, an anomaly.

You can see that clearly here in this chart of the total operating revenue for 32 central Indiana hospitals for which comparable data are available across all three years: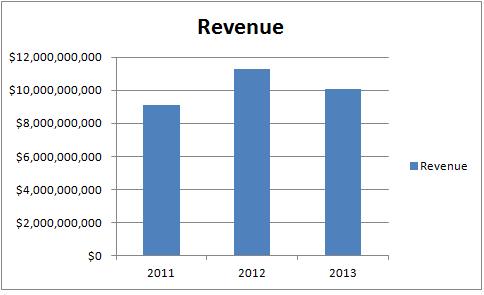 And you can see it here in terms of operating gains (that is, profit from operations) for those same 32 hospitals: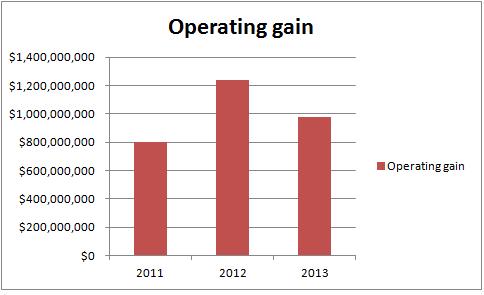 These charts show that revenue from 2011 to 2013 rose 8.3 percent, or a solid about 4 percent annualized, and that profits rose 22 percent, or 11 percent annualized.
(Those figures do not include results from Eskenazi Health, which receives large, irregular payments from the Medicare and Medicaid programs for treating high numbers of indigent patients. Also, IU health's Tipton Hospital does not have its 2013 results posted to the Health Department's web site, so it too is excluded from this calculation.)

I think most businesses would take that kind of growth.

This growth was broad: nearly two-thirds saw revenue growth above the pace of inflation.

Now, it's worth pointing out that hospitals in the Indianapolis region are, in general, the most financially successful ones in the state.

And some hospital systems, especially Franciscan Alliance, use the profits they make in Indianapolis to prop up their hospitals in other parts of the state.

It's also worth noting that the profits hospital systems record at their hospital campuses are tempered somewhat by the substantial losses they record for their physician practices.

But my point in this post is this: Hospitals around Indianapolis basically kept on chugging from 2011 through 2013—they just didn't grow as much as they thought they would after the stellar results in 2012.

That's why those staff cuts produced such large and immediate gains in profit in 2014.

Below you can see how those 32 central Indiana hospitals (and Eskenazi) stacked up in terms of profit from their operations in 2013.