Local apartment developer Milhaus Development LLC will move Monday to its new office on Virginia Avenue after completing a $1.75 million renovation of the historic building.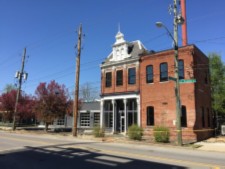 Milhaus bought the two-story brick building, which dates to 1876, from Deylen Realty in November and began rehabbing it to include both office and retail space. The firm will occupy 8,900 square feet, about triple the former space that it rented in the Maxwell building at 530 E. Ohio St.

In addition, 3,300 square feet of retail space is available for lease at the building in the burgeoning Fletcher Place neighborhood.

About 65 of Milhaus' 115 employees will work in the new office. The rest are at Milhaus properties and offices throughout the Midwest.

The building at 460 Virginia Ave. is known as the former Shirley Engraving Co. property. It originally housed a tea, coffee, sugar and spice business and later was used for a laundry business.

The design by locally based Blackline Studio blends modern elements with the historic brick original structure. Milhaus reused doors from its previous office and from the former Bank One building at East Washington and East streets, which Milhaus converted to the Artistry apartments.

Milhaus CEO Tad Miller, who helped launch the company in 2009 with just two employees. Its management division is responsible for much of the firm's growth, as Milhaus manages its own developments and properties.

Milhaus' new office is just down the street from one of its first mixed-use developments—the Mozzo, which opened in early 2013.

Deylen sold the building to Milhaus about two years ago after Englewood Development's plans for the property fell through. The locally based developer and manager of affordable housing put it under contract several years ago with plans to build up to 50 units and 5,000 square feet of retail space, with two levels of underground parking.

But neighborhood opposition to the project and a failure to secure a zoning change from the city led Englewood to abandon the project.