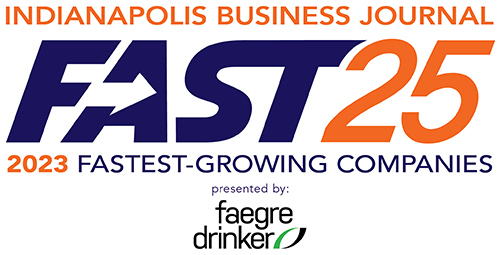 Nominate a company for IBJ's exclusive ranking of
fastest-growing privately held companies. The top 25
will be featured at an event in May, and profiled in a special IBJ supplement on May 12, 2023.
IBJ's Fast 25 list is ranked based on companies' revenue growth over a two-year period. This year, the baseline revenue year is 2020 (and must represent a full 12-month period). Companies are ranked based on their revenue growth through the end of fiscal year 2022.
What are the qualifications?
• Fiscal year 2020 revenue must have been more than $1 million and represent a 12-month year.
• Companies must have been founded prior to FY 2020.
• Companies must have been privately held, for-profit corporations,
proprietorships or partnerships through December 31, 2022 (not a subsidiary
or division of a parent company).
• Companies must be headquartered on December 31, 2022, in central Indiana. In a change this year, companies with partial or full ownership outside Indiana are eligible.
To verify eligibility and revenue growth, companies are required to submit letters from their outside accountants or their tax returns along with their nomination forms.
How do I nominate someone?
Complete and submit the online nomination form.
What is the deadline?
Wednesday, March 1, 2023
Can I contact you to make sure my nomination was received?
Yes, you can email Terry Sowka at tsowka@ibj.com.
When does the section publish?
Rankings will be published in a special IBJ supplement on May 12, 2023.