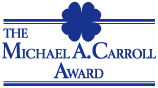 IBJ welcomes nominations for this award now through Oct. 1, 2023.

What are the criteria?
The award is given in memory of former deputy mayor and civic leader Mike Carroll and honors a man or woman who has demonstrated Mike's qualities of determination, humility and devotion to the central Indiana community. (A note about humility: Mike Carroll's work didn't all happen in the board room. He knew his way around the halls of power, but he was also comfortable working side-by-side with young people and the less fortunate. If your nominee has been known to "work in the trenches," please include examples in your nomination submission.)

How do I nominate someone?
Complete and submit the online nomination form.

What is the deadline?
October 1, 2023

Can I fax or mail in my nomination?
No. We only accept e-mail.

Can I contact you to make sure my nomination was received?
Yes. You can email squinn@squinn.com.

When will the winner be announced?
The winner will be featured in a fall issue of Indianapolis Business Journal and featured in the 2023 Giving Guide.

Can I see a list of previous winners?
Yes, click here to see a list of previous winners. Previous winners are not eligible for nomination.