Simon Crookall usually finds a friendly audience in the VIP room at Hilbert Circle Theatre.

As CEO of the Indianapolis Symphony Orchestra, that's where he greets top donors while they enjoy glasses of wine during intermission.

A much different atmosphere awaited Crookall on Aug. 3, the Monday after he announced he wouldn't renew maestro Mario Venzago's contract as music director. Crookall spent that evening fielding questions from the First Monday Club, a group of ardent classical music fans. Why would he get rid of Venzago, who'd so elevated the orchestra's playing over the past seven years?

Crookall, a 49-year-old Englishman, had been on the job since 2005 without public controversy. Then, with financial uncertainty already weighing on the orchestra, he'd ousted a respected conductor. Now he's responsible for finding a new music director at the same time he's trying to pull the organization out of a financial tailspin.

In an interview, he said he doesn't mind the mounting pressure.

"If I wanted an easy life, I would go run a bed and breakfast by the sea," Crookall said. "That's not in my nature."

Like orchestra managers across the country, Crookall faces enormous financial constraints. The ISO's endowment has fallen from more than $110 million in 2008 to less than $86 million. Even after a year of budget cutting, Crookall will report a deficit for the fiscal year ended Aug. 31 during the Indiana Symphony Society's meeting in November.

The 87-member orchestra recently accepted a 12-percent pay cut, which will save the ISO $4 million over three years. Crookall said that buys him time to boost fund raising and ticket sales. He argues that parting with Venzago, who lives in Heidelberg, Germany, plays into that strategy.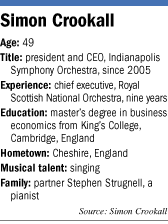 Crookall and some board members had been dissatisfied with Venzago's disinterested demeanor. When contract negotiations broke down last summer, Crookall decided now was the time to find a conductor who would show more commitment to Indianapolis.

Much of the controversy had to do with the timing—less than two months before this season's opening gala.

"You might draw a conclusion that the decision was so key to our position, we had to risk the public fallout that ensued," Crookall said. "We have a chance of appointing that person within two years now."

Crookall wants a conductor who can bring Indianapolis its own version of "Dudamania," referring to the excitement over the Los Angeles Philharmonic's new 28-year-old maestro, Gustavo Dudamel.

"I'm just the guy in the office," he said. "The people who really interest the donors are the artists and the conductor."

Crookall's controversial decision appears to have galvanized many donors and board members.

"We all agree that it took great courage on Simon's part to make this move," longtime symphony subscriber and donor Sarah Barney said.

"It's very difficult for an orchestra to survive in this atmosphere," board member Fred Schlegel said. "Your ticket prices are a problem. Your endowment needs to be double what it is. He's doing a fine job."

Other ISO supporters disagree with Crookall's vision.

"Given the very, very serious challenges facing the orchestra these days, the last thing this orchestra needs is a change in music director and the search to replace the departed leader," said Tom Akins, a former ISO timpanist and archivist.

Crucial two years

Crookall came to Indianapolis after nine years as chief executive of the Royal Scottish National Orchestra, a touring group based in Glasgow.

When he arrived in January 2005, Crookall had aspirations of broadening the ISO's reputation and beefing up the budget. The recession brought a reversal of fortune.

Crookall cut $1.7 million from the $26.8 million budget last year, but that didn't help avoid a deficit. (He won't reveal exactly how the year ended until the annual meeting.)

The musicians' contract was crucial to Crookall's two-year strategy, and he's quick to express his gratitude.

"He's a tough customer," said Mike Borschel, a clarinet player and bargaining committee chairman. "But he also is a reasonable person, and he is looking out for the long-term interest of the entity."

With the 12-percent cut, musicians' base pay will fall from about $79,000 a year to $70,460. The new three-year contract restores 10.5 percent of the pay by 2013.

More pay cuts for the non-union staff—Crookall included—will save an additional $2 million, bringing total salary savings to $6 million.

This year, Crookall will earn $195,000, a 15-percent reduction. Vice presidents' pay will drop 10 percent, and the remaining staff will take 5-percent cuts.

Now, the ISO turns its attention to fund raising. Board members are starting to talk about an endowment drive, which they shelved after last year's stock market crash. Crookall said the orchestra hasn't yet lined up any of the big donations that would allow him to launch a campaign.

At the same time, the orchestra will court a series of guest conductors. Akins said he understands that new faces at the podium can excite audiences and donors, but he worries the search will consume too much time and energy.

Even if the ISO names a music director within two years, he said, it will take another two years for that conductor to establish himself.

"My problem with all of this is, we face the economy challenge today," he said. "Some of the things that will create pride, more spirited support, open some purse strings—those things can't be executed until four or five years down the road."

Off-stage friction

Behind the scenes, musicians are hungry to tour and record.

The ISO is one of just 17 full-time orchestras in the country. Yet it hasn't left Indiana since 1997, when Venzago's predecessor Raymond Leppard led a four-country tour in Europe.

The orchestra can't tour without a music director. It's also unlikely to fill its eight vacancies, three of which are principal chairs in cello, trumpet and oboe.

Many musicians see the orchestra being held back, and they blame Crookall, said Rosemary Rader, a violist who retired seven years ago.

One more recent retiree stated: "He's ruining the orchestra—period."

Rader said she's not convinced Crookall should take all the blame. Nevertheless, the lack of touring is a major source of frustration for musicians.

"They leave over issues like that," she said. "More than just money, where is your orchestra going?"

When he was hired, Crookall said he wanted to see the ISO tour again. He soon discovered that potential sponsors weren't interested in backing a tour, which is "hugely expensive."

"People aren't particularly keen on using Indianapolis money to send the orchestra somewhere else," he said.

Crookall landed the job based on his fund-raising prowess, and he does spend much of his time schmoozing. On occasion, he has literally sung for his supper. He was a baritone singer in college and now auctions his talent at ISO fund-raisers.

"I find people fascinating," he said. "Getting to know people, understanding what their interests are. I enjoy that part of the job."

During his tenure, donations have risen substantially, especially in the one-time gift category. Total contributed income rose from $6.4 million in 2005 to $8.7 million in 2006, Crookall's first full fiscal year.

Yet the ISO couldn't escape mounting expenses and reported a $293,500 deficit in 2008. The orchestra continues to lean heavily on the endowment, drawing as much as 8 percent of the average value to close the funding gap.

Akins, who attends Christ Church Cathedral in Monument Circle with Crookall, disagrees with the CEO's recent decisions, but declined to rate his job performance.

"I understand how ongoing these challenges are," he said. "You get 10 minutes the day after Labor Day to take a deep breath. Then it's a new year. What are you going to do about this year's $25 million? It's never-ending pressure."•