For the leaders at Brandwidth, getting results is job one.

The Carmel Web marketing and design company strives to be innovative by fusing traditional marketing strategies with new Web and media technologies. It's both a business model and the origin of the company's name—bringing together the old-style "branding" with the capabilities of "bandwidth" in Web marketing to form Brandwidth.

"We're not one of those ad agencies that say, 'Oh, by the way, we can do your Web site,'" said George Evans, creative director. "And we're not one of those interactive agencies that say, 'Oh, by the way, we can do your branding.' We've really made a concerted effort to take both of those disciplines, with people from both of those disciplines, and worked them together."

One way in which Brandwidth tries to set itself apart is by quantifying results, said Adam Hayes, principal. Brandwidth tracks how consumers respond to the marketing it does for clients. Brandwidth collects and analyzes raw data from the Web to show clients exactly how marketing contributes to revenue growth, he said.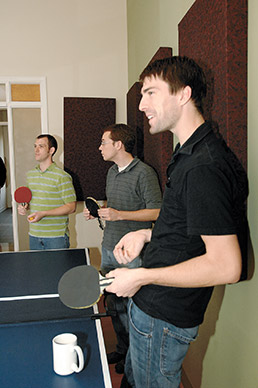 Brandwidth employees gather for a stand-up meeting every morning around a Ping-Pong table. The company makes time for play amid the work. (IBJ Photo/Karly Tearney)
"You are either creating value or you are creating waste," Hayes said. "Our job is to create value for our customers, and measure it and respond dynamically and make sure they are getting the best value for their money."

Hayes said their approach is one reason the company is growing during tough economic times.

"They really got to understand the work that we do," said David Harris, CEO and president of Indianapolis-based The Mind Trust, a Brandwidth client. "In so doing, they became enthusiastic about the work we hired them to do. They really made it their own passion."

Brandwidth prioritizes creativity, which is apparent as soon as you step into its Carmel office.

On a given day, employees may be brewing beer, playing Ping-Pong on a converted conference table, or admiring some of the medieval-style weapons that hang on the walls.

"You could come by at 3 p.m. on a Friday afternoon and see two people here making beer," Evans said. "And you could check in with us at 1 a.m. on a Sunday and two of our programmers could be here working on a project."

Since founding the company in December 2006, Evans, Corey Wenger and Hayes have tried to create an atmosphere in which innovation can flourish.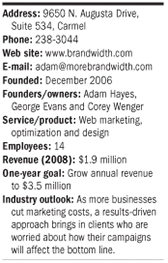 "It's a really good environment, which is no more than a reflection of the people who are here," Hayes said. "Our people are very diverse and very talented and we try our best not to confine them to a particular mind-set."

"The No. 1 thing we hear from clients is they love the energy of this place," added Wenger, Internet marketing director.

The energy begins at the start of every day. Packed into the "standing conference room," Brandwidth employees gather to brief one another on what they will be doing. Each employee is allotted one minute to explain his or her daily goals and any challenges and to ask for help if needed. If someone goes over 60 seconds, the officiating employee will sound a buzzer.

The meeting starts at 9:30 a.m. sharp, with any unexcused tardiness resulting in the late employee's having to fulfill drink orders for the others. Dressed in a company lab coat, the tardy worker is sent out to find each individual's drink choice, no matter how obscure. Hayes said it is all a part of keeping the atmosphere up-tempo.

Brandwidth's success has been far-flung. The company brings in 85 percent of its revenue from out-of-state.

"The one challenge that we haven't overcome is actually getting some work out our own back door," Hayes said.

Though Brandwidth wants to generate more business inside state borders, the company takes pride in bringing business to Indiana. Evans and his partners look to partner with local companies whenever they need help with a project.

"It's not recycled money," said Jacob Leffler, principal of The Basement Design + Motion, an Indianapolis production company that has done motion graphics work for Brandwidth. "It's revenue coming from outside the state that wouldn't be there otherwise. … The fact that [Brandwidth] can bring in business is a testament to their capabilities."

"They've got both sides of the equation covered [with traditional and new marketing]," Leffler said. "They have an ability to integrate those two [disciplines] to create successful campaigns and tactics for their clients."

Rich Airis, president of Indianapolis-based Wow Music/ASA Productions, which has partnered with Brandwidth to do music projects and voice production work, said the company's marketing expertise makes Brandwidth a great ally.

"They are very knowledgeable and great to work with," Airis said. "Instead of saying, 'We'll know it when we hear it,' they can show us what they want creatively and we can go from there."

Brandwidth is choosy about its clients. In the last three years, the company has turned down around $1 million in projects it did not feel comfortable pursuing, Evans said.

"We've talked to a client [before], gone through the interrogation process and come out of it with the notion that until X, Y and Z happens, we can't help you," Evans said.

Looking forward, Brandwidth is planning a big push for new business, which will include a national public relations effort and new-business campaign. The goal: Grow revenue from $1.9 million last year to $3.5 million in 2010.

"We've been really good farmers and not really good hunters," Hayes said. "Now, we're going to work to do both."•