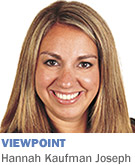 When reading a blog that recommends a particular product or service, most people may wonder what is behind that recommendation.
Sure, we all know Wilford Brimley is paid to endorse Quaker Oats, but out in the blogosphere, it has never been clear whether
Daily Candy's recommendation of a brand of mascara was because that mascara was really fantastic or if the blogger simply
got a tube for free. That is all about to change.
This month, the Federal Trade Commission announced new rules
aimed at increasing transparency in social media advertising. Starting Dec. 1, bloggers and other users of social media tools,
such as Twitter and Facebook, must disclose if they have received any type of payment in exchange for promotion, advertising
or endorsement. These rules seem to include in-kind exchanges, free product or good old-fashioned money.
Almost
every business has a blog these days. It is a free, easy way to reach existing and potential customers. And there is a lot
of trade going on out there in the blogosphere. Bloggers commonly receive gratis products or services in exchange for positive
write-ups. Companies who send out free stuff have nothing to lose, because if a blogger doesn't like their product or
service, the blog simply doesn't review or promote it. And don't discount the power of blog praise—being
featured on some of the more well-known blogs such as Urban Daddy, the Sartorialist or even Perez Hilton can sometimes even
trump being one of Oprah's "Favorite Things."
In many communities, there is a spider web of
connections among successful social media sites. Bloggers tend to know one another, and work together, often conspiring against
their loyal readers. But the era of "you scratch my back and I will scratch yours" is over. Bloggers who promote
one another for pay, free goods, free services or simply shared promotion now may face significant penalties from the FTC—up
to $11,000 per violation.
Some common social media practices that may be affected include anything from writing
a positive comment on a Facebook fan page in exchange for a free hat to writing a recommendation for an accountant on LinkedIn
for a discount on tax preparation. There are certainly many questions that remain to be answered regarding the enforcement
of these penalties. The social media sphere appears to be so vast that it may be difficult for the FTC to effectively enforce
these new regulations. But even if the FTC can't fully police the Wild Wild West of the Internet, there will always
be consumer protection groups and professional plaintiffs looking for a deep-pocketed defendant shamelessly shilling products
or services for a kickback.
For another thing, it is too soon to tell what type of disclaimer language will satisfy
the disclosure requirements. The safest bet is to state in large, bold print that the blog has received free product or is
sponsored by a particular vendor, although most advertisers are loath to ruin their copy with such language.
Another
approach may be to include language in the footer of the page that the review, promotion or endorsement is paid or sponsored
or to include similar language in a "terms of use" statement, buried with all the other legal mumbo-jumbo. Beware
of fine print, though: The FTC hates it.
What is clear is that the U.S. government is communicating a strong posture
that it will not treat deceptive or misleading online advertising any differently than other forms of advertising. If businesses
use blogs and other social media tools to con customers into believing their products or services are being independently
reviewed, the risks could far outweigh the returns.
For now, the most prudent way to use social media tools to
promote products or services is to be crystal clear if such promotion has been sponsored or paid for in any way. Social media
advertisers are going to have to take a wait-and-see approach until a few guinea pigs push the limits of the new rules and
learn the hard way. Better them than you. Don't let your company be an example of what not to do.•
__________
Joseph is an attorney at Hollingsworth & Zivitz PC and former corporate counsel to The Finish Line Inc. She
can be reached at [email protected]
Please enable JavaScript to view this content.