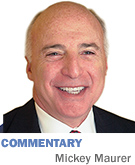 The word on the front page in this recession-driven economy is "failure." Like the swine flu, few of us are immune. It is affecting customers, suppliers and friends. Sometimes it hits closer to home.

Failure does not have to mean you're through. Mistakes are inevitable in all businesses. A better test of the character of someone in business is how he or she reacts to failure.

Famous houseware designer Alberto Alessi advises, "Revel in your glorious failures. Dance on the borderline between success and disaster because that's where your next big breakthrough will come from." Citing his favorite fiasco, the design of a kettle that cannot be used because the handle becomes too hot, he says, "Failure is a precious experience in the development of new projects."

I have experienced a number of failures. Many years ago, I became enamored with the new sport of racquetball. I loved to play, but the game was so popular it was nearly impossible to secure a reservation for the few courts available in Indianapolis. To fill the void, some partners and I developed the first racquetball facility in the city and parlayed that into the second-largest chain of racquetball clubs in the nation, a major mistake.

Racquetball is an easy-entry business subject to intense competition. Furthermore, the sport was a fad. I unloaded the racquetball clubs as quickly as I could, but I spent so much time extricating myself from the business blunder that I no longer had time to play racquetball.

Did you ever sit around with your friends on an afternoon and decide, like Mickey Rooney and Judy Garland in the old movies, to "put on a show"? Well, I did, and it cost me a fortune. Again with partners, I embarked on an ambitious project to make a first-run movie; "Diving In" was the result. I didn't know a producer from a director, so I was particularly excited about accumulating a new body of knowledge. It was a time of high creativity. We rewrote portions of the script we had purchased, selected a director, found costumes, secured locations, hired actors and picked music. Making a movie is a real kick.

I believe "Diving In" is the only movie shot entirely in Indianapolis that was owned and financed locally, enjoyed a national—albeit limited—theatrical distribution, and played on HBO and Showtime. It did not meet with universal acclaim. The review in an Orlando, Fla., newspaper panned, "'Diving In' goes straight to the bottom."

Unfortunately, the distribution side of moviemaking is absent of morality, as any student of the film industry knows. Warned of the treacherous waters, we were supremely confident of our ability to protect ourselves. Did we get screwed? Of course.

One of the biggest mistakes I made was when I retired 20 years ago. I decided I had created sufficient wealth to cash in on the American dream. In a period of six months, I retired from my law practice and sold all my business interests. The proceeds from the sale of those businesses were converted into cash and cash equivalents, generally tax-free bonds. What a fiasco.

After a few months of this retirement, I grew dissatisfied. My office was lonely. I missed the psychological satisfaction of seeing opportunities, making deals, creating value—of being in the arena. I learned there is more to entrepreneurship than the money earned. Entrepreneurship is a grand game, and money is simply a means of keeping score. The essence of entrepreneurship is the joy of the game.

Recognizing failure, Lillian Carter, mother of President Jimmy Carter, was reputed to have said, "Sometimes, when I look at my children I say to myself, 'Lillian, you should have remained a virgin.'" It is too late for Lillian but not for most of us. If at first you don't succeed, sky diving definitely is not for you, but that leaves a lot of choices. A recession is the wrong time to be afraid of failure. Opportunities abound. Stay in the game.•

__________

Maurer is a shareholder in IBJ Corp., which owns Indianapolis Business Journal. His column appears every other week. To comment on this column, send e-mail to mmaurer@ibj.com.