Every neighborhood has its battles, but the 1,017-resident Centennial subdivision in Westfield is embroiled in one of the most unusual: a very public fight over the adequacy of its phone, Internet and video service.

Centennial's debate has gone beyond that supreme suburban tribunal—the neighborhood homeowners' association—to the Indiana Utility Regulatory Commission.

IURC has launched an investigation of Centennial's exclusive telecommunications provider, E.Com Technologies/ FirstMile Technologies, and is trying to determine, among other things, whether it is engaged in anti-competitive behavior.

"Yes, this is a rare type of case," said IURC spokeswoman Danielle McGrath.

Better known as FirstMile Technologies, E.com was started in the late 1990s by the upscale neighborhood's developer, Paul Estridge.

Estridge won industry kudos for efforts to wire the development from the start with high-speed Internet connections and other marvels of bounteous bandwidth that incumbent phone carriers weren't offering at the time.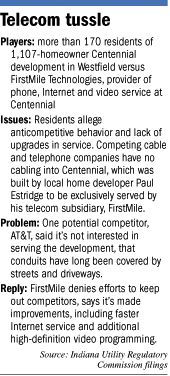 In the years since, those phone carriers, along with cable television companies, have caught up and surpassed FirstMile, argue some Centennial homeowners. About 170 signed a petition demanding the IURC investigate.

Ordinarily, the solution would be for a homeowner to call another provider for service. But that's not so easy at Centennial, where only FirstMile's wires, not those of local phone or cable companies, were buried under sidewalks and driveways when the development was constructed.

"What we got was a stagnant monopoly," Centennial resident Heather Brownell said in testimony prepared for a 3-1/2-hour public hearing the IURC held last month.

Keeping up?

Ten years ago, "when this development was built, I'm sure that E.Com/FirstMile did offer 'state of the art technology'; however, this is absolutely not the case today, "Centennial resident Tammie Gabriel told the commission.

"It is known that high-speed Internet and state-of-the-art technology services are just as important to people as a two-car garage and can be a deal breaker … . I am just trying to keep our home values up, and keeping our technology up to date with the competitors is an important factor in doing so," she said.

Centennial's homeowners' association, for its part, sent the IURC a letter pointing out that Gabriel, who serves on the board, does not speak for the association and that the association did not have a glove in the fight.

This battle over telecom infrastructure may also be reflective of generational differences in the use of technology.

Brownell told the IURC that she and her husband—he's in the IT business and she runs a business from their home—need an advanced mix of telecom offerings. Some members of the neighborhood board, she said, "are of an older generation and may not understand the significance of the situation."

Whatever the case, the roots of the dispute are deep. In 2000, the IURC chided FirstMile for installing its system without state approval. The agency said it hoped in the future, Estridge and other developers would allow open access to other providers when the conduits that run through a development were still open to access to other telecom carriers.

The IURC issued an order back then attempting to place E.Com/FirstMile in the position of an "incumbent" provider, by requiring it to provide access to its facilities to other providers, said IURC spokeswoman McGrath.

"This was done to ensure that E.Com was treated the same way as other providers with monopolies in their service territories."

The state's Office of Utility Consumer Counselor has its own questions, asking the commission to "properly address not only the nature and quality of communications services offered" but also the extent to which the level of competition within Centennial "has been adversely impacted by the [company's] unique arrangements."

Competitor not interested

But, ironically, perhaps, it appears the big local phone company—AT&T—isn't interested in serving Centennial.

"AT&T Indiana does not have an interest in providing service in the existing portions of the Centennial development, given the fact that utilities have already been placed in the streets, and sidewalks have been constructed and lawns and landscaping are in place," AT&T said in response to questions from the commission.

The telecom giant also said it's had no recent discussions with FirstMile about connecting to its system. AT&T said it was willing even to relinquish its so-called provider of last resort obligations to serve Centennial—service the commission essentially can require of a carrier in an underserved area.

Yet, said Kevin Kernel, general manager of FirstMile, "some of these folks still believe or profess that we're keeping [competitors] out."

Kernel said that service has not been stagnant, as some residents claim. Among improvements he pointed to was an upgrade in download speeds to 6 Mb from 1 Mb.

Some residents counter that's still slow compared with some competitors' offerings.

The company also said it has expanded its high-definition video offerings while holding its rates in check for years, unlike competitors.

Moreover, in filings with regulators, FirstMile has challenged the IURC's jurisdiction in areas such as availability of cable channels and certain matters of rates and charges and quality of service.

Although the IURC imposed service quality requirements initially, those have been superseded by the Indiana General Assembly's 2006 telecom reform, the company argues.

It remains unclear just what the commission could do in this case, given the effects of telecom reform and Centennial's unusual telecommunications structure.

"Force the providers of last resort to run new infrastructure into this neighborhood and provide service to Centennial residents so we can have the same quality of service enjoyed right across Springmill Road here," Centennial resident Chris Michelstetter said in testimony prepared for last month's hearing.•