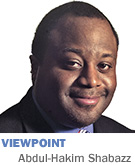 Some of you who hear me on the radio know I make it a point to visit a quaint cigar lounge in downtown Indianapolis. It's known for its cigars, martinis and good conversation.

Recently, I ran into a couple of gentlemen visiting for a convention. They complimented the city on how friendly the people were, how easy downtown was to negotiate, and the fact there was a place where they could smoke. I asked them about others attending their convention who didn't smoke and they told me they went to a non-smoking place around the corner. Everyone made a choice and everyone was happy with it. And fundamentally that is what the smoking debate in Indianapolis is all about, responsible adults exercising responsible choices.

Anti-smoking advocates like to push the image of servers forced to work in a smoke-filled bar because they have no choice. Or the image of the patron who orders smoked bacon in a restaurant and it's the secondhand type that comes with his order. Sorry my friends, in real life the facts tend to lead otherwise.

The current smoking ban compromise was passed in 2005. Smoking is not allowed in most places that allow patrons under 18. Since then, 99 percent of all workplaces in Marion County have gone smoke-free. And two-thirds of the places that serve alcohol are also smoke-free. There is ample choice for consumers, workers and patrons. The compromise is working so well that a survey by Smoke Free Indy, an organization that promotes smoke-free workplaces, shows that more people (81 percent) prefer it over a total ban (71 percent).

Apparently, many people are making the right choice, because with the exception of the activist crowd, this issue was on no one's radar screen. Mayor Greg Ballard says it never comes up at his town hall meetings. And if you poll most City-County councilors, I'll bet you a Cohiba that people are more concerned about their neighbor burning leaves than someone burning tobacco leaves in a place they never go.

We all know the dangers of secondhand smoke. We also all know the dangers of eating raw meat and eggs, riding a motorcycle without a helmet, and telling your wife she's gained weight. But as informed adults, we all make decisions whether to put ourselves at risk. And before critics say that your right to smoke ends when it hits my face, I agree. But I would also maintain that you have a duty not to put yourself at an unnecessary risk when you have a choice to do otherwise. So if you don't want to come into contact with secondhand smoke, use common sense and stay out of places that allow smoking.

The free market has given us that choice in Indianapolis. Where individuals don't have a choice—schools, government buildings, hospitals—the government has rightly stepped in. And if anti-smoking forces were serious about protecting individuals with no choice, they would push for laws that would ban smoking in homes where there are children, since children usually don't get a say about their parents' behavior. Businesses that allow smoking are clearly labeled for customer and server alike.

It would be one thing if every place in Marion County was a virtual chimney. The compromise that was put in place years ago works just fine. And if you don't want to join me one day for a cocktail at that cigar lounge downtown, we can walk right around the corner to another place that's smoke-free.

Ah, the joy of choice!•

__________

Shabazz is morning show host of WXNT-AM 1430, an attorney, and an adjunct professor of speech, political science and business law at the University of Indianapolis and Ivy Tech State College.