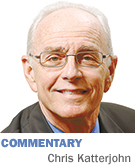 I saw where Barbara Walters did her 10 Most Fascinating People of 2009 shtick on television recently. So with a nod
to the venerable newswoman, I'll do her one better with my list of locals who got my attention
this year. In alphabetical order:
1. Sardar Biglari, CEO of Steak n Shake
Inc. An IBJ associate dubbed him a "barbarian-at-the-gates CEO at just 32." Over
the last two years, Biglari has managed to wrest control of the local restaurant chain, acquire another,
create a holding company, and buy a piece of an insurance business.
A devotee of Warren Buffet, the lad
recently announced a 1-20 reverse stock split that will send SnS shares up to around $240 each, a Buffetian maneuver that
will keep the riffraff out of his shareholder mix and give him the space he needs to build the next Berkshire Hathaway.
2. Dr. Tony Bennett, superintendent, Indiana State Department of Education. A real firecracker, this
native of southern Indiana is shaking things up at DOE, taking on the teachers' union and putting kids first in his
quest to improve the state's education system.
3. Myles Brand, former head of the NCAA,
died of pancreatic cancer this year. As president of Indiana University and the NCAA, Brand shunned popularity in favor of
principle. After making headlines by firing IU coach Bob Knight, he championed making academics as important as athleticism
in the world of college sports. He is missed.
4. Chris Burd, widow of Richard Burd of Burd Ford
in Lawrence. Her husband committed suicide in November after apparently losing hope that his dealership could survive. Now
Chris, who shared the spotlight with her late husband on TV commercials for the dealership, has taken the wheel at Burd Ford
with hopes of steering the business back to prosperity.
5. Mitch Daniels, governor of Indiana.
The man is smart and action-oriented, and has no qualms about keeping Indiana financially sound. More revenue shortfalls?
No problem: Make some more cuts. The cuts are painful to be sure, but we'll all look back on this and be glad we made
them. Best governor we've had in my lifetime.
6. Tim Durham, CEO of Obsidian Enterprises.
Flashy multimillionaire, partier and philanthropist, Durham is a man some love to hate. IBJ's investigative
work may have sparked his undoing … or at least a major comeuppance.
7. Matt Gutwein, CEO
of Marion County Health & Hospital Corp., Gutwein led the charge for the new Wishard Hospital. The man was prepared and
loaded with facts, as well as passion for the mission. He got his $750 million bond issue, and the county will be all the
better for it.
8. Allison Melangton, CEO of Super Bowl 2012. Former collegiate gymnast, TV producer
and behind-the-scenes sparkplug for two decades' worth of national and international sporting events in Indianapolis,
Melangton finally gets her moment in the sun. Now the point person for the world's single biggest sporting event, she
won't disappoint, and it couldn't have happened to a nicer woman.
9. Dr. Judith Monroe,
director of the Indiana State Department of Health. This practicing doc and former hospital administrator is gung-ho on wellness
and leading the charge against obesity and smoking in our state and beyond. Monroe is all-business, like a school nurse on
steroids.
10. Melvin Simon, founder of what is now Simon Property Group Inc., co-owner of Indiana
Pacers, philanthropist, etc. Simon, who died this year, is the only person on this list whose name I've known since
my first day on the job, March 31, 1980. His success story seemed like the epitome of the American Dream.
11.
Gus Watanabe, former longtime Lilly executive and chairman of BioCrossroads. This quiet and brilliant doctor
left us dazed and confused when he took his own life last summer in the quiet hills of Brown County. He also left a big hole
in the hearts of many.
The life sciences community and the community at large miss this gentleman and leader and
his many contributions. His shocking departure from this Earth was a hard thing to understand and accept.•
__________
Katterjohn is publisher of IBJ. To comment on this column send e-mail to ckatterjohn@ibj.com.
Please enable JavaScript to view this content.