Indianapolis only recently started to consider privatizing management and operation of its professional sports and convention facilities. But industry experts already have concluded that just two of the 12 groups responding to a city solicitation have a real shot at landing the overall contract.

They peg the front-runner as a unique four-way partnership between Pacers Sports and Entertainment, the Indianapolis Convention & Visitors Association, Los Angeles-based AEG and Philadelphia-based Global Spectrum. The latter are the second- and third-biggest names in the stadium-and-convention-center management industry.

Experts say the other major contender for the Indianapolis privatization contract is Philadelphia-based SMG, the largest company in that industry.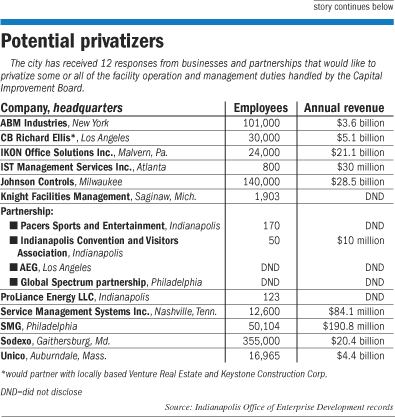 None of the other proposals is in the same league, said Mark Rosentraub, the University of Michigan's Bickner Chair of Sport Management.

"This is in some ways like saying, 'I've got the Yankees and the Red Sox on the field. And I'm going to see the Indianapolis Indians?'" he said. "As a baseball fan, I know where I'm going."

On Oct. 20th, Mayor Greg Ballard, a Republican, released a "request for information" from businesses interested in operating Lucas Oil Stadium, the Indiana Convention Center and, perhaps, Conseco Fieldhouse, which currently is managed by Pacers Sports and Entertainment. Replies were due Nov. 24th. City officials think privatization might trim expenses for cash-strapped CIB—which oversees all three venues—and boost revenue by increasing bookings.

In response to a public records request, the city provided IBJ copies of the dozen responses it received. Sports business experts say SMG is a formidable competitor, with management contracts for more than 200 venues.

But even it will have a tough time triumphing over the Pacers/ICVA partnership. It teams AEG and Global Spectrum—possibly for the first time ever—and Indianapolis partners who hold a treasure trove of knowledge of their venues and local market conditions.

In short, it appears the Pacers and ICVA are attempting to front-load the bidding process with a team so dominant others simply can't compete.

"We know the city, we know the customers," said ICVA CEO Don Welsh. "And we feel as though the four of us are very well equipped to handle this—if the city and the CIB want to go this route."

The Pacers already work directly with AEG, which keeps a consultant based at Conseco Fieldhouse, said Greg Schenkel, the team's vice president of corporate relations.

Schenkel said the Pacers also interact regularly with Global Spectrum. He called the two companies "literally worldwide industry leaders that can bring all sorts of possibilities to the table."

As strong as the partnership may be, don't count SMG out, said Jim Grinstead, publisher of the Nashville-based trade publications Revenue from Sports Venues and Convention and Conference Facilities. But together, AEG and Global Spectrum are just as strong, if not stronger. And he said the four-way partnership's local connections would prove invaluable.

Pacers Sports and Entertainment President James Morris, for example, has long been a player in local and national Republican politics. Before he joined the Pacers, he served in President George W. Bush's administration as head of the United Nations World Food Programme. ICVA receives 75 percent of its funding directly from CIB.

"Often, AEG and Global Spectrum bid against each other. It's a very interesting thing to see [them partner]," Grinstead said. "I think they're going to have some inside information. ICVA … as well as Pacers Sports, will give them local market experience which otherwise you'd have to gather on your own."

The company line from the Ballard administration is that all 12 responses to its request are still under full consideration and no decisions have been made. Many of the other businesses that submitted qualifications are national or global and have strong general credentials in managing business facilities.

They just don't boast the same kind of experience in convention centers or stadiums as SMG, AEG and Global Spectrum. And they don't book talent, a key concept in attracting more national entertainers to Lucas Oil Stadium and Conseco Fieldhouse.

"It's like saying you're going to have the Colts and the Patriots in the bidding, but you've also got a few upstart teams who could win the Super Bowl," Rosentraub said. "The city can't go wrong."

Some of the respondents don't even want to take on the full management responsibility. Instead, they propose specific services, such as new IT systems. Locally based ProLiance Energy LLC wants to cut CIB facilities' cost for gas procurement.

Michael Huber, Ballard's director of enterprise development, said the next step will be for the city to pursue some of the easier ideas businesses suggested, such as contract consolidation, or energy-efficiency audits.

It then will analyze whether to go forward with a broader "request for proposals" soliciting bids for a larger CIB facility management deal. That request might be released in late spring.

"You've got some folks whose RFI response basically says, 'We think we can run everything, and we think we can do it well.' And you've got folks who basically said, 'We've got a great facilities management and janitorial solution,' [or], 'We've got a great energy savings solution.' ... There's a huge variety of responses," Huber said.

"We might even decide to go down a path where we pick three or four or more individual solutions from the RFI respondents."

Ballard's team will have to be careful if it wants to maximize the results that SMG or the Pacers/ICVA consortium can bring, sports management experts said.

A piecemeal approach could undermine the mass buying power SMG, AEG and Global Spectrum enjoy from managing hundreds of sports and convention facilities across the globe.

"If you're going to saddle them with the job of reducing your costs," Grinstead said, "you can't immediately tie their hands and say, 'You've got to do it this way.'"

Sports business experts consider it unlikely Ballard would decide not to hire either SMG or the Pacers/ICVA consortium and stick with the status quo. That's because, no matter how much CIB trims from its expenses—with or without the help of business partners—it can't keep up anymore in the competition to book national entertainers.

In the last 10 years, Rosentraub said, SMG, AEG and Global Spectrum have grown dominant in that area, even as Midwestern competition for concerts and events has increased. The only other major player in the field is San Antonio-based Clear Channel.

SMG, AEG and Global Spectrum might be able to draw musical acts with regional drawing power that now perform instead in St. Louis, Cincinnati or Louisville. The Pacers/ICVA consortium suggested in its submission that it also could pursue other events, such as international championships in tennis and figure skating or made-for-television special events.

Neither the Pacers/ICVA consortium nor SMG quantified how much revenue they thought they could add or expenses they could cut.

Indianapolis should get a lot out of its CIB privatization effort, Rosentraub said, as long as it doesn't expect a panacea.

"As good as AEG and SMG are, they can't end the recession, and they can't put millions of people into the Midwest," he said. "There's no question that those … organizations have the best management efficiencies out there."

"Just assume the road is going to be bumpy as a given," he said. "This is absolutely the exact way to go. Because you've got to get through that bumpy road. And it will be easier with an AEG or SMG on your team than it was going alone."•