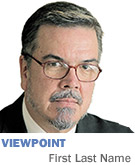 Indianapolis' successful suburbs are rapidly surrounding the city. More important, tax and cultural shifts are starting to drain Marion County. Unless Indianapolis takes defensive action, it may become mired in the same problems facing other large cities ranging from Chicago to Cleveland. Financial and ideological strangulation is likely to ensue.

Part of the suburban success came years ago with white flight to the suburbs. I watched it happen in the late 1960s and 1970s, as the surrounding counties filled with white people, fearful of what happened in Chicago, Detroit and even Cincinnati in terms of race riots and rapid changes in the racial composition of neighborhoods.

The local racial demographics changed, but, even now, we have pockets inside the Unigov boundaries that are highly racially segregated. This effect has changed the business and tax infrastructure. (Take note that in Chicago the sales tax rate is now more than 10 percent.) These days, Indy's suburbs are at least partially integrated, although outward Hispanic migration has been slow.

Before Unigov was implemented in 1970, there were suburbs outside the city, yet still in the county. Psychologically, Unigov created two Indianapolises—one pre- and one post-Unigov—and the 11 public school districts in the county are a legacy of the result.

Sadly, Indianapolis Public Schools got the short end of the stick, and became further suppressed by the enormous number of tax-exempt or -mitigated organizations within its funding area. No wonder IPS capital assets need so much work—they've been robbed. Tax exemptions and abatements need to be banned across the 50 states. But I digress.

The community cultural components and qualities in Indy Suburbia are growing rapidly. Take as an example how Carmel Mayor James Brainard and others have tried to evolve their suburban communities funded by a strong local tax base and subsequent bond-issue strength. Arts, parks and civic venues are starting to abound in our 'burbs. By contrast, the areas in Indianapolis that don't pay taxes—governmental, educational, not-for-profit and other exempt entities—dilute Indianapolis' ability to fund basic needs like public safety, let alone arts and culture and capital infrastructure. This amplifies the bedroom communities and burgeoning growth in the suburbs, leaving a geographical doughnut effect in prosperity.

Indianapolis now has Hispanic and Asian immigrants in numbers it hasn't seen before. They're often hard workers, if at low pay. The large pillars of industry in Indianapolis, ranging from Western Electric to International Harvester and Chrysler, are gone or are vastly reduced in size. Only Eli Lilly and Co. bucks this trend, and it's not immune to economic hazards, as recent layoffs have demonstrated.

Indianapolis has a weakened tax base, despite harrowing property tax increases. The number of organizations ranging from the NCAA to IUPUI that don't pay taxes (yes, I realize their employees do), hurts credit-worthiness for bonds as well as the ability to pay ongoing capital and operational expenses for Indianapolis.

Certainly, initiatives like the downtown core revitalization have helped, but once-strong neighborhoods are fighting to keep values up and character high. Failures caused by the economic downturn have caused numerous false starts, like projects on the Market Square Arena site, right down to keeping City Market open.

The danger here is that, as Indianapolis empties out to the suburbs, we're not replacing the city's vitality with new strengths. Blacks and minorities now live throughout the suburbs, something that seemed forbidden years ago, and integrated neighborhoods can be happily found in all the surrounding hamlets and cities.

Nonetheless, the prosperity of Indianapolis as an anchor is waning, and the same disparities that the cities of Los Angeles, Chicago, Cleveland and others have faced could arrive in Indianapolis, and soon.•

__________

Henderson is managing director of ExtremeLabs Inc., a Bloomington computer analysis firm.