Eli Lilly and Co. is sailing into a storm of patent expirations that some predict will cause a swoon in its profit and stock
price.
So you might think the fiercely independent drugmaker would batten down the hatches to fend off any unwanted takeovers.
Instead, the directors of the Indianapolis-based company have reversed 25 years of policy by recommending that shareholders
throw overboard its most potent protection of all: an 80-percent supermajority vote threshold for any shareholder mutiny to
succeed.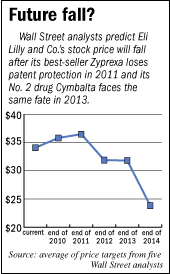 The supermajority vote applies not only to outright takeover bids, but also to measures used to achieve
them, such as removing directors before their terms end or expanding the size of the board. The board wants to require a bare
majority of votes to approve such actions in the future.
"While it is important to the company's long-term success for the board to maintain appropriate defenses against
inadequate takeover bids, it is also important for the board to maintain shareholder confidence by demonstrating that it is
responsive and accountable to shareholders," reads a statement from Lilly's board in the company's preliminary
proxy statement.
If the proposal passes at Lilly's annual shareholder meeting April 19—and it will need 80-percent approval to
do so—it would make Lilly more vulnerable to a buyout at a time consolidation is sweeping through the pharmaceutical
industry.
"This does seem to increase the risk of a hostile takeover," said Frank Lichtenberg, a business professor at
Columbia University whose research has focused on mergers and acquisitions and the pharmaceutical industry. "You do
have to admire the board for endorsing this proposal which could put their own incumbency at jeopardy."
Some investors also applauded the move, although they don't think a takeover of Lilly is likely in the next five years.
"Sometimes management tends to get too comfortable when there are an array of poison pills that protect poor management
and prevent a takeover," wrote Rich Foran, vice president of research at Symons Capital Management, a Pittsburgh investment
firm that holds Lilly stock, in an e-mail.
Merger mania
After 2009 saw three mega-mergers in the pharmaceutical industry, "everyone is a takeover target," said
Les Funtleyder, a health care analyst at Miller Tabak & Co. in New York. But he expects Lilly to be an attractive acquisition
target only if its pipeline of experimental drugs proves itself.
Right now, it hasn't. And that's why Lilly's stock trades for about $35 per share—a 20-percent discount
to Lilly's pharmaceutical peers, when each company's stock price is calculated as a multiple of earnings per share.
Still, if Lilly doesn't get a break soon, or make an acquisition itself, its stock price could plunge to a level that
would make the company cheap to buy—possibly tempting a suitor to bet that something in its 60-drug pipeline will pan
out.
Bearish analysts on Wall Street predict Lilly's profits could fall 25 percent in the next five years. Its stock price
could plummet more than 40 percent to nearly $20 per share, according to some analysts.
"Eli Lilly scores well below average on 2010-2014 patent exposure, pipeline strength, and average on company-specific
factors, in our view," wrote Hapoalim Securities analyst Jon LeCroy, in a Jan. 29 research note.
Beginning this year and running until 2014, Lilly will lose patent protection in the United States and Europe on five blockbuster
drugs, which today represent nearly 60 percent of its revenue.
For four of those drugs—Zyprexa, Cymbalta, Evista and Gemzar—Lilly will lose more than 80 percent of their sales
as patients switch to cheaper generic versions of the drugs. The fifth drug, Humalog, is a biotech insulin that would face
generic competition in this country only if Congress creates a system for the approval of generic biotech drugs.
But even if Humalog sales hang on, as most analysts expect, Lilly will face generic competition in 2016 on its rising star,
the lung cancer drug Alimta. It rang up sales growth of 48 percent last year, reaching $1.7 billion.
The problem for Lilly is that it has few experimental drugs on the cusp of market approval. And its recent attempts to launch
new drugs have either failed in late-stage tests or, in the case of its new blood thinner Effient, posted anemic sales.
"LLY's strategy hinges on achieving a level of late-stage R&D success well above current industry norms and
its own recent track record," wrote Deutsche Bank analyst Barbara Ryan in a research note, referring to Lilly by its
ticker symbol.
By 2016, she added, "LLY will either have established a new paradigm in R&D or may have completely broken down."
Outside pressure
As Lilly's stock price has lost 40 percent of its value in the past decade, some investors have increasingly
tried to pressure the company to liberalize its corporate governance structure.
The giant pension fund CalPERS has twice in the past four years placed Lilly on its "underperforming" list. It
has repeatedly advanced proposals to allow a majority vote of shareholders to change the company's bylaws. Right now,
only Lilly's 13-member board can change bylaws.
Last year, that proposal received just 44 percent of the vote.
But efforts by other shareholders to remove the supermajority vote threshold have proven more popular, winning a majority
of votes the past three years despite Lilly's board and management's opposing the measure. Last year, the idea won
57-percent support.
The surpermajority requirement was put in place in 1985 amid a raft of takeovers that made household names out of Carl Icahn,
T. Boone Pickens, Rupert Murdoch and others.
From 1983 to 1985, more than 1,000 corporations asked their shareholders for such protection, according to research published
in the Journal of Business Ethics. But Lilly was in the minority of companies that succeeded in getting it passed.
If Lilly now jettisons its anti-takeover measures, it can still fall back on Indiana anti-takeover laws that are some of
the most stringent in the country. Those laws, most of which were passed in 1986, survived a challenge in the U.S. Supreme
Court, according to an article in the University of Pennsylvania Law Review.
Indiana's laws have been mimicked by many other states, but remain among the 10 most stringent, said Diane Denis, a
corporate mergers and governance expert at Purdue University's Krannert School of Management.
The five key provisions of Indiana's laws are:
• A shareholder that acquires a controlling stake must receive approval from the majority of other shareholders before
exercising the full voting power of that stake.
• A bidder that acquires a controlling stake must wait several years before being allowed to enter a merger agreement
with the company.
• Specific procedures must be followed to determine a fair price for the company's shares.
• Corporate boards are allowed to consider the interests of non-shareholders, such as employees or the local community,
in rejecting a takeover bid.
• Poison pills, which turn non-voting shares into voting shares when a hostile bid is launched, are approved by state
law.
The statement from Lilly's board in the proxy specifically noted that Indiana law would help "to discourage a
would-be acquirer from proceeding with a proposal that undervalues the company."•
Please enable JavaScript to view this content.