Robust growth at marketing software maker Aprimo is fueling speculation it is about to make another run at going public.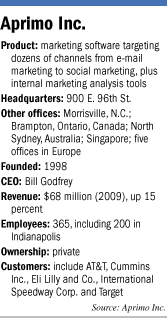 Consider a recent announcement by the 12-year-old, private firm that looked similar to that of a publicly traded company. About all that was missing was a ticker symbol up top and profit breakout at the bottom.

Aprimo said its 2009 revenue grew 15 percent, to $69 million. Sales among recurring customers, including the likes of Bank of America and Warner Brothers, grew at a torrid 29 percent.

Rapid growth around the globe and a product line ever expanding to serve emerging marketing channels, such as social media sites, will require ever more cash.

"So much of the competitive advantage is being first to market," said Indianapolis venture capital veteran Bruce Kidd. "If you have a solution nobody else has, you lock them up," he said of potential customers. "[Aprimo officials] want to be first to market, to grab market share."

Nearly two years ago, Aprimo shelved plans for an initial public stock offering that could have raised $50 million. It blamed a souring economy.

But the company keeps growing, with revenue 32 percent higher than when Aprimo filed its would-be IPO in 2007.

Godfrey
Aprimo co-founder and CEO Bill Godfrey said he won't rule out making acquisitions, or the possibility of an IPO, at some point.

For the moment, at least, Godfrey said the company has ambitions to grow internally and is "very excited at prospects to grow as a private company in 2010 and beyond."

Growing as a private company has worked for that other pillar of the city's twin peaks of marketing software: e-mail marketing firm ExactTarget.

Since last May, 10-year-old ExactTarget has landed $145 million in venture funding, including $70 million from Palo Alto, Calif.-based Technology Crossover Ventures.

ExactTarget, with annual sales of $72 million, had also filed for an IPO in recent years and later withdrew as the market deteriorated.

But, unlike Exact Target, Aprimo doesn't appear to have netted massive amounts of cash from venture firms lately, at least according to Securities and Exchange Commission records. They show Aprimo raised $14.9 million in May 2008, from four investors.

Aprimo is attractive particularly to later-stage investors, said Bob Compton, an Aprimo investor and longtime angel investor and venture capitalist. Compton is also founder and CEO of Indianapolis-based Vontoo, which provides permission-based phone messaging to universities and other groups.

Companies the likes of Aprimo have a track record of growth and have weathered the storms of recent years, Compton said.

"A company of that size, strength, market position and seasoned management team are the kind of companies that later-stage investors find very appealing," he said.

He points to Technology Crossover Ventures' big investment in ExactTarget as an example. Such investors often cash out when a company conducts an IPO but retain some ownership interest in the newly public company.

Some competitors in Aprimo's space already have ready access to funding as publicly traded companies, including Massachusetts-based Unica.

Like Aprimo, Unica has in recent years been deemed among leaders in the "marketing resource management" quadrant defined by research firm Gartner.

Among other challengers are SAP and Oracle-Siebel, Gartner said.

In a 2009 report, Gartner said Aprimo's strengths include a wide product offering and rapid growth in recent years. It said, however, that Aprimo faces challenges from larger vendors as the market matures and from upstarts competing on lower price.

Complex product

Aprimo's market is a bit harder to comprehend but is arguably more promising in the long run than the market sought by ExactTarget, which specializes in e-mail marketing. Compendium Blogware, which helps companies market through blogging keywords designed to land them near the top of the results page when a potential customer conducts a Google search, is another narrower market.

Such targeted marketing channels are a mere subset of several marketing channels included in Aprimo's product suite. One of Aprimo's big customers, such as Bank of America, might market through two dozen channels.

That contrasts with Aprimo's early days in 1998, when direct mail and e-mail were the key tools of automated marketing.

The interactive marketing segment alone today approaches $55 billion and could represent 21 percent of all marketing expenses by 2014, according to research firm Forrester. Marketers are shifting away from traditional media to new darlings such as mobile phone marketing.

"Marketing is now in a very high degree of change," said Aprimo's Godfrey. "The channels of communication are always going to be in flux."

As niche players come out of the woodwork with applications for individual channels, such as for blogging or e-mail, some larger companies that buy these products find themselves burdened with a dozen dissimilar applications from multiple vendors.

Aprimo can grow "by being a marketing automation 'consolidator' in certain large enterprises that grow weary of the cost of and complexity of point solution integration," said Bob Thompson, CEO of CustomerThink Corp., a Burlingame, Calif.-based research firm.

"Reducing vendors is one way that companies can simplify operations and cut costs. Some call the strategy 'vendor rationalization.'"

Integrating solutions into a single platform has particular value to large corporations, which has worked in Aprimo's favor. Its mix of customers is diverse—from Fortune 500 companies to NASCAR to the Focus on the Family ministry. The diversification has helped mitigate risk during an economic downturn that's hammered some sectors harder than others.

Aprimo has also lured customers by offering tools that can be used to analyze marketing spending or to better plan marketing campaigns. The software can be used to enforce marketing compliance in heavily regulated industries such as pharmaceuticals, for example.

A fully integrated offering, "that's our secret sauce," Godfrey said.

Acquisitions needed?

But can the company's 365 employees—about 250 of them at its East 96th Street headquarters—continue to develop competitive applications internally?

Aprimo has made only two acquisitions of note in its 12 years—in 2004 and 2005.

One was U.K.-based Then Ltd., a software marketing and analytics company Aprimo bought for $6.3 million. That landed Aprimo prestigious customer Honda, for whom it developed a portal allowing 200 Honda franchised dealers to build custom advertising in the form of print, online and direct mail ads. The system ensures dealer ads are consistent with Honda's marketing themes and helped speed production time.

Buying Then also expanded Aprimo's geographic presence. Now its customer base consists of more than 150,000 marketers in some 40 countries. About 20 percent of its business is outside the United States.

But Don Aquilano, managing partner of Blue Chip Venture Co., which has a stake in Aprimo, doesn't necessarily see the need for the software firm to snap up other such companies in the near term.

"The existing strategy provides compelling organic growth going forward. … I would say it would be incorrect to assume that an acquisition strategy is required for future growth," Aquilano said.

An IPO, which would provide fuel for acquisitions, would bring numerous headaches from legal to accounting burdens, noted Kidd. "Being a public company is no rose garden."

It would, however, give Aprimo stock as currency for acquisitions and free up potentially more money for the company's own marketing and other internal uses.

"Access to capital for aggressive merger and acquisition activities is not really available now. When that changes, we could see some vendors trying to consolidate the industry," Thompson said.

His take is that Aprimo is making smart moves in the early jockeying to be one of the "last vendors standing."

Meanwhile, Godfrey said the company is on pace to add about 70 employees in 2010, perhaps 40 of them in Indianapolis.

Among recent executive-level hires are two veterans of Silicon Valley. One is Chief Marketing Officer Lisa Arthur, former vice president of global customer relationship management marketing for California-based Oracle.

Aprimo's new chief financial officer is Umesh Singh, who was senior vice president of finance at Sunnyvale, Calif.-based Ariba, which develops spend management software.

"Aprimo is an extraordinary company that in the last decade has become an expert in the business of marketing," Aquilano said. "It's going to be a prominent company here in Indianapolis."•