Sardar Biglari compared himself to professional athletes and artists in explaining his investing style and strategy at the annual meeting of Biglari Holdings Inc. in New York City.

But the 32-year-old who runs the Steak n Shake restaurant chain put on a show of deference when some of the 100 or so investors in attendance drew comparisons between Biglari and his investing idol, Warren Buffett.

Biglari has copied some of Buffett's trademarks, including a folksy annual letter to shareholders. He has a similar interest in the insurance business, and in courting long-term investors. They also share a birthday: Aug. 30.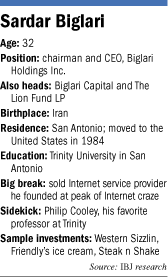 But Biglari is just starting his career and already is showing signs of taking a different approach than that of the Oracle of Omaha. The market value of Biglari Holdings is $600 million, compared with $200 billion for Buffett's Berkshire Hathaway. And Buffett has a net worth of $47 billion, placing him third on Forbes' 2010 billionaire rankings.

"We're 47 years and $47 billion apart," Biglari said at the meeting of the former Steak n Shake Co. on April 8 at the swanky St. Regis hotel. "We're in an embryonic stage. If every action we take, if you're looking to compare to Berkshire, you are going to be very disappointed."

Biglari, the chairman, drew a warm reception from shareholders. Many of the investors see Biglari as a rare talent who, given time, could make them millions. Early buyers of Berkshire Hathaway turned every $2,000 investment in 1967 into $12 million today.

At the meeting, shareholders overwhelmingly approved changing the company's name to Biglari Holdings. Biglari—an Iranian immigrant and hedge fund operator—defended the name change by comparing himself to a "painter doing his masterwork." An artist, after all, always signs his work.

Adoring investors

The Biglari Holdings annual meeting was a far cry from the "Woodstock for Capitalists" Buffett hosts for roughly 30,000 investors every year in Omaha.

Unlike Buffett, who is known for hawking products produced by Berkshire subsidiaries at his annual meeting, Biglari did not serve milkshakes or hamburgers. (There are no Steak n Shake restaurants in New York.) The location of the annual meeting was another departure from the Buffett playbook. If the investing elites in New York City want to attend Berkshire's annual meeting, they have to fly to Omaha.

But there was plenty of love for Biglari during a five-hour question-and-answer session. Investors and potential investors wanted to know his strategy, his formula, his secret sauce. Biglari seemed to relish the attention.

One investor congratulated Biglari on his Steak n Shake turnaround before leading the crowd in a round of applause. Then he asked about Biglari's health. Is he working too much?

Biglari said he approaches business like San Antonio Spurs star Manu Ginobili approaches basketball: playing every game like it is Game 7 of the NBA Finals. Biglari said he enjoys the sport of it all and that makes it worth putting in 80-hour weeks.

"I don't know any other way but to give it everything I've got every day," said Biglari, who earns a salary of $900,000. "I'm all in emotionally and economically."

One analyst asked if Biglari plans any stock repurchases, throwing in the fact that Buffett doesn't do them. Buffett also doesn't do turnarounds, and generally tries to retain the management of companies he acquires.
"We need to show some individuality," Biglari shot back. "In terms of repurchases, you guys have to stop bidding up the stock."

Study in contrast

Not everyone is convinced Biglari is the next Buffett—a man whose company still bears the name of the now-closed Massachusetts textile mill he bought in 1965.

Comparing Buffett to a guy who renames a 75-year-old company for himself, does a 1-for-20 reverse stock split just to push up the share price, and makes a hostile takeover offer is an insult to Buffett, said Frank K. Martin, senior partner at Elkhart-based Martin Capital Management LLP.

"This has all the makings of something that's going to go up in smoke, largely not because there aren't some good ideas," Martin said. "It's the arrogance, hubris, whatever you want to call it that seems to mark the CEO. He has all the indications of being a flash in the pan."

The crowd of supporters in New York, Martin said, is a "testament to the degree of gullibility" on Wall Street, particularly to follow the hottest new investor.

"I've always asked the CEOs of companies why you go where the big institutional investors find it easy to come to your annual meeting," Martin said. You run a good business, and the shareholders will find you."

Wall Street has found Biglari. The company's shares have more than doubled in the last 12 months as the 485-restaurant Steak n Shake chain turned solidly profitable.

There's plenty of reason, in the numbers alone, for Biglari Holdings shareholders to be confident and enthusiastic, said Tom Jacobs, an analyst with The Motley Fool.

The company earned $5.5 million in its fiscal fourth quarter compared with a year-ago loss of $3.4 million. It has more than $71 million in cash against $31 million in debt.

"You're looking at someone who can take capital and compound it," Jacobs said of Biglari. "And he's not afraid to get messy."

Seizing opportunities

Biglari described his strategy for acquiring companies as a rope-a-dope, ala Muhammad Ali, waiting for the moment when the other side is weakest.

The company is trying to wrest control of Fremont Michigan InsuraCorp Inc. after buying up shares and offering to acquire the company for as much as $36 million in December.

Biglari blasted Freemont executives for going to the Michigan Legislature in an attempt to block a takeover—a move he said would provide "not accountability, but immunity" for management.

The bill, which would require two-thirds shareholder approval of a hostile takeover of a small insurer, has advanced out of committee in both the House and the Senate.

Biglari, who has already selected the CEO he plans to install, wants to use the small insurer's $60 million investment portfolio to fund more acquisitions. He said concerns that he wants to dismantle the firm or move its 75 jobs out of state are unfounded—he only wants to eliminate one job, the CEO's.

"We're in the first inning," Biglari said. "A hostile takeover of an insurance company is no cakewalk."

The deal would be the second major acquisition for Biglari since he transformed Steak n Shake Co. in June 2008 into a holding company for a diverse range of investments, all selected by Biglari personally without board approval (a highly unusual move for a public company). The holding company is now based in San Antonio, while the Steak n Shake restaurant operation remains in Indianapolis.

The operator of The Lion Fund used a proxy fight to seize control of the burger chain in 2008, then promptly cut costs, launched new promotions and trimmed spending on restaurant maintenance and investment from an average of $55 million per year to just $5.8 million in 2009. The moves helped the chain break a 14-quarter streak of declining same-store sales.

The company in August closed on a $23 million deal to merge Steak n Shake with another holding company Biglari controlled, Virginia-based Western Sizzlin Corp., which franchises a chain of 105 steak restaurants and also owns stakes in Houston-based Mustang Capital Advisors and Bellevue, Wash.-based barter network ITEX Corp.

What's next?

Biglari sees the company as a "liquidity provider" focused on investments in franchising, wealth management and insurance. The goal in each area is to profit from other people's money.

He said the company made a $200 million bid to acquire a company but the offer was turned down. And he acknowledged Biglari Holdings has purchased shares in other publicly traded restaurant companies but would not say which ones.

Biglari showed interest in the San Diego-based Jack in the Box chain when he ran Western Sizzlin. Another possibility is Spartanburg, S.C.-based Denny's Corp., where a Steak n Shake shareholder is using Biglari's playbook as he sets up a proxy fight with existing management.

Asked at the annual meeting about his own weaknesses, Biglari demurred.

"There are always weaknesses—too many for me to mention here," he said.

Asked how he guards against hubris, he again didn't answer head-on.

"We know how bad it could get—losing $100,000 a day," he said of the early days after he took over Steak n Shake. Western Sizzlin and Steak n Shake would have failed without intervention, he added.

The jury is still out on whether Biglari can delivery returns worthy of Buffett comparisons, said George Farra, co-founder of locally based Woodley Farra Manion Portfolio Management.

"The price performance has been impressive, but this isn't a restaurant stock anymore," Farra said. "What he's trying to do is say, 'Don't look at what we are now but consider what we hope to be and go with us on it.'"•