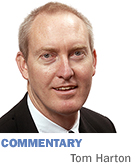 News flash: Our bad habits are contributing to the growing cost of health care.
On any given day, you can read or watch numerous reports on the topic. Almost as regularly, there are accounts of insurance companies or others with a stake in our collective health launching, expanding or otherwise singing the praises of a wellness program. Such programs have been around since the 1970s. At a cost of billions of dollars annually, they are meant to help us identify our health problems before they become serious and to encourage us to modify our harmful behaviors.
These are worthy goals. No doubt about it. And there is a return on the investment. One recent study showed that medical costs fall more than $3 for every $1 spent on wellness programs. But something doesn't add up. Overall, the cost of care isn't falling and our bad habits aren't going away. Trying to change behaviors one person at a time isn't working well as a stand-alone strategy. The war for good health needs to be waged on a broader front—one that changes our surroundings, not just our minds.
What we need is a ground offensive—literally. Our built environment—the streets, sidewalks, buildings and other improvements that surround us—is getting more and more attention for the role it plays in obesity, diabetes, respiratory ailments—even mental health disorders.
We've abandoned the village, both urban and rural, that societies have embraced since the beginning of time. Over the last 70 years or so, we've built a nation of wide roads, narrow or non-existent sidewalks, and long distances that have trapped us in our cars and isolated us in our homes. The (fat) bottom line is that we spend a lot more time sitting than we do moving around. We are connected with the world via the Internet, but separated from physical activity and our neighbors by pavement, metal and glass.
Academics and public health advocates are awakening to the problem. But the concept of improving health by improving our built environment remains far removed from the mainstream. Why else would we continue spending millions to change individual behaviors while largely ignoring what drives those behaviors?
WellPoint spent $564 million last year on wellness and associated programs—a mere 1 percent of the premiums it collects, but still a big number. Yet there is not a single representative from WellPoint or any other insurance company on the board of an important local organization you've probably never heard of: The Alliance for Health Promotion.
The alliance is a 25-year-old not-for-profit that grew out of the Marion County Health Department. Its 4-year-old signature initiative—Health by Design—tries to build awareness of the connection between design and good health and promotes policy changes aimed at improving the built environment.
Health by Design could become the city's biggest ally in battling poor health by literally changing the landscape, but it limps along on a county-funded budget of $125,000 a year and one full-time employee, Executive Director Kim Irwin. It does boast 200 community partners—many of them professional associations and groups like the Hoosier Environmental Council. Irwin says those partners sometimes fund specific initiatives, but they don't pay dues.
In spite of its meager funding and skeleton staff, Health by Design is mixing it up in the halls of power. Its Complete Streets legislation in this year's General Assembly would have dictated that road projects accommodate all users—not just cars and trucks. The bill passed the House in watered-down form but didn't get a hearing in the Senate. It was opposed by the Indiana Department of Transportation.
It's puzzling that a community—a country—full of smart people who are trying to rein in health care costs can't get fully behind public policy changes that would improve our health. Alternative transportation, zoning changes and incentives for urban infill development would all contribute to denser, walkable communities where exercise is a way of life, not an entry on someone's to-do list.
Those changes wouldn't be free, but they'd be cheaper in the long run than what we're relying on today—teaching people from now until the end of time how to live healthy in a sick environment and hoping they comply.•
__________
Harton is editor of IBJ. His column appears monthly. To comment on this column, send e-mail to tharton@ibj.com.
Please enable JavaScript to view this content.