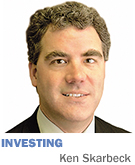 Here is a current application of some of the principles we learned from
our Grace Groner story, which I detailed in three previous columns. Lilly Endowment was formed in 1937, three years after
Grace made her investment in Abbott Labs stock.
Lately, Lilly Endowment has been criticized for a lack of investment diversification. There is no arguing that the past 10
years have been dismal for Eli Lilly and Co. shareholders like the endowment. But they aren't alone—just ask shareholders
of General Electric and Cisco Systems, among others, who bought those stocks at the peak in 2000. To reiterate, the stock
prices of technology and large-capitalization growth companies at the turn of this century were insanely overvalued.
Lilly Endowment has been a substantial Lilly stockholder for 73 years, so to focus on the past decade is a mistake. In 1932,
Eli Lilly's sales were just $13 million. Sales grew to $1 billion by the mid-1970s, hit $10 billion in 2000, and are
$22 billion today. Lilly's tremendous long-term business growth enabled Lilly Endowment to become one of the largest
foundations in the nation.
What if the endowment had decided after the 1973-1974 market swoon to undertake a diversification program? First of all,
it would have been selling its Lilly stock too cheap, at a depressed price (much like today). It would have had to develop
an expensive investment infrastructure of consultants and investment managers, and who knows what path those experts might
have led it down? There would have been a lot of decisions to make and plenty of opportunities for mistakes.
Then, just as now, a rational analysis of Lilly's past business performance and future prospects would not have indicated
any reason to sell the stock. As Grace Groner found out, there is beauty in a single investment that compounds at an attractive
rate over a long time.
Today, Lilly's stock is down because, one, it was hugely overvalued 10 years ago; two, business growth has slowed a
bit, with analysts projecting a weak outlook due to patent expirations on key drugs; and three, because Wall Street hates
the stock. The good news is that No.1 has been corrected, while No. 3 is about as good a "buy" signal as you can
get.
As for No. 2, considering the company's work force—its intellectual capital combined with competent leadership—there
is reason to believe Lilly will eventually regain at least some of its mojo. It wouldn't take much of a change in investor
sentiment to push the share price higher.
Plus, look at the deal an investor is getting with Lilly at $35 per share: A company valued at eight times earnings (a 12.5-percent
earnings yield), 6.5 times cash flow, and 1.7 times sales. On top of that is the hefty 5.5-percent dividend. At these prices,
an investor is paying nothing for future innovation from the company.
Now, you can pity the poor souls who loaded up on Lilly stock in the summer of 2000 at $100 per share—many were even
professional investors. Those undisciplined buyers were eagerly paying 35 times earnings (a 2.9-percent earnings yield), 30
times cash flow, and more than 10 times sales.
But to chide Lilly Endowment about selling its stock at today's prices is the inverse mistake the buyers of Lilly stock
made 10 years ago. Instead, the stock looks like an attractive purchase for long-term investors.•
__________
Skarbeck is managing partner of Indianapolis-based Aldebaran Capital LLC, a money management firm. His column appears
every other week. Views expressed are his own. He can be reached at 818-7827 or ken@aldebarancapital.com.
Please enable JavaScript to view this content.