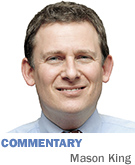 In a surprise move, Marion Country Prosecutor Carl Brizzi announced Friday that he would quit his job in the wake of an IBJ investigation into his business relationships and join the Butler University men's basketball coaching staff as an unpaid assistant.

"Tim Durham, my financial and spiritual adviser, said it was the right time for a change," Brizzi said at a news conference Friday, joined by his fiancee and motorsports icon Danica Patrick.

Brizzi will continue to host a local radio show on WIBC, but his weekly program, "Crime Watch," will give way to a weekday drive-time offering, "Butler Blitz with The Brizz," co-hosted by local radio mainstay Jimmy "Mad Dog" Matis, who will change his nickname to "Blue III."

Do I have your attention? Thanks to the in-depth data we now have for readership trends on IBJ.com, I bet I've been pushing your buttons.

For better or worse, we know what our online readers like.

Most IBJ editors and bloggers now can access readership stats for every bit of news content on our website. We know how many times each story, blog and video has been viewed and for how long, for any month, week or day. We know viewers' preferred search engines, the kinds of connections they use, and their blood-alcohol content while reading. (Yes, I'm talking to you, BoonesFarm_1953@yahoo.com.)

Just kidding about that last part. We don't know your individual identities or e-mail addresses, but we're aware of which stories and features tickle the collective consciousness of IBJ's Internet audience. And I assume our print readers share common interests.

As you might infer from the fabricated story at top, you're fascinated by our pieces on Brizzi and his financier friend Durham. Anything related to Butler or the Indianapolis Colts gets your mouse clicking. Putting Danica Patrick in a headline helps pile up page views.

One quirk consistently surprises us: your intense interest in local radio programming. Our most-viewed online story so far this year focused on Matis' firing from Q95.

Most major news organizations now have access to their online stats, and each is considering how it can use that data to drive page views, whether the content qualifies as "hard news" or "total fluff." That's a big break from the past. For centuries, print journalists toiled in a vacuum, with no better gauge of reader reaction than street sales, letters to the editor, and angry shouts after shrinking the font size on the obit page.

Is this cause for alarm? Journalists might pander to readers' proven interests at the expense of "news" — assuming there's a difference.

At IBJ, we use this data to figure how to deploy our finite reporting resources—at least in a limited way. News gathering is far from an exact science, filled with hunches, time-consuming research and dead ends. It sometimes helps to know what readers find intriguing when you're deciding which stories to pursue.

You could accuse us of trolling for page views or, in the old parlance, "trying to sell papers." As sports reporter Anthony Schoettle wisely puts it, "OF COURSE we're trying to sell papers." This is a business. No readers, no paycheck.

The difference is that we have high standards for ground-breaking journalism and readers who hold us to these standards. It helps that readers usually respond in greatest numbers to hard-hitting, investigative stories, and that we consider such reporting our bread-and-butter fare.

Our staff is populated with ornery truth-seekers who enjoy that kind of stuff. Managing Editor Greg Andrews spent weeks sifting through Durham's financial filings. Reporter Cory Schouten clocked 60-hour weeks nailing down connections between Brizzi's business relationships and his role as prosecutor.

That's complicated stuff, and hardly Internet-friendly. That these and other aggressive stories still pay off in online page views is gratifying and instructive, although hardly an imperative.

So…trust us like you always have. Sure, we know some of your online reading habits, but that information will never replace good, old-fashioned news judgment.•

__________

King is IBJ's multimedia producer. To comment on this column, send e-mail to mking@ibj.com.