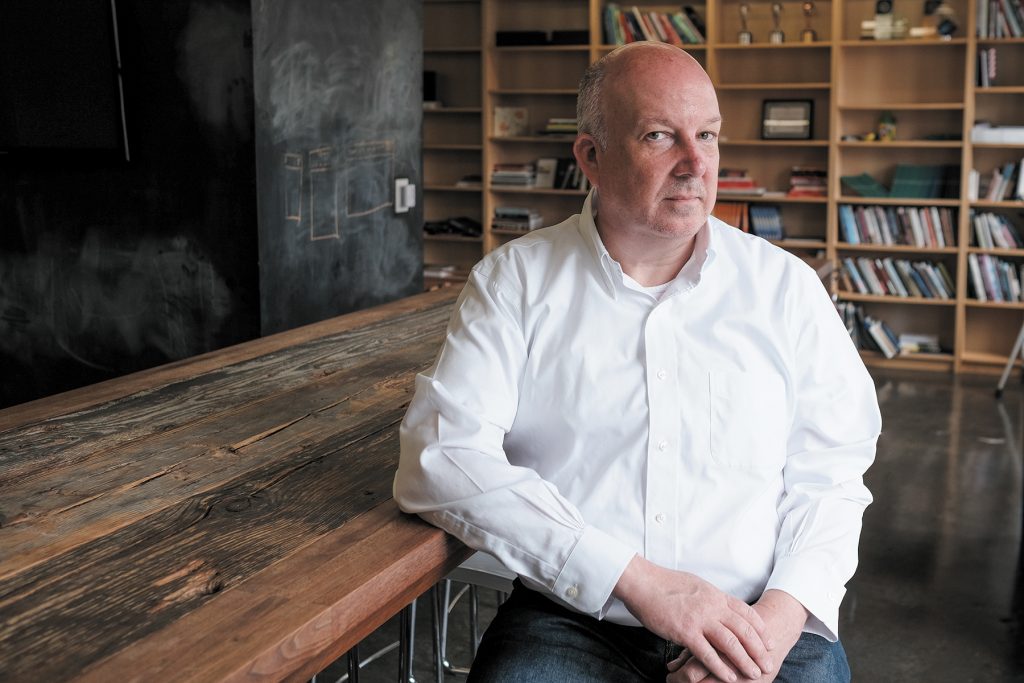 Innovation means not just exploring new frontiers but also solving problems while doing so. And Christopher Vice, 53, has a resume that reflects a career doing just that.
Backed by a master's in design from the California Institute of the Arts, Vice has worked across the design industry, with jobs that include a design gig for Surfer magazine, a marketing VP position with Brooks Brothers, and design and branding work for the likes of AT&T, Mercedes-Benz, Converse and Coca-Cola.
Vice was drawn to Indy to oversee the Department of Visual Communication Design at the Indiana University Herron School of Art and Design, where he launched the school's first graduate-degree program. A decade or so later, he was lured back into the private sector—by a former student—as Studio Science's vice president of research, strategy & design.
To some, innovation implies tech and science. What does it mean to you?
Technology and engineering are concerned with know-how: Let's leverage technology, science and engineering to figure out how to build something or make something.
I come to innovation from the lens of design—taking an existing situation and improving it for the people engaged in that situation. How can we know what people need? How do we know what's not working? I focus on improving the fit between people and objects in situations.
How does that impact decision-making?
Typically, decision-making in business is based on what is reliable. The status quo gets perpetuated when we rely on what is known.
Decision-making within design-led innovation processes is based on what is relevant.
This matters because, what has been reliable can quickly become irrelevant when there are changes to the context. We are seeing this right now with the ongoing global pandemic. There is no normal. There is no basis for what is reliable. When it comes to designing new systems that require the engagement of people, we need to learn what is now relevant and irrelevant to how they think, feel and what they want to do. Design-led innovation can do that by engaging with people around real issues in real contexts.
Is it more difficult to innovate in academia or the public sector?
Innovation is easier in business because businesses have more obvious, more immediate imperatives to achieve competitive differentiation. They have an immediate economic imperative to grow, improve and be successful with their venture.
But for better or for worse, universities—public and private—across the country have growing pressure to also be financially successful in new ways and, for better or for worse, that pressure is causing them to evolve and consider more market-driven innovation strategies.
You innovated by launching Herron's graduate program in design thinking. What needed changing?
You innovated by launching Herron's graduate program in design thinking. What needed changing?
Being a mid-career professional coming in with 15 years in design, I realized that the foundation of most design-education programs in America [was] not adequate for the challenges that professional designers faced in the field. The primary failure of those programs was in preparing student designers for the complexity of the kinds of design problems that they would face in professional practices.
In what way?
Design education had historically prepared designers to make design solutions in scenarios where the underlying problem had already been framed. In practice, designers and other business professionals are more likely to have to work in a situation where there's complexity and ambiguity and where the factors that regulate and inform the solution are either missing or keep changing.
For a designer to be effective in professional practice, they need to be better equipped at both problem-defining and problem-framing skills.
Why leave?
After 10 years, I felt like I had accomplished those objectives: Relaunching programs to prepare students of today's world and connecting the school and the faculty to much broader higher education schools of thought. I decided to return to practice to continue to evolve with new challenges in the business world.
What led you to Studio Science?
Actually, I was hired by one of my former students—an individual who was an undergraduate in my first day of teaching. Fifteen years later, he was president of Studio Science. He brought me in to fulfill the role he had just left.
What was that interview like?
He's very savvy. He interviewed me for the job without letting me know I was interviewing for the job.
What makes some companies—and people—more adaptable to change than others?
The rise in interest in innovation over the last 20 years has come with a lot of mixed blessings. When someone discovers something new, they want instant results. That's why we have "Three steps to a thinner you" and "One thing that you can do to change your life" on magazine covers.
There's not an appreciation that, in order to sign up for an innovation agenda, you also have to accept risk and the likelihood of failure in some initiatives. But in order to be successful, you have to fundamentally change the ways you were doing things before—which really requires a total shift in mindset.
There are a tremendous number of books, how-to articles, coaching programs, workshops, boot camps, etc., where business professionals can learn innovation and design-thinking strategies. But it's very difficult for someone to change their own mindset—or even more difficult to change a team—through the kind of limited learning that they get from a one-hour webinar or a two-day boot camp.
In business organization, whether a cross-country initiative or the launching of a corporate innovation center or an internal swat team, there is a tremendous amount of failure because it hasn't been approached with a deep, sincere embrace of changing the way things have been. To be successful at that requires deep commitment to change management.
It seems like innovation would be easier if one size fit all situations.
Oftentimes, people in business organizations ask for the tools of innovation. What they don't ask for is the new mindset for innovation and the skill set for using the tool.
My analogy is a carpenter. If you only have a hammer, everything in the world looks like a nail. Master carpenters know they are going to approach the use of the hammer differently depending on the kind of nail they are using and the kind of wood. Use the tool differently in different situations. Decision-making and judgment and approach depend on the wood and the object you are making and the person who is going to use the object. You need a broad tool set. You also need the skills gained through practice using the tools.
How can and does office culture fuel innovation?
Answering that today versus six months ago comes with a whole different set of issues. I do believe there's tremendous value in the notion of a learning, working environment. It's like working in a laboratory.
The difficult work of understanding the context of a problem—in framing the challenge within it in a multidisciplinary, collaborative team—requires, in my experience, a high level of trust, emotional intelligence, empathy, reflection and action. Those ideas can be built on very small insights and interactions with other people.
It's entirely possible to do that in online and virtual environments, but I believe we all have a lot to learn about how to create the kind of energy and intensity and creativity that can happen when collaborating with real people in real time and space.
Is there an innovation personality?
My orientation toward innovation is team-based, collaborative and multidisciplinary. I don't think there's one single personality type or core competency that every person in every role should carry.
Openness, flexibility and adaptability are good traits, but even those traits may mean different things in different contexts. Sometimes, what makes someone great at their role in which they have their disciplinary expertise makes them predisposed to behaviors very different from someone else on their team.
That creates the importance of a new skill: appreciation of diversity. That's oftentimes a barrier to any teamwork. If members of teams aren't open to the uniqueness and differences of the people they are working with, they are going to have a hard time working together.
Can you shut off when not on the job?
It's a challenge. After maybe a year and a half at NC State, I went home to see my family and they took me to a nice restaurant. We sat down and were handed the menus and I said to the table, "The typography on this menu is terrible. There's not enough space between items and it's all blending together."
My mother said, "Can't you enjoy anything?"•
Please enable JavaScript to view this content.