Read more Innovation Issue stories.
Chris Baggott is in a disruptive mood.
No, Baggott is not a problem child. He's one of the most successful serial entrepreneurs in Indianapolis, and as IBJ catches up with him for this story, he is thinking about hamburgers.
Specifically, about flipping hamburgers. He is questioning why hamburgers need to be flipped.
To any restaurateur or even backyard griller, the answer is obvious. But not to Baggott, who launched cooked-food delivery service ClusterTruck in 2015.
Baggott's most notable startup venture was co-founding direct-email firm ExactTarget, which went public in 2012 and was acquired by Salesforce for $2.5 billion in 2013.
This day, Baggott is questioning the wisdom of one of the world's biggest restaurant operations' spending millions of dollars on a robotic hamburger flipper. That's incremental advancement from a company mired in the traditional way of cooking food—including hamburgers, Baggott says.
He isn't biting on that idea. Instead, his company is reimagining the way hamburgers are cooked altogether—maybe with a high-tech machine that optimally cooks both sides of the burger simultaneously. It will cook faster and taste better, he insists.
It's an example of the hyper-focus ClusterTruck officials are now putting on transformative ways to improve food quality, after spending their first few years perfecting a ground-breaking delivery method. And Baggott and his staff have no interest in taking cues from other food-preparation businesses.
That mindset makes Baggott—and his companies—the definition of disruptive.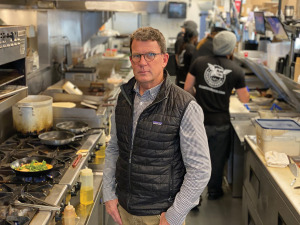 Disruptors "have a completely different way of looking at a problem and solving it," said Barb Cutillo, a lecturer in management at the Indiana University Kelley School of Business at IUPUI.
They're more than merely innovative. "Disruptive innovation is transforming a product or solution and perhaps making it more accessible to a larger audience or at a lower cost," said Cutillo, who is an investing member of The Startup Ladies and an investor in locally based VisionTech Partners.
Rob Martens, chief innovation and design officer for security-products maker Allegion and president of Allegion Ventures, said disruptors "look for things that fundamentally make a market shift."
Disruption can also be applied to processes, Martens said, such as "the way something is monetized." He pointed to the software-as-a-service concept, with its annual recurring revenue, as an example.
The vast majority of disruptors are startups. Amazon was but a speck on the radar in the late 1990s when it began selling—primarily books—online. It went on to disrupt the biggest seller of goods in North America—Sears.
Uber was nothing but a technological oddity when it launched a ride-hailing app in 2009. It has since upended the biggest players in the taxicab business.
Baggott was something of an accidental disrupter. He was operating a small dry cleaning operation—Sanders Cleaners—on the north side and in Hamilton County, when he stumbled onto the idea for ExactTarget in 2000.
He was trying to find a way to better communicate with his customers. His initial direct email customers were other dry cleaners who heard about his innovative marketing method.
"I was going to be the data-driven dry cleaner," Baggott said. "The data part worked out."
His dry cleaning business went bankrupt and closed, but by that time, Baggott—and his brother-in-law, Scott Dorsey—had started selling their software to other restaurants and retailers. ExactTarget's disruption of the direct-mail and marketing segments was well underway.
Painful beginning
In some ways, Baggott's experience with disruption isn't unusual.
Often, there's a pain point at the epicenter of a disruption.
For Nick Turner, it came at gunpoint.
In October 2016, one of Turner's best friends was robbed at gunpoint just off of 32nd Street in Indianapolis—in broad daylight—while trying to sell a cell phone.
"My friend told me, 'I didn't think someone would hold a gun to my face for a cell phone,'" Turner recalled. "I told him, 'It happens every single day.' As I began to think about it, I thought there had to be something out there—a better way to sell things through the internet. I started digging and couldn't find anything. So, I set out to create something."
Turner, an Indy native and former Indiana University football player, launched DeliverEnd in February 2017 as a way for people to buy and sell items on the web without having to meet or to exchange personal information. Now, the Indianapolis-based firm has 28 full-time employees and another 14 contractors, is expanding into multiple states and is disrupting the peer-to-peer sales and delivery markets.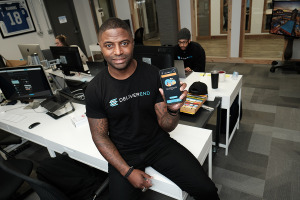 In the case of local tech startup Visible, Kristian Andersen and Mike Fitzgerald—both serial entrepreneurs and investors who are partners in the Indianapolis venture studio High Alpha—were seeking a better way to track their investments in private companies.
"We didn't wake up and say, 'Let's build an investment-management tool and go sell it,'" Andersen said. "It was a problem for us, and along the way, we realized it was a problem for a lot of other people. We were scratching our own itch."
Cole Keesling started CarSnoop, a Fortville-based company that helps people buy and trade in vehicles without having to step foot inside an auto dealership, after working in car sales for more than two decades and listening to his customers' complaints.
"The No. 1 complaint in the car business is how long it takes to buy a car and how long it takes to get the car after you say 'yes' to the deal," Keesling said. "There is also a lot of concern about all the information the buyer has to give up. I felt the pain of my customers. I just knew there was a better way to do this, especially if you knew you wanted to buy a car. When there wasn't, I invented it."
Different approaches
Clayton Christensen's 1997 book, "The Innovator's Dilemma," could easily be renamed "The Disruptor's Bible." You would be hard-pressed to find a disruptor who doesn't quote from it on occasion—if not often.
Christensen details why true disruption often comes from upstarts, while established companies struggle with it.
A simple synopsis is that big companies are focused on maintaining the successes and strengths that made them big in the first place and are obsessed with impatient shareholders anticipating the next quarterly statement. Big companies are often mired in mounds of legal and corporate processes, guidelines and mandates that are intent on keeping the company on its course. And if you're always on course, there's little room for innovation.
Startups, by contrast, are built for change, are able to do so quickly due to their size and are not nearly so risk-averse. And because they're small, they often face numerous constraints, which fosters a creative approach to getting things done.
"That's why, when I hear about a startup that raises $100 million in capital, I usually short that company," which essentially means betting on the company to falter, Andersen said of his investing tactics. "Startups require constraints in order to drive them to develop the non-obvious solutions to the problems they are working on."
Disruptors are often driven by an odd combination of insecurity and confidence, Baggott said.
"It's a lot harder to be disruptive if you're secure," he said. "That's a problem bigger companies face. I'm constantly acting as if the wolf is at the door. But you must have confidence. I'm secure … that I'm right."
The dreamers
A disruptor's life is also full of dreams.
One such dream led Dan O'Toole to start Indianapolis-based DroneDek. But is he a crazy dreamer? Time will tell.
O'Toole was driving down State Road 47 near Sheridan 6-1/2 years ago when he saw a drone flying over a nearby field.
"It started me daydreaming," he said. "I thought, 'The only way to conclude drone delivery is having a safe receptacle.'"
He drove straight home, ran inside and began researching.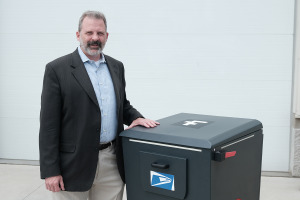 Quickly, he concluded: "We're going to be disrupting the mailbox for the first time since 1858. We're going to take a substantial amount of traffic off the road and eliminate greenhouse gases. This will allow shipping companies to increase margins. This is a win-win."
But every disruptor knows that disruption takes a commitment. And many dreams aren't cheap.
O'Toole has invested $750,000 of his own money so far and hasn't yet turned a profit from DroneDek.
The father of four said launching a disrupting enterprise requires a mix of patience and urgency. While he said he has a plan to make the company profitable in a few years, his initial steps were anything but plodding.
O'Toole had learned a hard lesson previously about disruptions.
"I've been an entrepreneur, and I've tried a lot of stuff," he said. "When one person has an idea, I guarantee you 10 other people have the same idea."
For example, O'Toole had an idea for a high-tech, programmable television remote, but another company scooped up the patent less than a month before he could file his. He had another idea for a medical device but was beaten to the patent punch by a few weeks.
But with his DroneDek receptacle, he at least won that initial race. "I beat Amazon to the patent by nine days and the U.S. Postal Service by two weeks," he said.
DroneDek's receptacle can receive packages from a drone or conventional delivery person, decontaminate the package and lock it in place. It also has a heating/cooling unit so it can store food and medicine, and has a drone recharging station. The DroneDek app even allows you to call emergency personnel if needed.
But it's not enough to have a good idea and a sense of urgency.
"All breakthrough but no follow-through is problematic," Allegion's Martens said.
The kind of follow-through it takes for a true disruption requires teamwork, Baggott said.
"You have to be able to build this," he said. "You have to have a team that shares your vision. You have to build a team that can make it rain."
Baggott admits he "got lucky" in the team-building department with ExactTarget. Having a technological brainiac like Dorsey as a close relative certainly didn't hurt. Then, he was able to hire two recently laid-off programmers to fill out the team that helped ExactTarget achieve liftoff.
Lonely road
Even with a team, disruptors face a lonely road.
"What sets disruptive entrepreneurs apart is that they live in the future," said High Alpha's Andersen, who co-founded Studio Science, Octiv and Lessonly, among others. "That's not a place where most people are comfortable spending time."
Disruptors must stay committed to their idea through onslaughts of skepticism—a challenge few are up to, he said. "If you are inventing a solution that is sufficiently disruptive, necessarily the majority is going to think you're off the deep end."
Being "truly disruptive … [is] a lonely place to be," Andersen added. "You're wrong every day—or worse, crazy—until you wake up one day and you're not."
The need for that kind of commitment is one of the biggest challenges for established companies seeking to innovate.
"With bigger companies, shareholders are looking for consistency in growth, revenue and management," Allegion's Martens said. "With startups, either venture capitalists or angel investors are not looking for consistency; they're looking for explosive growth."
Startups and scaleups are also generally tolerant of discomfort.
"These types of entrepreneurs, these disruptors, are comfortable being uncomfortable," IUPUI's Cutillo said. "In order to create, they have to put themselves out there a little bit.
"It's like a little seed you plant. The seed has to move things and push stuff around, move dirt to emerge and create something beautiful."
Creativity and disruption have become so challenging within some big companies, business experts said, that many have given up the idea of research and development altogether. Instead, they'd rather let the little guys take the risks and then simply acquire them once they establish their innovations.
It wasn't always that way. AT&T—at its Bell Laboratories in New Jersey—was once one of the world's top innovators.
"As the big companies got more focused on hitting quarterly earnings, they got more risk-averse," Andersen said.
But some are becoming more aggressive about getting into the disruption game.
Allegion, which is headquartered in Ireland but has its North American headquarters in Carmel, is one of those companies.
Shortly after Allegion spun off from Ingersoll Rand in 2013, it began a quest for innovation, in part by launching several internet-of-things devices, which use wireless connections to operate. It launched its first Wi-Fi lock in 2015. In 2019, it launched Pin & Tumbler Studio, an innovation hub bent on getting innovative products from concept to market in 120 days or less.
Walking a tightrope
Allegion also started partnering with startups to become further ingrained in the disruption movement, eventually forming Allegion Ventures in 2018 to invest in up-and-coming technologies.
"The simple truth is, this is not binary," Martens said. Allegion has a "foot in both" realms—maintaining what it has while also trying to innovate and disrupt.
"Where we focus in terms of disruptive innovation is in adjacent spaces where we haven't been yet," he said. For instance, Allegion has done work on high-tech hotels that have automatic entry and no front desk and on sensors in buildings that gather data about commercial-space use.
"We can add a ton of value to those adjacent spaces," Martens said.
And Allegion can gain a ton as well.
It has evaluated more than 2,800 companies in the last three years. Even though it has acquired or formed partnerships with only a fraction of those, Martens doesn't consider it lost time.
"There's huge value in the assessment of these companies," he said. "You see and hear so many different things than you would hear inside your own business. It's an amazing way to learn."
IUPUI's Cutillo isn't surprised.
"Innovation can happen at all levels of organizations, but truly disruptive innovation by its very definition has to come from outside [established] organizations," she said.
Martens admitted Allegion is walking a tightrope, noting that many big companies have "antibodies designed to kill disruption."
"The question is, when you bring these companies in, how do you not suppress that [disruption]?" he said. "We often keep them independent, so they keep their creativity. You can love these companies too much, and all of a sudden a hug turns into a stranglehold."
'Big bets'
Allegion isn't the only big, public company that has managed to innovate.
Amazon has continued to do so by building a different kind of relationship with its shareholders.
"Amazon investors are willing to forgo short-term profits in order for them to invest in businesses like Amazon Web Services," Martens said. "Amazon can therefore afford to invest more because their shareholders are not holding them accountable from quarter to quarter. Amazon is able to reinvest more dollars by percentage than almost any other business."
Apple is another example of an industry giant that has continued to disrupt. A lot of that is credited to the genius of the company's late co-founder, Steve Jobs, and the tone he set.
"When you're looking at an Apple space, you're looking at a complete re-creation of the technology every few years," Martens said. "Investors expect a certain number of risks. "
Apple doesn't have a "lot of competitors, so can make big bets," he said. That's not the case for big companies in the automotive, home appliance or myriad other industries that have not only a host of competitors but also shareholders who are far less patient.
Technological advances are making disruption easier, thus pushing the cycle ever faster.
Some companies are moving so fast, they're now double disruptors. Netflix, for example, first disrupted the likes of Blockbuster with its fast mail-order service, then disrupted the industry again—and itself—with its streaming service.
The DoorDash food delivery service "is only 7 or 8 years old, and they're already being disrupted by us," said Cluster-Truck's Baggott. "They can't get away from disruption—no one can. It took Sears 100 years to be disrupted [by Amazon], so the cycle is moving a lot faster … and [is] more disruptive than ever."•
Please enable JavaScript to view this content.