A maker of medical imaging equipment that recently moved its headquarters to Fishers has grand plans to reach $1 billion in sales and build a multimillion-dollar cyclotron facility in five years.

But history shows Positron Corp. has been far better at losing money than making it.

The company sells and services nuclear scanners and related equipment that help diagnose cardiac and cancer ailments. The company moved its headquarters from Houston as of February, employing eight people here and another 10 around the country.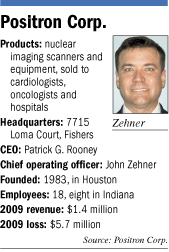 The company was founded 27 years ago and has racked up a whopping $95 million in losses since then. The public company's stock trades over the counter for about 12 cents a share. And its main competitors include behemoths such as General Electric, Siemens and Philips.

But company executives contend things are finally turning around for Positron. They think their new scanner, launched a year ago, will soon reach sales sufficient to generate demand for a cyclotron facility to make the radioactive material used in the scanner.

Positron wants to locate that facility in central Indiana, although it is also examining sites and seeking incentives in Ohio and Illinois. The cyclotron could cost $50 million to $80 million and employ 85 people.

"The stars are aligning for us," said Chief Operating Officer John Zehner, who joined Positron after selling his company, Fishers-based Dose Shield, to Positron in 2008. "We see a pretty bright future."

He expects cardiologists to shift to the technology in Positron's new scanner, which is called positron emission tomography, or PET.

The technology has been out of favor with cardiologists and nuclear medicine technicians, who have gravitated for years to machines that use SPECT, or single photon emission computed tomography. But for 2010, the federal Medicare program gave PET a 24-percent boost in reimbursement while dealing SPECT, which already got a lower reimbursement, a 23-percent cut. Medicare now pays more than $1,432 for a PET test.

Medicare's rates are hugely important because the program covers more Americans than any private health insurer. But even more important, private health insurers often set their reimbursement rates by giving a slight premium to whatever Medicare is paying.

Both PET and SPECT machines are large enough to surround a patient as he or she sits or lies down. The most common reason cardiologists use the machines is to see if blood is flowing normally to the heart or if there is artery blockage.

Also working in Positron's favor is a sudden shortage of one of the radioactive materials used in SPECT scanners, a substance known as molybdenum. The shortage, which has sparked hearings in Congress, came about after reactors that make the substance were shut down in Canada and the Netherlands.

Positron's PET scanners, instead, use rubidium as their radioactive material, meaning the molybdenum shortage does not affect them.

Last, Positron's PET scanner, the Attrius, sells for less than $1 million—about half the price most doctors and hospitals pay for PET machines from GE, Siemens and Philips. That's because those larger companies' scanners are combination products that add a CT scanner to the PET scanner.

Zehner believes the combination product is best suited for taking images of patients with cancer. For cardiac patients, however, the movement of their beating heart often forces the PET/CT scanners to take multiple images to get an accurate picture.

More images means more radiation—an increasing concern among health officials as the use of nuclear imaging tests has surged in the past 15 years. Positron argues that by using a stand-alone PET scanner for cardiac patients, it will give clearer images with less radiation exposure.

"It's a good argument," said Bob Cimasi, president of St. Louis-based Health Capital Consultants, a business adviser to doctors and hospitals. "They're a terrific company. And they've got a lot going for them with this technology."

But, of course, there are many challenges, too, Cimasi said. Because there's been such a surge in the use of imaging, Medicare and private health insurers are on a warpath to limit its use.

Some are requiring physicians to get authorization before doing an image test. Also, the recently passed health care reform bill stipulates that a physician or hospital that installs a diagnostic imaging machine must show enough patient demand to use the machine to at least 75 percent of its capacity.

"You don't have to be a weatherman to know which way the wind is blowing," Cimasi said. "There's just this overall bias against diagnostic imaging."

Positron's focus on cardiologists is smart, Cimasi said, as the cancer market is dominated by the big companies. But the company will have to sell its machines at a time cardiology practices are consolidating rapidly, either with one another or with a hospital. That means fewer overall buyers—or at least fewer potential doors to knock on to get sales.

Dr. Kiran Kareti has been investigating PET scanners for Community Heart and Vascular in Indianapolis. The system currently has four or five SPECT scanners. But Kareti has noticed a few benefits to the PET technology.

PET scans can be done in about an hour, compared with about four hours for SPECT scans, Kareti said. And the PET scan can provide a clearer image, especially in today's larger patients. Last, PET scans allow cardiologists to quantify the rate of blood flow, whereas SPECT scans allow for a qualitative assessment.

"To me it seems promising," said Kareti, a cardiologist who is director of diagnostic testing at Community Heart and Vascular. He added, "I've been speaking with our administration about this—that, hopefully, this is something that we can use in the near future."

Positron, however, has a name-recognition issue. Kareti has never heard of the company.

That may be why Positron has sold few PET scanners since its Attrius model won approval from the U.S. Food and Drug Administration in April 2009. Zehner declined to give the exact number of machines sold, but the company has said the number of customers getting quotes on its machines is 10 times last year's.

Despite the new product, Positron's overall sales actually declined in 2009, to $1.4 million, down from $2.1 million the year before. Its negative cash flow and losses worsened even though sales picked up in the first quarter this year.

Positron's stock price has spiked this year, rising from 7 cents apiece at year end to as high as 26 cents April 21.•