Bangladesh-based Grameen Bank, the Nobel Peace Prize-winning financial institution that developed the concept of life-changing
micro loans for the poor, is contemplating opening its third U.S. branch in Indianapolis.
 
Payne
Central Indiana Community Foundation President Brian Payne and venture capitalist Tom Hiatt are leading the effort to bring
Grameen here. They hope to raise $6 million to underwrite startup costs and lending by year's end. Over the next five
years, Grameen would make 4,000 micro loans of $1,500 or less to people who live below the poverty line.
Borrowers would use the loans to kick-start tiny businesses. For example, a loan might go to a beautician who buys chair
space in a salon, a food vendor who opens a stand on Monument Circle, or an in-home day care provider.
The Indianapolis Foundation, a CICF subsidiary that serves Marion County, is considering a $500,000 startup grant for Grameen,
Payne said. And discussions with other potential donors are quickly gaining steam.
On May 4, Grameen America CEO Stephen Vogel visited Indianapolis for breakfast with 35 community leaders. Payne said they
were "blown away" by Grameen's pitch.
"It has the kind of instant momentum you rarely see for a project that needs financial support," Payne said.
A volunteer advisory committee including Payne, Hiatt, CICF Chief Financial Officer Kay Whitaker, local IT entrepreneur David
Becker, Cummins Foundation CEO Jean Blackwell and State Farm Insurance Public Affairs Specialist Ed Perez are working together
on Grameen's local fundraising.
It will take $2 million in one-time gifts to get Grameen started here, Payne said. Wealthy individuals and foundations have
expressed verbal interest in donations worth $1.65 million, he said. He wouldn't disclose names of potential donors
because discussions are still early.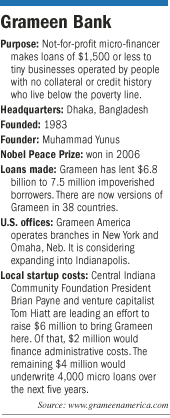 Payne and Hiatt are approaching businesses and banks to raise the $4 million Grameen needs to underwrite
micro loans here. Payne said he's confident about raising the full $6 million this year. The $4 million for loans should
ultimately be paid back. Grameen's borrowers have historically reported a default rate under 1 percent.
Roots in research
In Bengali, Grameen literally translates to "of the village." The bank's founder, professor Muhammad
Yunus, then the head of the rural economics program at the University of Chittagong, started the program in 1976 after a research
project exploring how to extend credit to the impoverished in the tiny village of Jobra.
In the three decades since, Grameen has loaned $6.8 billion to 7.5 million borrowers, the majority of which are women. Grameen
requires no collateral on its loans, which typically carry 15-percent interest rates and repayment terms of either six months
or a year. Interest income is the primary source of funds for future lending.
Borrowers work in peer groups to support one another and meet weekly with Grameen representatives. They are required to make
weekly loan payments and deposit a few dollars into savings accounts.
Grameen's model has been replicated in 38 countries. Yunus and Grameen won the 2006 Nobel for their work with micro
credit in developing nations.
Grameen has two U.S. branches—one is in New York. Thanks to Warren Buffett, the other is in Omaha, Neb. A Grameen America
spokeswoman declined IBJ's request for comment about plans to open a branch here.
The effort began when Hiatt, managing partner of locally based Centerfield Capital Partners, mentioned to Payne that his
old college friend Vidar Jorgensen had joined Grameen America's board as chairman.
Two years ago, Hiatt visited Jorgensen in New York for a tour of Grameen's first U.S. branch in Queens, which had just
opened.
"I thought it was a great fit for our community, if we could line up the people necessary to support it," Hiatt
said.
Payne said Grameen has the potential to reduce Marion County's poverty level by helping impoverished families become
self-sufficient. He estimates the community impact would be worth $115 million annually, primarily in reduced social service
subsidies for the poor.
Pipeline for lenders
Columbus-based Huntington Bank was the city's largest U.S. Small Business Administration lender last year.
Mike Newbold, its regional CEO, said Indianapolis is an oversaturated banking market, with 54 financial institutions vying
for business here. But the cost of borrowing and servicing micro loans leads most financial institutions to virtually ignore
the niche.
"I'd go so far as to say it's an almost microscopic component of most banks' business," he
said.
He expects a consortium of banks may be willing to work with Grameen and its borrowers. Eventually, many micro-entrepreneurs
could grow to become traditional bank customers.
The key to borrowers' success, Newbold said, even if their loans total less than $1,500, will be to apply the same
rigorous due diligence, risk analysis and contingency planning necessary for any new business.
Purdue University professor David Denis, the Burton D. Morgan Chair of Private Enterprise at Purdue University's Krannert
Graduate School of Management, worries that the types of micro-businesses Grameen might underwrite will ultimately face harsh
competition from larger enterprises.
"You don't want to encourage entry into a business that's ultimately going to fail. You're not helping
in that sense."
Denis also wonders whether loans counted in three or four figures will be large enough to make a difference, even for a sole
proprietorship.
But Hiatt pointed to how much Grameen has accomplished in developing nations with truly tiny loans, typically of $15 to $30.
"It doesn't take very much money to allow people to start and think differently," he said. "And the
networking and supporting relationship to get their businesses up and going has been as or more important than the capital."•
Please enable JavaScript to view this content.