Conventional entrepreneur, Matthew Jose is not.

Jose is a farmer.

In downtown Indianapolis.

With a virtual monopoly.

And so excited about his concept that he isn't keeping it a secret but rather is imploring others to get into the business and, in effect, become competitors.

If enough people follow him into urban farming, Jose reasons, vacant and abandoned property will flourish with productivity, consumer diets will improve, and worn neighborhoods will get new life.

Moreover, lots of people will get a shot at self-employment.

"There's enormous and unmet demand by individuals within Indianapolis for locally produced fruits and vegetables," Jose said. "There's space to do it and support for for-profit businesses in Indianapolis, but there aren't enough people trained as farmers and who have the willingness and the know-how to go about doing it and make it a viable business."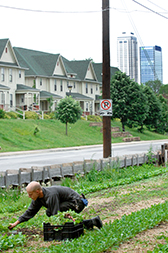 Matthew Jose grows vegetables on 10 vacant lots and sells to restaurants and members who pay a fee. (IBJ Photo/ Perry Reichanadter)
Jose (rhymes with "cozy") might be the only for-profit farmer operating in Center Township. He can't think of another and neither can others familiar with urban agriculture.

Big City Farms LLC, which is based in Jose's Broad Ripple home, isn't to be confused with urban gardening—community gardens started by individuals or churches and other not-for-profits to grow food for themselves and others.

Rather, he's in it to make a living, but with the related social goals of bettered health, environment and community a close second priority.

Big City Farms and several similar ventures in counties adjoining Indianapolis are iterations of "community-supported agriculture," a model that involves a group of people paying fees to a farmer for access to food directly from the farm.

Proponents of community-supported agriculture point to its lower distribution costs and carbon footprint, and contend the quality of food is better and safer. They also like feeling the connection with the farmer and knowing how the food is raised.

The concept was brought to the United States in the 1960s from Europe and Japan, but didn't gain popularity until a couple of decades later. Hotbeds in the Northeast and Pacific Northwest have spread throughout the country in recent years.

Urban farming brings food production and distribution full circle to the way the system operated before refrigeration and efficient highways opened the way for food to be trucked hundreds of miles.

Meandering path

Jose, 26, isn't aware of a connection to agriculture in his family in the last three generations.

His father, a health care lawyer, and his mother, a hospice chaplain, raised him near Broad Ripple, and he went to North Central High School before starting an American studies major at Wesleyan University in Connecticut.

His peers at Wesleyan moved toward filmmaking and academia, but Jose dropped out after a year as debt accumulated and he realized he wanted to work outside of academia.

Remembering an enjoyable farm summer camp in Vermont, he went to work for a Massachusetts farm tied to Heifer International, a not-for-profit that fights poverty and hunger.

In equally rapid-fire succession, he worked for a bakery in Portland, Ore., a community garden in New York City and then, back at the Massachusetts farm, where he learned to grow vegetables.

Returning to Indianapolis, Jose supervised Traders Point Creamery's warehouse and then took a community gardening and school beautification job helping Purdue University Cooperative Extension and Keep Indianapolis Beautiful, where he also launched a pilot program to cultivate vacant lots for vegetable production.

Only then, in January last year, did he start Big City Farms.

Jose has accumulated 10 vacant lots totaling about one acre, all within a few blocks of one another in the Cottage Home and Holy Cross neighborhoods just east of downtown. Landowners have allowed him to use their properties for free because they like his land ethic and a clean lot.

About 25 percent of his anticipated $30,000 in revenue this growing season will come from such restaurants as City Café and R Bistro. They will buy his spinach, radishes, beans, carrots, onions, tomatoes, basil and sage.

The rest of the revenue will be generated from annual membership fees of $650 for enough produce to feed families of four and $375 for enough to feed households of two.

Once a week, members pop by a Big City Farm plot to pick up several items.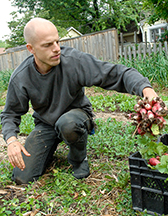 Jose, who is thought to be the only commercial farmer operating in Center Township, believes more vacant lots could be turned into garden spots. (IBJ Photo/ Perry Reichanadter)
Jose prices his produce at organic levels. Big City Farms has avoided the time-consuming process of organic certification, but his methods are organic, and he says his customers seem satisfied with the explanation.

Members pay their fees upfront. The agreements—handshakes, not paper contracts—help finance the crops.

The vast majority of the $30,000 in sales will be profit. Big City Farms incurred small upfront costs for tools and other capital equipment. The plots need a total of a couple of thousand dollars of fertilizer, and he pays for bags to hold produce and other recurring costs.

He also tests the soil each year for lead and other contaminants. So far so good: no expenses for remediation.

Jose's plots are green, and not just because they're organic.

They're crammed from border to border with spinach, radishes, garlic and arugula. However, for all the compost hauled in and care taken, he still battles a problem as old as humanity: weeds.

On one recent day, Jose knelt in a plot at Michigan and Oriental streets, and pulled fistfuls of bindweeds, a vine-like plant that wraps around the arugula.

"It just gets everywhere," he said, straddling farm and white-collar cultures with a Carhartt baseball-style cap and upscale Marmot rain jacket.

Reusing difficult properties

City officials hope a lot more people like Jose take over some of the 21,000 vacant and abandoned properties in the city.

A recent assessment found 19,352 residential and 1,616 business addresses to be vacant. That's about 6 percent of all tracts in the county, although city officials don't know whether the same percentage holds when it comes to a total geographic footprint.

A preliminary estimate suggests that about half the business sites are brownfields, meaning they're abandoned and inactive. The term also encompasses sites where expansion, redevelopment or reuse is complicated by contamination or even perceived contamination.

Top priority for the business addresses is job creation, said Chris Harrell, brownfields coordinator for the city's Department of Metropolitan Development.

Residential properties taken over by the city are first offered for sale to an adjoining property owner for as little as $500—anything to return the site back to tax rolls and persuade someone to mow the grass.

Urban farming could be the best secondary alternative for many of the properties, virtually all of which are in Center Township.

"It's been dismissed by the market because no one's bought it and taken care of it," Harrell said of the various parcels.

The city is thinking of ways to lease the parcels it controls to urban farmers that protect the city if the farmers perform poorly but also protect farmers from having the property yanked out from under them for other uses. In some cases, the farmers might be able to buy the properties.

Financial viability

Jose already has encountered a problem that might discourage others from following his lead into for-profit farming in urban areas: a profit ceiling. Big City Farms has swelled into a full-time project for him during the growing season and he's still taking home less than $30,000.

As a result, Jose concludes the idea might be best suited for young people with lots of energy and few big bills: "One thing I've realized is, that approach isn't sustainable in the long term for income for a person."

Jose took on a friend as a partner in Big City Farms this year. Tyler Henderson received a promise of 40 percent of the profits in exchange for contributing 40 percent of the labor.

The balance of Jose's living will be derived by raising money for a not-for-profit he and Henderson's wife, Laura, started recently to develop a culture around for-profit farming and other urban agriculture. Jose and Laura Henderson are still raising money for Growing Places Indy.

But has Jose really hit a profit ceiling?

Ginny Roberts, the Purdue/Keep Indianapolis Beautiful community gardening expert who hired Jose before he started Big City Farms, thinks not.

"There is potential to make a comfortable living with urban farming," Roberts said.

Jose is still a pioneer, she reminds. So the concept has plenty of room for tweaking.

The plots could be augmented with honey bees or with chickens and eggs. More revenue could be found from restaurants. Older children could be hired to pull weeds and tackle other menial labor.

Jose will be the first of many urban farmers in Center Township, she predicted.

"People are looking for ways to make money, and every one wants fresh produce."

Jose acknowledges his plots are labor-intensive. Perhaps there is a way to use tiny farm equipment made a half-century ago for small acreage that has since been overlooked by machinery companies as farms and equipment expanded in size.

Tim Carter, who directs the Center for Urban Ecology at Butler University, agrees that urban farmers are in early stages of finding ways to make money. But that doesn't mean the ventures will fail.

Carter is aware of a man who is considering growing tilapia fish in a former Kroger store downtown to produce both fish and nutrients for an urban farm.

Butler itself is experimenting with a half-acre site on campus where it is beginning to grow arugula and other crops. Butler is in talks with Aramark, the Philadelphia-based food service, to sell the crops to its local catering arm.

Citing a point made by other local experts, Carter emphasized that Indianapolis has a great deal of potential for urban farming.

Like other Rust Belt cities, it has lots of vacant property in its inner reaches. Vacant properties in other cities is quickly snapped up or gentrified.

"Indy is really prime to do some interesting stuff in terms of urban ecology," Carter said.•