Had new federal environmental regulations been in effect when Bill Oesterle renovated a historic mansion a decade ago, perhaps
his daughter wouldn't have been poisoned by lead.
The U.S. Environmental Protection Agency rules, which went into effect April 22, require contractors working on houses, apartments,
schools and day care centers to isolate paint and dust containing the heavy metal.
The rules would have required the contractor hired by Oesterle, CEO of rating service Angie's List, to put up plastic
barriers and vacuum dust and paint chips.
Instead, the renovation in 2000 is thought to have resulted in his infant daughter, Emma, ingesting lead. Tests revealed
fairly high levels in her blood, but whether the lead actually caused harm is a lingering question.
"We may never know if it had any impact on her," Oesterle said. "It was a terrible experience.
"It's easy to take preventative steps."
Lead was used for decades to add color to paint and make it adhere. It was banned in 1978 as evidence of its harmful effects
mounted. Accumulated lead in the body can cause problems ranging from vomiting to slowed growth. Sometimes, the issues show
up quickly; in other instances, problems materialize years later.
Contractors who renovate, repair or paint buildings built before 1978 now must be trained and certified in handling material
potentially contaminated by lead.
The rules don't apply to people who work on their own homes. Nor do the rules cover office and commercial buildings.
Many contractors aren't happy.
Unaware of the required training, procrastinating before signing up for required training, or thinking the rules are overkill,
they're now scrambling to gain certification and learn how to use plastic sheets and vacuum cleaners.
They're pouring into Environmental Management Institute Inc., an Indianapolis not-for-profit school that trains people
to handle such hazardous materials as lead, mold and wastewater.
Environmental Management in a typical year trains 2,500 people in a variety of hazardous materials, said President Jack Leonard.
So far this year, 6,000 have been trained, with a heavy emphasis on meeting the EPA lead certification.
"They gotta feel the plastic, they gotta manage the tape, they gotta vacuum the floor," he said of the one-day,
hands-on training.
Despite the influx, Leonard estimates only about half the contractors who need training nationally have obtained the certification.
The glut won't recede until the end of the year, he predicted.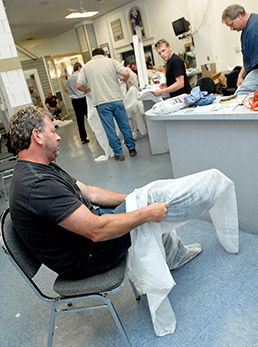 A contractor
pulls on protective clothing during a training session. (IBJ Photo/ Perry Reichanadter)
Don Bowman, who has been renovating area houses for 25 years through his Handy Helpers company, said many contractors who
were familiar with lead feel the EPA is creating unnecessary hassle and expense. Why not require the rules just for contractors
who don't know how to handle lead? reasoned Bowman, who met the certification deadline.
"For new contractors, that's a good idea," he said. "But contractors of my status and others who
have been in it this long, we are well aware of it."
However, Bowman added that the rules will force some contractors to do better work.
The new rules have prompted a 20-percent increase in calls to Micro Air Inc., an Indianapolis company that tests paint for
lead, said Tony Bolanos, lead division manager.
Micro Air employees point a device at a wall or any other painted surface and get an instant reading on levels of lead. Generally,
the older the house, the greater the lead concentration in paints, Bolanos said.
Contractor compliance with the rules will depend somewhat on how aggressively regulators follow through with enforcement,
Bolanos added: "Basically, if they don't get caught with their hands in the cookie jar, they don't respond."
Oesterle hopes the rules will prevent others from going through similar experiences.
His family sponged the entire house at 4621 N. Meridian St. with special soap, and tossed out stuffed animals and anything
else suspected of harboring lead.
So far, Emma, now 11, hasn't shown any ill response to her exposure.
"The not knowing if there's an effect is really the worst part of it," Oesterle said.•
Please enable JavaScript to view this content.