Old, new, big, small, residential, commercial … when it comes to the real estate market, almost nothing is exempt from the effects of a sustained economic slump.

Just ask the folks at Indiana Landmarks, which, among its many preservation missions, buys and resells historic properties statewide.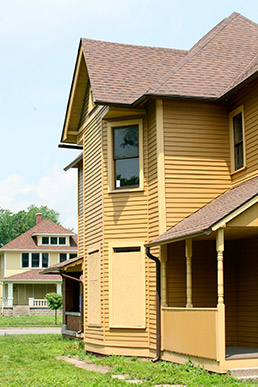 This 2,800-square-foot Queen Anne home on College Avenue in Fall Creek Place (also seen on the cover) was built in the late 1890s and is priced at $89,900. (IL Photo/ Perry Reichanadter)
Locally, the long-running FLIP program—or Fund for Landmark Indianapolis Properties—has seen a marked downturn in the resale of historic buildings. To cope with the economic reality, overseers have cut prices, looked for outside sources of funds, and considered reconfiguring the program to improve the long-term prospects of hidden gems.

"It's a challenging environment," said Mark Dollase, vice president of preservation services at Indiana Landmarks. "Those urban pioneers who used to be there … those people just aren't there."

Established in 1974, FLIP takes historic homes and commercial buildings that have been neglected, performs exterior renovations, then relists the properties for sale. Buyers must agree to a set of protective covenants as they go about refurbishing the interior.

Currently, Indiana Landmarks lists 15 Indianapolis properties for sale on its Web site, with prices ranging from $1 to $89,900. Around the state, the not-for-profit is marketing another 25 properties.

Homes and other buildings have lingered on the market for up to five years, which is not necessarily abnormal, even amid healthy economic conditions.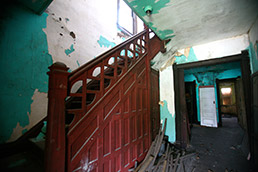 The interior of this Queen Anne home (shown below) features original tiger oak trim, wood floors throughout and three large bedrooms. (IL Photo/ Perry Reichanadter)
"These are, I would say, unusual properties. If they were completely restored homes, the market would take care of them and they would be snatched up in six months to a year," Dollase said. "It takes a focus on the part of the buyer to go in and invest in one of the worst properties in an area. We do eventually find the end user and they work their magic."

In the more experimental days of the FLIP program, Jim and Marjorie Kienle stepped up and purchased a dilapidated home in Chatham Arch. The home was moved to Lockerbie Square in 1976, a watershed time in the revival of that neighborhood.

The Kienle property, an 1872 Carpenter Gothic home, was one of several houses saved from demolition by Indiana Landmarks that eventually wound up on the same Lockerbie block. Needing all new electrical, plumbing, HVAC and more, the home was in "dreadful condition" at the time of the purchase, said Marjorie Kienle.

A lot has happened in FLIP's 36-year history. During that time, the group has seen 305 properties purchased and rehabbed by private owners. That progress has slowed tremendously over the past couple of years as prospective buyers have been thinned out by the poor economy.

In 2009, Indiana Landmarks completed three FLIP sales. So far this year, Dollase said, there has been a "ton of interest and a lot of showings," but no transactions.

Even if interest stays high, financing remains a huge stumbling block for those wanting to dive into the historic real estate market.

"Easy money is not out there anymore," said Joe Huntzinger, vice president of mortgage lending for the Indianapolis Neighborhood Housing Partnership.

Huntzinger serves as chairman of the FLIP Council, a group of real estate agents, bankers and developers who create a biannual strategy for the Indiana Landmarks staff. As part of last year's plan, the group recommended several changes that will help the program adapt to shifting market conditions.

Among those changes, Indiana Landmarks is looking at completing more turnkey rehabs of properties, allowing it to court buyers who can't finance an expensive and lengthy renovation.

It is also moving toward more partnerships with community development corporations, school systems and developers to help spread out the costs.

In the meantime, across-the-board price decreases are expected to bring more buyers to the table. In 2009, Indiana Landmarks implemented a 40-percent markdown on its entire portfolio—a painful but necessary move.

"It was a big hit," Dollase said.

The resulting drop in income means FLIP, which operates with a revolving fund, can't turn around and buy as many endangered properties as it would like. The program must wait for sales to occur before it can add to its portfolio.

Barring an uptick in activity, FLIP may get a shot in the arm from fund-raising activities.

"Indiana Landmarks is looking to do some form of capital campaign that is likely to involve some recapitalization of the FLIP program," Dollase said.

A few notable properties illustrate the financial difficulty in which FLIP finds itself.

The most expensive Indianapolis property available through Indiana Landmarks can be found at 2351 N. College Ave. in Fall Creek Place, one of the most active areas for FLIP projects. The group bought the 1897 Queen Anne house in 2007 for $36,250 and invested $80,000 in a new roof, siding, gutters and paint. It's listed for $89,900.

For a connoisseur of historic architecture, the home is a steal, according to Dollase.

"It's architecturally a very interesting home that has a high degree of integrity intact," he said.

At 6358 N. Michigan Road stands a Greek Revival farmhouse covering 2,600 square feet. Indiana Landmarks, which is now asking $64,900 for the home, replaced the roof, partially restored the front façade, and refinished the original front door. That property was reduced from $99,900.

Other holdings include a 900-square-foot Victorian Cottage in the Martindale-Brightwood area that's listed for $5,000 and a Willard Park home going for $34,900.

A complete list of properties can be seen on the group's website at www.historiclandmarks.org under the For Sale tab.

Even as it takes financial hits, Indiana Landmarks remains committed to the FLIP program.

"For us," Dollase said, "it's about the mission—saving a house and leaving behind something good in the neighborhood."•