Want to get a dispassionate IT person to grit his or her teeth? Mention the name Nicholas Carr.

Or better yet, drag him to the TechPoint 2010 Innovation Summit Oct. 27 at the Indiana Convention Center, where Carr will be keynote speaker.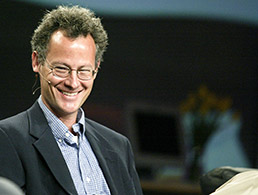 IT pundit Nicholas Carr is a great thinker, or a demon, depending on one's view. (Bloomberg News Photo)
To some in IT, Carr is the great blasphemer, the defiler of the technology temple, the Salman Rushdie of the segment. In a Harvard Business Review piece seven years ago, the author wrote that IT is less important strategically, becoming more of a commodity as it grows cheaper and more ubiquitous.

In a piece two years ago, "Is Google Making Us Stupid?" Carr questioned whether the search engine genre hurts one's cognitive ability. Earlier this month, he released the book "The Shallows: What the Internet is Doing to Our Brains."

"Innovation starts with thinking differently about things we typically take for granted," said Mark Hill, chairman of Indiana technology trade group TechPoint and co-founder of Collina Ventures, a local private investment firm focusing on technology companies.