The Quality Health First Program is now officially available statewide.

But there's still a lot of work to turn "officially" into reality.

The program, which compares doctors' performances on 26 quality measures against that of their peers, now includes 1,200 physicians—about 10 percent of all doctors in the state.

But now, the not-for-profit organization that runs Quality Health First is getting $16 million from the federal government to expand participation in the program in 41 Indiana counties in central Indiana.

And Quality Health First is using medical claims data from one of its participating health insurers, Anthem Blue Cross and Blue Shield, to make quality reports available to any doctor statewide.

"We've been out recruiting physicians from across the state," said Marc Overhage, CEO of the Indiana Health Information Exchange, the Indianapolis-based organization that runs Quality Health First. He noted Lafayette, Evansville and northwest Indiana specifically.
Overhage
But as it makes this statewide push, Quality Health First has a chicken-and-egg problem. It needs as many doctors as possible to participate in order to entice health insurers to use Quality Health First data to give bonuses to top-quality doctors. But doctors would like to see more health insurers sign up before the potential for bonus payments makes a significant difference in their pay.

So far, only Minnesota-based UnitedHealthcare and Indianapolis-based Anthem Blue Cross and Blue Shield have committed to using Quality Health First data in their physician rewards programs.

Anthem recently doled out $3.4 million in bonuses to primary care doctors who participated in Quality Health First. Within three months, it expects to start scoring cardiologists on how well their patients are doing checking their blood pressure and cholesterol.
Lee
"A crucial but often overlooked aspect of health care reform is changing the way physicians are rewarded for their work," Dr. David Lee, Anthem's vice president of health services, said in a statement.
Paying physicians for quality in addition to the number of procedures they perform, Lee noted, prompted physicians to improve their scores in all areas on the Quality Health First reports from 2009 to 2010.

UnitedHealthcare finally was able to share patient data with the Quality Health First Program in June, after more than a year of preparation.
Krajnovich
"There was a lot of work that needed to be done to align the data sharing. There were a lot of security issues that needed to be worked out, file sharing linked up," said Dan Krajnovich, CEO of UnitedHealthcare in Indiana.

Overhage acknowledged there are complexities in getting more health insurers to participate in Quality Health First. He said his team is talking with every major insurer that operates in Indiana, as well as local insurance plans, such as Physician Health Plan in Evansville, that have a major presence in their markets.

Overhage is optimistic that the new health reform law's granting of authority to the Medicare program to create new payment structures—without an act of Congress—will bring Medicare into the mix at some point.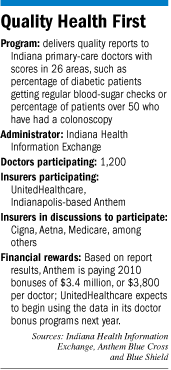 So far, Medicare, the largest insurance program in the country, has been sharing data from central Indiana patients with Quality Health First as part of a five-year demonstration project.
"Medicare involvement is absolutely critical," Overhage said, noting that the Medicare and Medicaid programs account for nearly half of revenue at many physician offices.

"If you don't get them involved," he added, "it's tough."

So far, the bonuses handed out by Anthem have been modest—about 2 percent of annual income for primary-care physicians. Its program is set up so the top-scoring physicians can earn bonuses equal to as much as 12 percent of their revenue from Anthem.

UnitedHealthcare's program, Practice Rewards, gives bonuses of either 3 percent or 5 percent of its reimbursement to physicians for those who score best on quality and affordability.

About 15 percent of the physicians in UnitedHealthcare's network earned a bonus last year. But not until next year will those bonuses be influenced by Quality Health First reports.

Both Anthem and UnitedHealthcare also reward physicians for doing things that save the insurers money, such as prescribing generic drugs as often as possible.

And now the Indiana Health Information Exchange will turn its attention to demonstrating that the Quality Health First program also can reduce costs. Its $16 million grant from the U.S. Department of Health and Human Services requires it to do so.

Within three years, the Quality Health First Program must show that 3 percent fewer patients are going to the hospital for conditions that could be treated in outpatient settings, such as bacterial pneumonia. The grant also sets goals for fewer redundant imaging tests, fewer emergency room visits and fewer readmissions to hospitals shortly after a patient is discharged.

"We will be adding additional information about the efficiency with which that care has been delivered," Overhage said, adding, "We've identified a couple of things that may move the needle."•