Indiana's utilities are scrambling to assess the cost of tighter air pollution limits proposed this month by the Environmental Protection Agency that could drive up electric rates.

By 2014, utilities will have had to cut sulfur dioxide emissions 71 percent, and nitrogen oxide 52 percent, over 2005 levels.

"They're all expressing a lot of concern and angst about the new standard," said Ed Simcox, who heads the Indianapolis-based utility trade group Indiana Energy Association.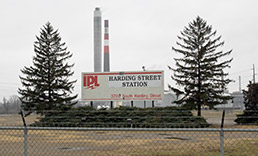 IPL has spent about $600 million over the last 10 years on pollution controls, including a de-sulfurization project at the Harding Street generating station on the south side. (IBJ File Photo)
Complying with the EPA's so-called Transport Rule, which would take effect in 2012, would add costs on top of the hundreds of millions of dollars spent by electric utilities in the region over the last decade to curb the two pollutants tied to ozone formation and respiratory problems.

Utilities say they don't know if the scrubbers and other devices they've installed will be adequate to comply with the rule. It would replace the Clean Air Interstate Rule that created a cap-and-trade system for ozone-causing nitrogen oxides and for the pollutant sulfur dioxide.

In 2008, a federal court declared CAIR unlawful. The EPA's proposed replacement, the Transport Rule, limits interstate trading of emissions allowances and seeks to set nitrogen and sulfur limits by state.

The Transport Rule applies to 31 states, with Indiana among 15 states to receive the most stringent regulation under the so-called Tier 1 group.

One EPA analysis of the potential rate effect lists Indiana in a group of states that could see a 3-percent to 7-percent increase in rates, depending on which variation of the Transport Rule the agency adopts.

The vast majority of electricity in Indiana and other states in the group is generated by burning coal. The resulting pollutants drift downwind, affecting states to the east.

Simcox noted that state regulators have worked hard in recent years to reduce ozone-causing emissions. Indeed, EPA data shows that sulfur emissions statewide are down 52 percent from 2005, and that nitrogen oxides have fallen 47 percent.

The Indiana Department of Environmental Management has yet to fully analyze the 1,300-page proposed rule, said spokesman Rob Elstro.

EPA officials have said the rule could force utilities to install additional pollution control equipment, to use lower-sulfur coal, and/or to run existing pollution control devices for longer periods.

Simcox said utilities need to determine how much more stringent the rules will be. Equipment installed in recent years could allow the utilities to comply with the proposed new rule, although that may be wishful thinking.

The largest electric utility serving Indiana, Charlotte, N.C.-based Duke Energy, said it has spent in Indiana $1.1 billion to comply with CAIR and the Clean Air Mercury Rule—and nearly $700 million on nitrogen oxide reduction.

"We're not sure how much impact the revised rule will have yet on our Indiana system, but substantial environmental improvements already have been made," said Angeline Protogere, spokeswoman for Duke at its Indiana headquarters in Plainfield.



Duke is two years away from opening its coal gasification power plant, under construction in Edwardsport. Rather than burning pulverized coal, as at a traditional plant, Edwardsport will convert coal to gas and then clean it before burning it, resulting in less sulfur and nitrogen at the smokestack.

Duke said the 618-megawatt plant will produce less of the pollutants than the plant it replaces yet produce 10 times as much electricity.

The new, less-polluting technology already comes at a steep cost—now estimated at $2.9 billion compared with the $1.9 billion projected when it was proposed. The plant could boost customer rates an average of 19 percent.

Duke told regulators its vendors underestimated the scale of the infrastructure needed at the plant, which would be the largest of its kind to operate on such a commercial scale.

Meanwhile, the region's other primary electric utility, Indianapolis Power & Light, is also scrambling to interpret the Transport Rule and to determine how its facilities measure up.

IPL is in the midst of a 10-year, $600 million pollution control campaign at its generating facilities. They include a flue-gas desulfurization project at its Harding Street station expected to cut sulfur emissions 97 percent.

"IPL has not had time to do a thorough review of the proposal and its potential impact," said IPL spokeswoman Crystal Livers-Powers.

The utility is in the midst of sorting out a dispute with the EPA, which last September alleged IPL made numerous modifications to equipment such as boilers over a 23-year period without adding the most modern pollution controls. The case has yet to be resolved with EPA and could result in millions of dollars in penalties.

IPL and other utilities could find that some plants are more difficult to retrofit than others. IPL, in previous filings with the Indiana Utility Regulatory Commission, noted that its 1940s era Eagle Valley unit in Morgan County is nearing the end of its useful life.

"The old plants are hard to retrofit," noted Simcox.

Utilities are trying to battle tighter new environmental regulations in a number of ways. All have so-called demand-side management programs that encourage customers to reduce usage through efficiency measures and alternative generation as a way to forestall the need to build additional generating capacity.

IPL already has contracted to purchase 100 megawatts from the operator of a wind farm in Benton County, and plans to acquire another 200 megawatts from a wind farm under construction in southwest Minnesota.

The utility recently told regulators it also is assessing the feasibility of buying power from a hydroelectric generating station contemplated for U.S. Army Corps of Engineers dams near Evansville. That purchase could result in another 100 megawatts of renewable energy.

Electric utilities aren't the only ones vulnerable to the Transport Rule. Citizens Energy, the city's gas utility, operates a former IPL coal-fired station downtown that produces steam to heat and cool buildings in the downtown area.•