If you've only gawked but have never actually set foot inside Gen Con, it's perfectly understandable how you
might believe it consists entirely of costumed geeks rolling 17-sided dice in an attempt to escape from fictional castles
and find imaginary treasure.
The reality, though, is that while fantasy role-playing games form the core of this four-day Indy economic boom, the convention
has a lot to offer casual game players whose comfort zone is closer to Yahtzee and Monopoly than Wizards of Warcraft. During
this year's event (which ran Aug. 5-8), I once again set out to find top-quality games that don't require the
reading of a massive dungeon master's guide.
Here are some recommendations.
• Wits & Wagers Family. Just when I thought every possible trivia game had been created, North Star Games came up
with a terrific variation a few years ago called Wits and Wagers. The game involves questions whose answers are all numbers.
The gimmick: Players speculate on what a question's numeric answer could be. When all the guesses are revealed, each
player bets on which answer he or she believes is closest to the correct one. In other words, you could win the game without
actually knowing any correct answers. You just have to know who else might know.
This year, North Star returned to Gen Con with a family edition of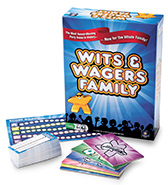 (Photo courtesy
North Star Games)
Wits & Wagers that minimizes the betting complications and offers questions that are at least in the frame of reference
of most 8-plussers. Sample: How many minutes of music can fit on a standard CD? Note: The family version is very playable
for grown-ups—and most kids could play the original version as well.
• Settlers of America: Trails to Rails. One of the blockbuster hobby games of the past 15 years has been Mayfair Games'
Settlers of Catan. Who knew that commodities trading and settlement building would have such appeal for the Dungeons and Dragons
set?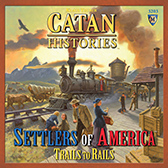 (Photo courtesy
Mayfair Games)
This year, Mayfair offers a new, even more accessible version with a real-world component. As with its predecessors, in Settlers
of America you have to bargain for grain, cattle and other necessities while attempting to build settlements and connect them
by rail. In this version, though, the setting isn't a fictional island but the real world. With lots of small wooden
pieces, the game may seem intimidating at first for newbies, but one play and you'll not only grasp the rules, but also
start to pick up strategies to try out next time. (Careful about overbuilding on the East Coast, since resources there start
to run out mid-game.)
• Lemming Mafia.
With some games, it's impossible to guess who the demographic target is. And that's often part of the fun in
a specialty market where 5,000 copies can be considered a strong seller.
In this wacky offering, also from Mayfair Games, a group of color-coded lemmings are attempting to get to the sea. Your job
is to bet on which will make it first and then do everything you can to keep the others from getting there. It's easily
playable for kids, too; you'll just have to explain to them what cement overshoes and mob bosses are.
• Duck! Duck! Safari! (Ape Games) If you have smaller kids and are sick of skill-less games like Candyland, here's
a goofy
but strategic alternative. Five different games—all but one requiring just two players—can be played with the
cards, two-sided board, and six rubber duckies contained herein. My favorite: Hi-lo Hijinks, in which savvy players can change
the rules to their advantage and their opponent's frustration. A bonus: The kids can play with the rubber duckies if
they get bored with the game.
There were many more games I didn't get a chance to sample, including the intriguing Ergo (Catalyst Game Labs), in
which players attempt to prove their own existence while disproving the existence of the other players; 10 Days in the Americas
(Out of the Box Games), the latest in the terrific series of geographic create-a-route games; and Telestrations (USAopoly),
which looks like whisper-down-the-lane meets Pictionary.
One of my favorite acquisitions from Gen Con this year, though, isn't an actual game. If you are tired of the old games
in your closet, I strongly recommend getting your own copy of "Family Games: The 100 Best" (Green Ronin Publishing)
edited by James Lowder. In it, game designers and publishers celebrate their favorites—ranging from Scrabble and Blockus
to Kill Doctor Lucky and Small World—in short, quirky, fun essays.
Anyone up for a game of Pandemic?•
__________
This column appears weekly. Send information on upcoming A&E events to lharry@ibj.com.
Please enable JavaScript to view this content.